July 4 2014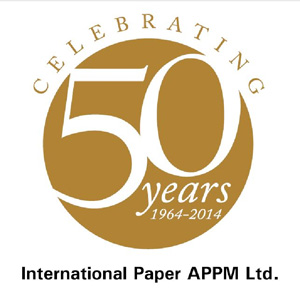 International Paper APPM Limited (IP-APPM), a group company of International Paper in India, celebrated the completion of its 50 years thus cementing a significant place in the Indian Paper industry.
Established in 1964 as the erstwhile 'The Andhra Pradesh Paper Mills Limited', the company has achieved significant milestones one of which is crossing the thousand Crore mark and clocking a turnover of INR 1,091 crores in the last financial year along with manufacturing a 2,12,193 tons of paper. Embracing the element of environmental responsibility, the company has also received two rare distinctions: planted 50,858 saplings on a single day (June 5th) and the maximum saplings ever planted by a company with over 1.2 Billion saplings till date under its Farm Forestry Program. Over 50,000 small scale farmers are earning their livelihood within the scope of this program spread across an area of 1,84,000 hectares.
With the acquisition by International Paper in 2011, the company has witnessed tremendous growth and development. A significant highlight is the INR 100 crore state-of-the-art Sheeter with German technology and the production of premium quality world renowned HP Branded copier paper available for the first time in India. The company also launched India's largest Casuarina Clonal Propagation Center in addition to receiving the prestigious FSC Certification in Forestry Management.
In 2013, the IP India Foundation, was established focusing on Education, Environment and Engagement, to realize the Company's corporate vision to make a difference in the communities where its employees live and work. These include various programs in areas such as women empowerment, supporting school, infrastructure, watershed, management, supporting indigenous, artisans, providing safe drinking water, etc. The Company has also ensured best policies for its employees by implementing robust safety policies and practices of international standards under manufacturing excellence. The employees are also provided with appropriate insurance cover along with regular health checkups.
Mr. W Michael Amick, Jr., President IP India and Executive Chairman IP APPM commented, "Building off a rich history, we should have great confidence as we look forward to our next 50 years. Our team of hardworking, dedicated employees is at the core of our accomplishments to-date and will drive continuing success and achievement in the years to come. I am very proud and honored to be part of this great organization."
A book, Eastern Musings, was launched on the occasion of 50th year celebrations. Mr. Rampraveen Swaminathan, Managing Director & CEO, IP-APPM said, "The last 50 years has been an unforgettable journey for this company. We have been instrumental in bringing about innovation into the industry and have grown by large measures. As we celebrate this milestone, each employee is remembered and appreciated for bringing their best to the company. As we continue to move onto higher avenues of achievement, we seek the continued support of our associates."
Marking the successful completion of its 50th year, IP-APPM organized a series of activities spread across 50 long days culminating into one big celebration on the final day. Employees participated enthusiastically as activities were divided into categories like Knowledge week, Creativity Week, Environment Week, Sports and Family Week. n