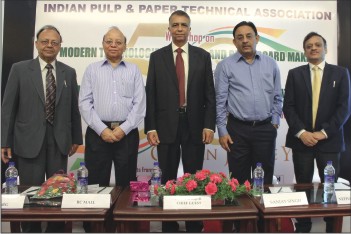 Indian Pulp and Paper Technical Association (IPPTA) organized a workshop in Chennai on November 27-28, 2014. The main theme of the workshop centered at keeping abreast of technological advancements taking place in the pulp and paper industry. Most of the paper mills operating in India are very old and are using outdated technology including plant and machinery. Except a few mills, most of the paper mills in India operate on technologies which are quite old compared to average mills in Europe. The two day program saw the participation of key technology providers' viz. Valmet, Voith, Andritz, Maruishi, and Raumaster to update the Indian paper industry of the latest developments in paper and pulp technology.
Technology Up-gradation: An Urgent Need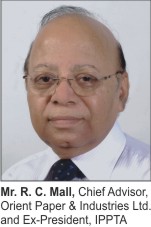 Indian paper industry, today, is at crossroads facing many tough challenges to get rid of. Technology and machinery up-gradation is a prominent one among them. Technology should not be the privilege of few key players in the industry; rather everyone in the paper enterprise should understand the essential nature of modern tools and technology in augmenting the production by optimizing the operations. Underlining this concept, Mr. R. C. Mall, Chief Advisor, Orient Paper & Industries Limited and Ex-President, IPPTA, said, "There was a thinking that the adoption of technology is not so simple and only the big investor or the top key people can decide about it. However, I think that we should let it move from bottom up. So, this is considered fair that through the help of our technology partners, we try to have a workshop of limited people from operating sites of the mills who can be exposed to the newer and better and most modern technological advancements in the pulp and paper industry as of now."
Convening technological workshops, in fact, is a wise initiative to equip key operating people with most updated technology pertinent for the industry through mutual exchange of ideas and deliberations. Ideas and know-how multiply through sharing. "It was also felt that with technology people and operating people from mills, there will be good deliberations by somewhat coming out of their shell of secrecy to discuss openly whatever the best thing can help the Indian paper industry by emphasizing the need of adopting the technologies within the means available to us. And, with that idea I started approaching all of them and everybody was so glad to come forward. I am happy to see that today we have this event really taking place due to the support of people," said Mr. Mall.
Mr. Mall underlined the significance of exposure to better technology continuously whereby he emphasized learning from counterparts with better know-how abroad. "Many of us here know that despite best of our efforts, in the post production stage paper faces a lot of problems and lot of dissatisfaction at the customers' end. Therefore, we try to rope in people from Finland, Japan, etc. to tell us about the converting stages, what can be done, what best technology can be applied, etc. I know it means a lot of money to talk of very high grade technology. But, unless we get exposed to it and unless the operating people take conscious thinking and approach towards this aspect by pushing the matter to management to deliberate upon, I think we will be simply talking about technology hardly making any progress in implementation," asserted Mr. Mall.
Mr. Mall, however, took exception of few while saying the above in general. "Well, I cannot say this thing so forcefully because there are friends within the pulp and paper industry which have been adopting technological advancements in their mills. What I was saying sums up the average situation in the industry across the country; we think that this effort will help us a lot."
On the subject of technology sharing tours abroad, Mr. Mall said, "In fact, to give a very nice finale to the golden jubilee year, I have it in my mind and will discussed it with the president and the vice-president about how to organize visits to one or two such places outside the country where these kind of technology are well adopted. We know about these things. But, in a combined and in a joint manner from the platform of IPPTA, we should organize these kinds of visits. We are sure that our friends and global technology leaders will help us to facilitate the acquisition of technological expertise."
Difficult but Temporary Times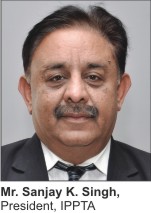 Mr. Sanjay K. Singh, President, IPPTA, started his welcome speech with statements alluding to tough times the Indian paper industry is facing. "Paper industry, at least in the last two to three years, has been going through one of the most difficult phases in the last decade or so. Since I started my career, I have never seen such difficult times in the paper industry. With the acute shortage of raw materials in the country, there is pressure from environment on tightening up the norms of discharge; in fact, you know people are talking of zero water discharge. Moreover, the markets are down and not able to sell the paper and boards, stocks are getting accumulated. Some mills have shut down in the country, and the worry is that we may have one or two more years of the continued downtrend.
Speaking on the unhealthy competitions and market trends, he said, "We make our paper industry competitive. In the market place, we complete with others to sell our products. On the buying side, with the shortage of raw material, we compete with each other to buy raw material that keeps on increasing the prices on the input side. On the output side, because the demand is less, we keep on reducing the price, to sell our paper. This must change if the paper industry wishes to do well.
"If you look at some of the results of the industry, our return on investments is dismal in the last two to three years with the exception of one or two industry. We are hardly able to get the return of about 5 to 6 percent on the total capital we employed. If you input that money in the bank, you would get a return of 8-10 percent; in stock, you get a return of 25-30 percent. Now how do we survive?"
He elaborated, "That is where IPPTA comes into being; we bring in knowledge. We need to bring technology through which we can compete positively to survive even in the difficult times. With the current prime minister, everybody is predicting the economy will be growing with 5-8 percent. As the economy grows, the demand for packaging and paper will grow accordingly. All of us, therefore, must be in a strong position to take advantage of that. We have to invest in technology; we have to invest on new ideas; and IPPTA is a forum that is trying to provide all of these."
Retaining Talent: A Challenge
"We also have a problem of having good man power in the industry. If you go to engineering colleges, not many of them would want to join the paper industry. They would prefer going to a software company where there is a good environment, good air conditioned office to sit. In the earlier days, the working environment in the paper industry was bad. There was white, green, black litter-pulp all over the place. Things, however, are really changing now in the paper industry. Now, you have air-conditioned and better place to work," said Mr. Singh.
Mr. Singh also highlighted the productivity of better training input and induction program for fresh engineering graduates before they are given real assignments. "Along with the better working environment, we also need good training input. For a fresh engineer, when he comes into the working environment, unless you create a place where you can learn and start sharing the knowledge with others, he won't last long.
"That was the experience in the industry. If we take fresh graduate engineers, he stays with us for a short period finally switching over to doing a management course or joining some other industry or a govt. job. To retain people in paper industry has been quite difficult. For finding one of the ways for improving retention, we are looking at getting a study done by one of the consultants. From what knowledge we have, we believe that a good training definitely helps to motivate youngsters to do well. And as a part of this program Golden jubilee year, we have decided to have this first workshop on paper making and finishing equipments and we will follow it up with another on pulp making, on chemicals, on engineering."
The turnout at the workshop was not as Mr. Singh expected. He said, "I am a bit disappointed as I expected much more of participation from member mills of IPPTA. Somewhere either they are not convinced about it, or the communication was not good. We will do study after this workshop is over. I wished more people were here to know the best technology available in the world at practically zero cost."
The investment in technology has become indispensable for every industry, even more so for paper industry. Stressing the vitality of technology orientation of the paper industry, Mr. Sing remarked, "You may not decide to invest today, but at some stage you will have to invest. My experience is that people, who won't invest, won't survive. They have to be shut down sooner or later. If you look at the history of paper industry, those who continue to invest, survive; those who don't, shut down.
"This workshop is a forum where people can learn technology and improve the profitability. I would like to thank all the partners who have agreed voluntarily to give their time to this workshop," he concluded.
Workshop: Back to School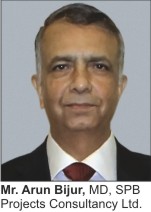 Opening his inaugural address the Chief Guest, Mr. Arun Bijur, Managing Director, SPB Projects Consultancy Limited, said that honor means different to different people and honor coming from fellow industry people means the most. He hailed the organization of the workshop as a great endeavor to disseminate technological know-how desperately needed by the paper industry. For him this was like going back to school. "Sitting through today's workshop, I realize this is a kind a school, a kind of a refresher class. This workshop is really a school of professionals-conducting classes for professionals by professionals. He who teaches, they say, learns twice. You could turn it around a little and say that the professional who learns performs twice as much," said Mr. Bijur.
Mr. Bijur's long standing presence in the paper industry in various capacities, and today as expert of the field, has made him grasp the significance of learning. "Learning is very important. In the late 1960s, the industry was nascent and the learning was hard. They had very few libraries, these libraries were ill equipped. Very few trade magazines and literatures and that very few were, unfortunately, the privilege of few. Learning had to be on the job through keen observations, operating manuals and coworkers willing to share their experiences. There was no such workshop; seminars too were far and in between," remarks Mr. Bijur.
Mr. Bijur's learning through experiences and real-time operations proved to be quite durable. "Once we had grasped the fundamentals, we became self styled experts and were good for another two decades. So while learning, the expertise that we gathered was very durable. But, all that has changed now. Internet resources, credible distribution of information and workshops such as these do make it easier and faster for us to learn," said Mr. Bijur.
Mr. Bijur, however, warns that the pace of technological development is fast and one has to remain vigilant to get updated with the most recent advancements. He also highlighted the role of attentive listening while learning at such workshops. "These workshops provide an excellent forum for refining and updating what we have already learned. At these workshops, we should consider the speakers as lecturers and give them due respect. During these lectures, attendees should set aside their understanding of the subject. They should open up their minds and listen," said Mr. Bijur.
"The mark of an educated mind, they say, is the ability to consider thoughts and concepts without necessarily having to accept that. At the end of the day, thorough knowledge is really a combination of a good understanding of what we are willing to accept and what we are not willing to accept because what is unacceptable today may well be acceptable tomorrow. So the knowledge of unacceptable is as important as knowledge of acceptable.
"I have more than once used the word listen and at the recent paper event in Chennai, I asked the audience whether they could describe the word listen. I got a few answer which was reasonably close but most weren't. Many years back in a survey conducted on the schools and colleges across United Kingdom, the best definition came from ten year old school girl. Listening is wanting to hear. If one can grasp that one will understand what learning is all about. Much can be gained in workshops like this, if only one is willing to or wanting to hear. So, let us therefore resolve that we will want to hear for the next two days.
"This workshop has been structured to focus mainly on the developments in papers and board makings, converting, finishing right up to its warehousing. Paper board is that product segment today which everybody seems to want a place in. In a little over a year from now, India's largest and arguably the most modern paper board machine will be rolling out. Yet, we have a lot to learn about paper board making and this workshop perhaps is very timely event. In this workshop, as in a school, there are differences; in the same class we will have under graduate, graduates and post graduates. So it demands a certain skills from the speakers who are lecturers that they should be patient and be able to address the needs of all these three classes rolled in one class. Things like why multi layers, how many layers (3, 4, or 5), should we have an MG cylinder, in-line coating or can be it still be off-line are all issues that could crop up during the debate and are needed to be addressed."
"Lastly, I have wish list for IPPTA to consider. All workshops, in my opinion, should have a companion session which will involve speakers or lecturers from the users' segment. We should know what the end user wants, how the end user uses our product, how he selects from among many of the product manufactures, what kind of development they would like to see in our product, and so on. Without the understanding of the end use of the product, I don't think our learning can be wholesome and complete," Mr. Bijur concludes.
Difficult yet Temporary Times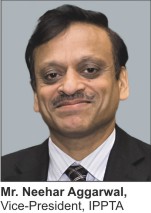 Mr. Neehar Aggarwal, Vice-President, IPPTA resonated the idea expressed by Mr. Bijur about attentive listening and companion program featuring user segment. He also reiterated that industry is passing through one of the most difficult times. "I think industry is passing through a very difficult and tough phase which is unprecedented and testing for the entire industry. The input prices have gone up remarkably. But, I am sure these are temporary times," he remarked.
He added, "At the same time, I think the only solution out of this thing is that we need to have modern competitive technology and this is the reason that this program is planned and I am sure that this workshop theme will prove to be appropriate at current times. All our technology partners Valmet, Voith, Andritz, etc. have come forward to share the knowledge and experience with us. There are lots of speakers from India and abroad to deliver their lecture and share the knowledge and I am sure there will be a lot of learning for all the delegates who have come here."