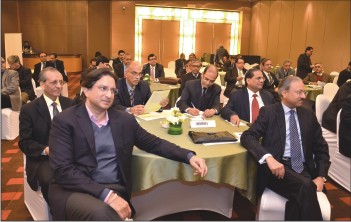 Indian Paper Manufacturers Association (IPMA) organized its 15th Annual General Meeting & Award Function on January 9, 2015 at Hotel Le Meridien, New Delhi. The function was attended by the members of IPMA Committee and Sub-Committees, besides a number of special invitees including representatives of paper mills, Government, media, etc. Mr. Shailendra Singh, Joint Secretary, Department of Industrial Policy & Promotion (DIPP), Ministry of Commerce & Industry, Government of India, was the Chief Guest. Mr. Cato Ealy, Senior Vice President – Corporate Development, International Paper Co., was the Keynote Speaker who addressed the meeting on the theme 'Global Industry Trends in Paper & Packaging'.
Mr. Sanjay K Singh was elected as new IPMA President while Mr. Saurabh Bangur got appointed as the new Vice-President of IPMA.
The Annual General Meeting had moments of deliberations over present issues and concerns along with moments of exuberance over future growth the industry is all set to register. Paper Mart brings you the instances of the event worth taking note.
Challenges and Rewards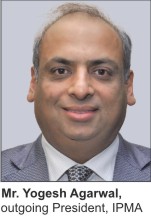 Mr. Yogesh Agarwal, outgoing President, IPMA, after welcoming the Chief Guest and the Keynote Speaker gave a pithy overview of the Indian paper industry. He takes his two years presidency of IPMA as both challenging and rewarding. He said, "Last two years of my presidency have been both challenging and rewarding. Challenging, since the economic recession deepened in India during this time. We have seen two successive financial years with sub 5 percent economic growth, lowest in many years. Many industry segments have borne the brunt of economic meltdown and Paper Industry is no exception. Since Paper Industry's growth is intrinsically intertwined with economic growth, the last two years have seen slackening in Paper Industry's growth rate too.
"At the same time these two years were rewarding because Paper Industry in India, especially the organized sector, went on an overdrive to improve efficiencies and increase productivity against odds. The Industry looked for new practices including research & development towards better yields of wood from pulpable trees, energy efficiency, environment preservation, better overall process technology etc."
Indian Paper Industry
Giving an outline of paper industry in India, Mr. Agarwal said, "The annual turnover of the Paper Industry in India is estimated to be INR 50,000 crores, with around INR 4,500 crores contribution to the Exchequer. The Industry provides direct employment to 0.5 million persons, and indirectly to around 1.5 million. The per capita paper consumption in India has moved up to around 11 kg but it still stands far below the global average of 56 kg. Per capita paper consumption is projected to increase to around 17 kg over the next 10 years.
"India's population share in world is around 17% while paper market share is only 2.6%. Of course, the upside in this equation is that market growth can be taken almost for granted. However, the question is whether such market opportunity shall be fulfilled by 'Make in India' or through imports especially when one takes the perspective of zero import duty regimes at ASEAN level."
Unique Sustainability Initiatives
Speaking on organized sector's thrust on the issue of sustainability, Mr. Agarwal said, "The Paper Industry, especially the organised sector, has laid special thrust on sustainability, unmatched by many other industries.
"For one, contrary to a general belief, India's Paper Industry is wood positive. We grow more trees than we harvest. Paper Industry recycles the waste paper that is generated. We recycle agricultural waste which otherwise would have been burnt in the fields. Integrated paper mills in India generate 60 percent of the power they use by utilizing the black liquor from the pulping process. New breakthrough ideas are coming up to recycle the effluents. A few years ago, the Industry used to consume 200 cubic meters of water to produce a tonne of paper. Now, the integrated mills have taken a target of 50 cubic meters. Needless to mention that paper is easily recyclable, environment friendly and is a fully biodegradable product."
Agro Forestry
Paper industry's continuing resolve to agro forestry to source raw material also featured in Mr. Agarwal's speech. He said, "India's Paper and Paperboard Industry has agro forestry roots and strong backward linkages with the farming community, from whom wood, which is a key raw material, is sourced. Of the total demand for wood, around 90 percent is sourced from Industry driven agro/social forestry, with the rest from Government sources and imports.
"A large part of this wood is grown in backward marginal/submarginal land, which is potentially unfit for other usages. In India an estimated 0.5 million farmers are engaged in growing plantations of Eucalyptus/Subabul etc., over an estimated 1 million hectares. This has generated significant employment opportunities for the local community and contribution to rural economy."
Issues & Concerns
Mr. Agarwal cited following issues and concerns Indian paper industry is recurrently facing.
Raw Material Availability
Inadequate raw material availability domestically is a major constraint for the Paper Industry. India is a wood fiber deficient country. There is a significant demand-supply gap in respect of the primary raw material for the Industry-wood. In the given measure of global competitiveness, the domestic Paper Industry is at a significant disadvantage, it has no access to captive plantation to manage raw material cost, while global players have in-built advantage of conducive plantation policies and ability to procure wood at favorable cost. For example, for a 1 million tonne pulp mill in South America/Indonesia /Malaysia, average distance of wood to the mill is less than 100 km whereas in India it would be 1,800 – 2,000 km, which makes the whole equation unviable.
Wood cannot be harvested from any forest source in India. The only wood being used by the Paper Industry comes from social and farm forestry initiatives undertaken by individual mills. There have been proposals by various agencies for allocation of degraded forest land for growing pulp wood. However, till date, no significant head way has been made in this case. While the National Forest Policy does not permit plantation of pulpable wood species on the forest degraded land, the Industry driven 'Social Forestry' on the land of marginal farmers' falls short in meeting the growing wood requirement of the Industry.
According to IPMA estimates, while the annual requirement of pulpable wood/bamboo by Paper Industry is around 11 million tonnes, domestic availability is limited to only 9 million tonnes, with the shortfall being partially met by imports, however at a much higher cost which adversely affects the viability of the industry. Also, keeping in view that most of our mills are not port based, so imported wood model is commercially challenging.
Consequently, the wood prices in India went up by more than 60% in the year 2013-14 over the previous year, and doubled in the last 18 months, adversely impacting industry margins. Due to shortage of raw material as well as higher cost, coupled with significant increase in coal cost, profitability of the domestic paper industry has eroded substantially, especially when viewed against the backdrop of the fact that most paper companies were just out of a relatively large Capex cycle of around USD 5 billion.
About 1 million tonnes of integrated pulp, paper and paperboards capacity is required to be created in India on an annual basis over the current capacity of 12.75 million tonnes to meet the growing demand.
Such investments would create a multiplier effect on the economy through gross capital formation of INR 8,500 crores every year, direct employment to 15,000 people every year and further giving additional livelihoods of 72 million man days per year, for people involved in farm forestry.
If the investments are not made, the growing demand has to be met through imports, which will have a foreign exchange outflow of more than USD 700 million on an annual basis. The compounding effects of this over a 10 years period are truly staggering.
Therefore, the Government should favourably consider making available 3 million hectares of degraded forest land for pulpwood plantations under collaborative arrangement, as suggested by the Working Group of the Planning Commission in its Twelfth Five year Plan Report, so that India's Paper Industry can access raw material at competitive rates and become globally competitive.
In order to reduce input cost of wood, the Government should also consider introducing 'zero' rate of customs duty for all heads on import of wood logs and wood chips, and bamboo as well.
Surging Imports
Even as the Industry is grappling with the issue of producing paper and paperboards at competitive costs, the problem is accentuated by the Government's policy of extending preferential tariff treatment to paper and paperboards under the free trade agreements (FTAs) and other bilateral and multilateral trade agreements.
Under the India-ASEAN FTA, import duties on most of the paper and paperboards has being progressively reduced, and has come down to nil rate from 1st January 2014. Thus, while the domestic paper industry is operating under extremely challenging conditions, significant quantities of paper and paperboard have started making inroads into the country.
In the last three years, imports have risen at a compound annual growth rate (CAGR) of 21 percent in value terms (USD 993 million in 2013-14) and 18 percent in volume terms (0.87 million tonnes in 2013-14). Imports are growing at a very high rate as compared to the increase in domestic production rate.
Similar trend is expected to continue in the future unless measures are taken to discourage imports in view of availability of domestic capabilities and capacities.
The conventional export markets for China have been the USA and EU. In both these markets, anti-dumping/anti-subsidy tariffs have been imposed on import of paper/paperboards from China to protect their domestic industries. Further, the economic slowdown in developed economies, especially shrinkage in paper market and export dependency of some of the ASEAN economies has led to severe excess capacity of paper and paperboard in Asia. Taking advantage of the low import duty rates, these countries find India as an attractive outlet for diverting their excess inventory. Consequently, these export-led economies in Asia continue to target the fragile Indian market.
Large investments in upgrading and implementing clean technology, product quality, farm forestry, etc cannot and should not be jeopardized by allowing easy/concessional imports. However, as things stand there is a very serious threat of existing investments in capacities turning economically unviable. Given this state of affairs vis-à-vis existing investments, it is quite likely that Industry will be discouraged from further investments in capacities – which are necessary to meet the expected growth in demand of paper and paperboards.
The inevitable consequence of drop in investments will be a multiplier adverse impact on the Indian farmer community with whom the Industry has strong linkages and a significant outflow of foreign exchange towards increased imports of paper and paperboards.
In order to provide a level playing field to the domestic Industry, paper and paperboard products should be kept in the negative list (i.e., no preferential treatment) while reviewing the existing FTAs and formulating new FTAs.
India's Opportunity
Highlighting the role of paper industry in national growth, Mr. Agarwal underlined the growth opportunity lying there for the paper industry. Growth in organized retail and 'Make in India' campaign are two most probable and prime drivers of the growth of Indian paper industry. Mr. Agarwal said, "There is no denying of the fact that India's Paper Industry has the potential to play an important role in meeting the three key national objectives of the Government – Education, Literacy, and Employment Generation – that too in the rural areas.
"Greater emphasis on education and literacy by the Government coupled with growth in organized retail and demand for better quality paper is the major drivers for writing and printing paper. At the same time, demand for better quality packaging of FMCG products marketed through organized retail, rising healthcare spends, over-the-counter medicines and increasing preference for ready-to-eat foods are the key demand drivers for paperboard.
"The Government should therefore support the Industry that has strong backward linkages with the farming community and significantly contributes to the national objective of bringing 33 percent of land mass in India under tree cover.
"World's economic centre of gravity is shifting from West to East. India with its fast rise in consumption of paper is at an advantageous position to make the most of the opportunity offered by changing economic order. What is required is an enabling policy framework so that raw material is available competitively and the domestic Industry is protected against cheap imports of paper. I hope the 'Make in India' programme looks at these dimensions and necessary steps are taken by the policy makers."
Working Together, Fortifying R&D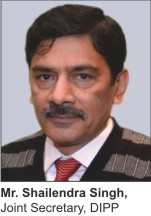 In his address, the Chief Guest, Mr. Shailendra Singh, Joint Secretary, DIPP, highlighted that the expected increase in demand for paper in the country would require considerable increase in the indigenous production base of the paper sector in the next 15 years. He stated that the Government and the industry need to work together so that there is in-depth planning to address critical issues like raw material availability, technological upgradation, capacity addition, environmental compliance, skill development and research & development (R&D) support. He added that the industry needs to imbibe technology improvements for better energy efficiency and reduced environmental impact. For addressing the energy and environmental issues, he stated that there was need to strengthen R&D institutions like CPPRI. He highlighted that the 'Make in India' initiative of the Prime Minister was designed to transform the country into a global manufacturing hub and extolled IPMA to interact with DIPP to find solutions to the challenges being faced by the paper industry.
Five Forces: Substitution, Consolidation, Rationalization, Optimization / Transportation, and Regulation / Legislation
The Keynote Speaker, Mr. Cato Ealy, Senior Vice President – Corporate Development, International Paper Co., in his presentation on 'Global Industry Trends in Paper & Packaging', highlighted the five important forces that would influence the future direction of the pulp, paper and packaging industry worldwide and the areas that would have implications for the industry in India. He talked about each one of the five – Substitution, Consolidation, Rationali-zation, Optimization / Transportation, and Regulation / Legislation – in the context of the global environment and India specifically. In the context of India, he stated that it was likely that paper usage would continue to find substitution in electronic form and demand would be dampened as some uses of paper never materialize. Packaging was likely to continue to grow with demographics and a successful "Make in India" campaign. Consolidation would be a natural force as the cost of achieving scale and modern competitive industrial structures, assuming that the regulatory forces would allow it to take place. Regulation and legislation would more likely than not distort the true economics of the paper and packaging industry with unpredictable and, in some cases, undesirable consequences.
IPMA Awards 2013-2014
To encourage and give due recognition to progressive paper mills in the country and also to inspire all the other mills, the IPMA Awards for year 2013-2014, were conferred by the Chief Guest, Mr. Shailendra Singh. IPMA Paper Mill of the Year Award was conferred on M/s Tamil Nadu Newsprint & Papers Ltd., Kagithapuram, received by Mr. A Velliangiri, Deputy Managing Director of the Company. IPMA Energy Conservation Award was given to M/s Seshasayee Paper and Boards Ltd., Erode, received by Dr T.G. Sundar Raman, General Manager (Energy and Clean Development) of the Company. M/s International Paper APPM Ltd., Rajahmundry, bagged the IPMA Environment Award which was received by Mr. Rampraveen Swaminathan, Chairman & Managing Director of the Company.