The year 2019 was a year of slowdown for the Indian economy. Economic analysts say that the general slowdown of the global economy would continue in 2020, while 2021 would show a significant rebound. How much this situation has affected and will affect all grades of paper in India is anybody's guess. However, the domestic writing and printing paper sector in India did not feel the impact of the downturn in 2019: Paper prices remained firm and demand was strong. India's share in the demand for paper across the globe continued to grow – and that was because the domestic demand had been increasing at a steady pace, while the demand in western nations had been shrinking.


It is worth noting that the demand for domestic paper in India rose from 9.4 million tonnes in FY08 to 15.4 million tonnes in FY16; and it continues to rise. Besides, the Indian paper and paper products market is projected to grow from USD 8.6 billion in 2018 to USD 13.4 billion by 2024, exhibiting a CAGR of 7.8 percent during 2019 to 2024. Some industry players say that the Indian paper industry is poised to grow and touch 25 million tonnes during 2019 to 2020 from 20.37 million tonnes during 2017 to 2018.

The growing manufacturing sector requirements of better quality packaging of Fast-Moving Consumer Goods (FMCG) products and the demand for paper products such as tissue paper, filter paper, tea bags, lightweight online coated paper and medical-grade coated paper pushed the paper and paper products market in India in 2019. The current demand for paperboard and packaging is growing at perhaps the fastest pace, as paperboard and packaging cater to industries including FMCG, FMEG (electronics), food and beverages, textiles and pharmaceuticals.

Although the disposable and hygiene products sector in India is still in its nascent stage, it has a great potential for growth. With the advent of many new innovative products and a spurt in awareness about hygiene, this sector has undergone a massive transformation. According to the estimates from Euromonitor, a market research company, the Indian tissue paper and hygiene product market, which has been consistently growing, will continue to grow significantly. The market size is projected to increase from Rs. 57.8 billion (USD 870 million) in 2017 to Rs. 100 billion (USD 1.5 billion) in 2020. Euromonitor points out that the strong demand comes mainly from the increasing income of countryside consumers and their pursuance of more comfortable and convenient lives.

As in the year 2018 so also in the year 2019 many of the existing players increased their capacity to meet the growing demand. However, the high cost of production due to unavailability of and high cost of quality raw materials, high cost of power, concentration of mills in specific areas only, technological obsolescence and environmental challenges hampered the growth of the market for paper and paper products.

In the year 2019, the opportunities for the Indian pulp and paper industry were resource efficiency and bioeconomy. In all probability, resource efficiency and bioeconomy will be the buzzwords of 2020 as well. The ongoing improvements in technology, at least in the top paper mills, can further reduce environmental impacts and optimize the use of resources.

The per capita consumption of writing and printing paper in the country will continue to increase in 2020 with rise in lifestyle and the spread of literacy and education. A key point to remember in this context is that every 1 kg incremental per capita consumption results in additional demand of more than 1 million tonnes a year!

As the buoyant pulp and paper industry marches into the New Year, let us revisit the top news headlines of the year gone by.
---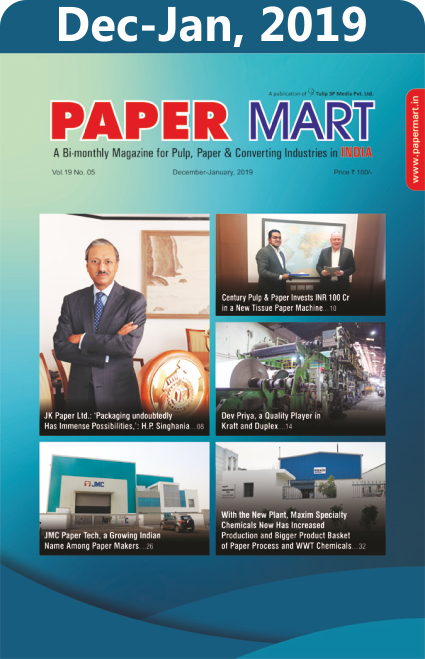 Century Pulp & Paper Invests INR 100 Cr in a New Tissue Paper Machine
Binjusaria Paper to Soon Roll-out the New 300 TPD High Grade Kraft Mill for Commercial Production
With the New Plant, Maxim Specialty Chemicals Now Has Increased Production and Bigger Product Basket of Paper Process and WWT Chemicals
Vidhisha Paper to Construct New Kraft Paper Mill in Vapi
PMP to Deliver Headbox and Shoe Presses to South India Paper Mills Ltd.
---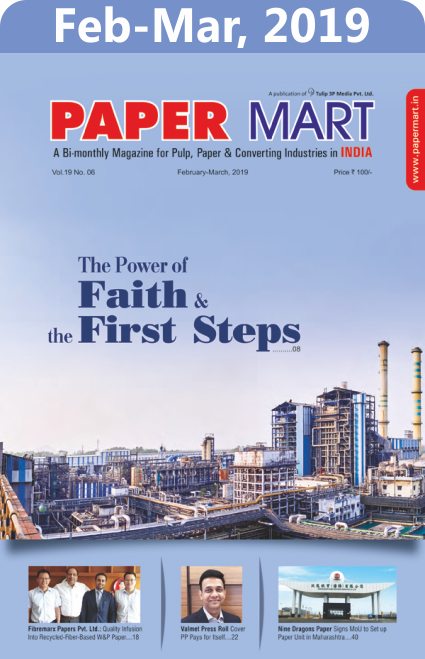 Fibremarx Papers Takes Investment Decisions to Upgrade Recycled-Fiber-Based Writing-Printing Paper Facility in Uttarakhand
Nine Dragons Paper Signs MoU to Set up Paper Unit in Maharashtra
Valmet to Supply Key Process Technologies to Naini Papers in India
Valmet Strengthens Business by Acquiring Pulp and Paper Tech Supplier GL&V
Kotkamills Revolutionizes Paper Cup Production and Recycling with Its Plastic-free Barrier Board Solutions
---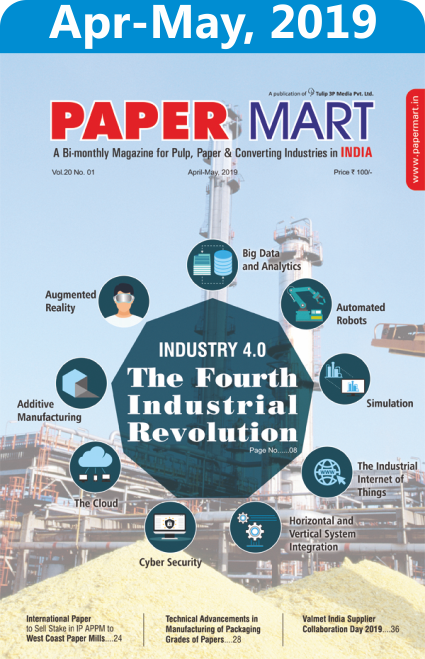 International Paper to Sell Stake in IP APPM to West Coast Paper Mills
ITC's Bhadrachalam Pulp Mill Installs New Recovery Boiler from Valmet
Century Pulp & Paper to Install Satellite PCC Plant in Lalkuan Mill
Papcel Collaborates With JMC Paper Tech to Serve Indian Customers
Asia Pulp and Paper Introduces New Compostable Bio Container for Takeout Food
---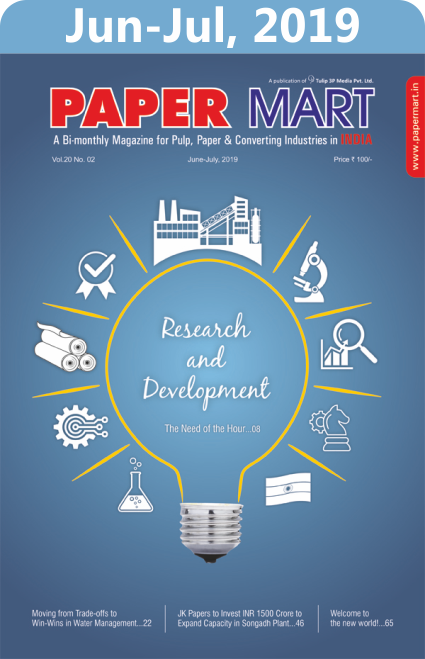 Wires & Fabriks: Keeping Ahead of the Competition
JK Papers to Invest INR 1500 Crore to Expand Capacity in Songadh Plant
ITC Bhadrachalam Mill to Get Valmet's Board Machine Rebuild
Trident Installs ABB's KPM KRT Retention Measurement System in Dhaula Mill
Parason Acquires Calpher Máquinas to Expand its Footprint in Brazil
---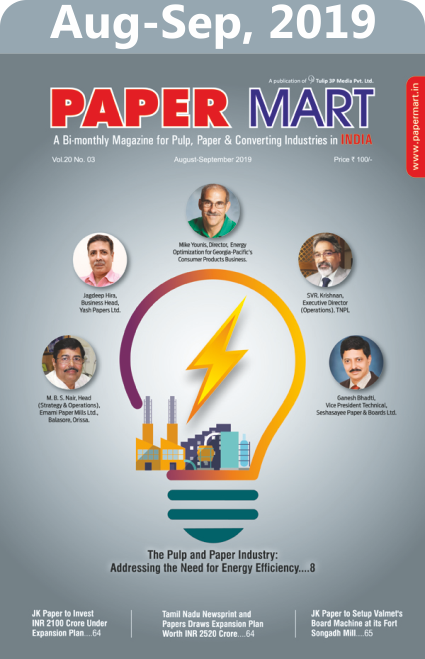 IPAPPM's Farm Forestry Program Is Delivering the Goods
Amar Elastomers: Stepping into the Paper Industry with Indigenously Manufactured Suction Roll Shells
JK Paper to Invest INR 2100 Crore Under Expansion Plan
Tamil Nadu Newsprint and Papers Draws Expansion Plan Worth INR 2520 Crore
JK Paper to Set Up Valmet's Board Machine at its Fort Songadh Mill
---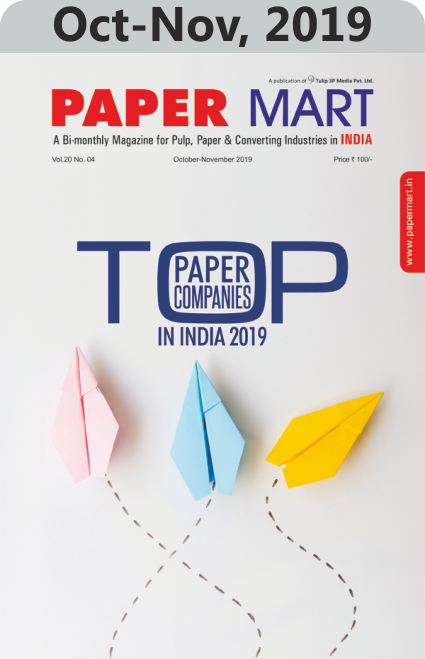 UNIDO: Enhancing the Productivity and Competitiveness of the Indian Pulp and Paper Industry
IVAX Expands Its Presence in Europe
Zenith Rubber Introduces Polyurethane Technology
JMC Paper Tech Bags Order for 100 TPD Paper Machine from Shree Narayan Kraft Paper Mill
Valmet's iRoll Solutions at N R Agarwal Industries Improves Wet Pressing Performance