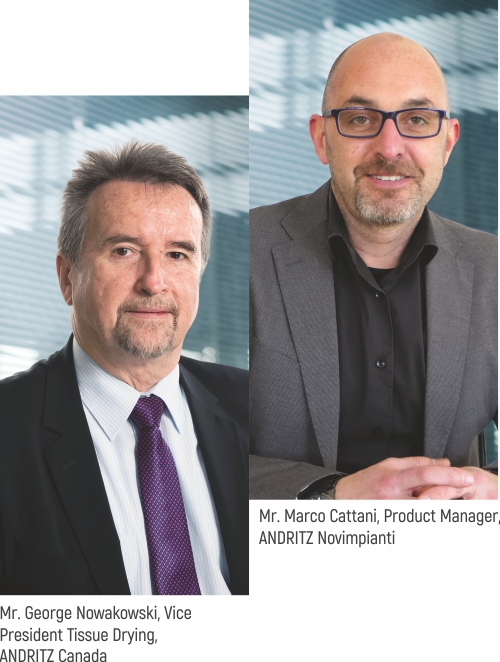 ANDRITZ' air and energy system solutions have a pedigree which includes the installation of hundreds of air and energy systems delivered worldwide. With centres of excellence in Lucca, Italy, and Montreal, Canada, ANDRITZ is driving innovation especially with regards to CO2 footprint reduction. The combined expertise with know-how stemming also from other ANDRITZ business areas has created a superb range of engineered solutions, specifically for tissue and paperboard production. As tissue mills seek to optimize their energy consumption for optimum sustainability, ANDRITZ introduced a hood air system based on electrical heating. In a recent conversation with Paper Mart, Mr. Marco Cattani, Product Manager, Andritz Novimpianti & Mr. George Nowakowski, Vice President – Tissue Drying, ANDRITZ Canada, discussed their newly launched PrimeDry Hood E for energy efficiency boost.
From environmental considerations to the basic economics of running any energy-intensive process, there are, today, numerous reasons for tissue mills to examine their energy strategy. Add in the uncertainty over gas supply created by the current geopolitical situation and the case for electricity becomes very compelling.
This is particularly the case in any location where wind and sun are in plentiful supply. There is a growing list of mills which source electrical energy, at least in part, from renewables. In Europe and the USA, there is tax to pay on emissions, including carbon dioxide, which further incentivizes solutions based on electricity, particularly if that electricity is sourced from renewables rather than fossil fuels. Government subsidies on renewable energy are another factor in the equation.
In this context, ANDRITZ has taken a wealth of knowledge regarding electrical heating, in the drying of spunbond materials for nonwovens in some of their installations for example and applied it to hood air systems for tissue machines. The result is the ANDRITZ PrimeDry Hood E, which uses the same air system as gas- or steam-heated hoods, but with electric heaters replacing gas burners or steam heaters. The result is a system capable of achieving air temperatures of 400 – 450°C.
Watch: JMC Paper Tech Launches New Subsidiary JMC Papers
Energy Efficiency Boost
Compared with for instance gas-heated systems, PrimeDry Hood E increases energy efficiency for the hood drying system by up to 4 percent. Electrical heating is more efficient because a conventional gas burner requires heating of both the combustion air and drying air for the burner to function, while electrical heating does not require combustion air. And in theory at least, 100 percent of electrical energy is converted into thermal energy. Compared to steam-heated systems, the PrimeDry Hood E can increase production through its capability to achieve elevated temperatures.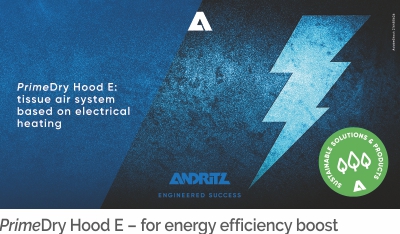 Electrical heating offers the further advantage that no combustion residuals are emitted to the air. Overall, tissue machines can expect a reduction in carbon dioxide emissions of approximately 70 percent compared to a conventional gas-heated system. In many parts of the world, Europe and the USA included, mills pay tax on emissions to the atmosphere, so there is a clear economic argument for electric heating as well.
The potential for lower availability compared with gas-heated air systems is mitigated by the use of filters with automatic cleaning in case of low temperatures, as is already implemented with steam-heated hoods.
There are two types of electric heaters available from ANDRITZ: the Corner Type and the In-Line Type. In terms of performance there is no difference, but each format is suited for a particular mill layout and recommended on a case-by-case basis. Electrical heating comprises the main body of the electrical resistor, a terminal box and control panel, the placement of which is flexible.
While the application of electric heating for hood air in tissue production is new, electrical heating in industrial contexts where drying is involved is not. So, it has the benefits of being proven technology – for instance in some ANDRITZ nonwovens installations, just to give one example. It also means that there are existing design solutions to manage specific situations, such as the potential for seismic activity.
The electrical heater has been specifically designed with minimally disruptive maintenance in mind. The standard solution enables easy removal of both top/bottom and laterally affixed resistors by unbolting them from the plates. ANDRITZ proposes an even more convenient solution, in which the heating elements can be removed in bundles from the duct heater rather than having to extract the whole duct heater installation. Through a minor modification of the duct heater design, this refinement facilitates maintenance of a single heating bundle while the tissue machine continues to operate at a lower capacity, rather than being shut down completely.
Also Read: Vertex Chem Launches Barrier Coating to Replace Poly Coating Paper
A Positive Addition in a Changing World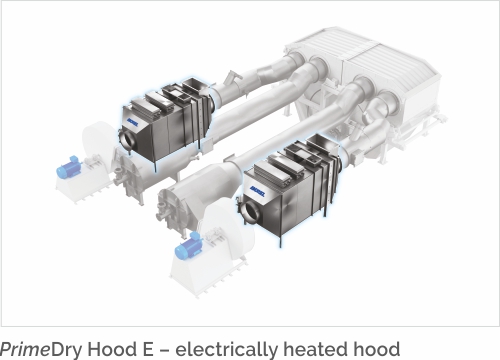 Electrical heating is a positive addition to ANDRITZ's portfolio in a changing world. It is not going to suit every situation, but its flexibility makes it widely applicable. Renewable energy sources might not be available 24/7, but a hybrid system which can switch between gas and electric heating for hood air enables a mill to switch to the fuel source, which is most suitable for prevailing climatic conditions, time of day, or even changing tariffs for gas and electricity over a 24-hour period. It is a question both of optimizing energy cost and security. And if drying capacity is a limiting factor in any tissue-making scenario, the addition of electrical heating can increase capacity.
As a new application of a tried and tested technology, there is minimal technical risk to the user. PrimeDry Hood E is equally suitable for dry-crepe tissue production as for textured or structured (TAD) tissue machines. With zero carbon dioxide emissions from combustion, there is also a benefit in terms of the final product's eco credentials. This will appeal to the consumer and therefore the retailer. A genuine marketing opportunity born out of technology – and based on hot air!