"When you change the way you look at things, the things you look at change."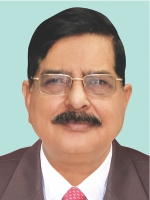 Andromeda Consultancy Pvt. Ltd. was founded by Brigadier S. K. Mutreja (Retd.) with a vision to serve the Indian industry in optimising their performance. He is well-known to the Newsprint paper industry with over 46 years of experience, including 35 years in the Indian Army and 11 years with the paper industry. He was instrumental in reengineering Nepa Ltd. from a loss making unit to a profitable one. Andromeda is majorly consulting to paper industry. We have now entered into a new sector i.e. education sector at college level. Andromeda has entered into an agreement with Technology Education & Research Integrated Institute (TERII) for assisting in accelerating their performance.

"One of the areas that we would be focusing on will be better coordination between education institute, students, and the industry. Our endeavour will be to align the three in a manner that the industry gets trained human resource who can be readily absorbed. This in turn will ensure a better future not only to students and society, but also help in optimizing the Industry's performance," said Mr. Mutreja.

"To get game-changing results, we first focus on game-changing thought and actions at the end of the day; our concern is making sure that your business prospers. We offer defined business consulting and coaching, as well as customized solutions that are based on your individual business requirements. Andromeda always believes in creating a brand where end customers, not only see the quality, but also feel proud to be associated with," he added.