Asia Pacific Resources International Limited (APRIL) Group is one of the largest, most technologically advanced, and efficient makers of pulp and paper products in the world. It manufactures products that are used in packaging, printing and writing paper, tissues, shopping bags, food packaging, magazines, and books. APRIL Group's pulp and paper mill and plantation operations are in Riau province, in Sumatra, Indonesia. In addition to its existing pulp mill and plantations, APRIL Group has invested significantly in infrastructure.
"We are planning to develop a sustainable paperboard production facility at our operations in Indonesia. This will have the capacity to produce 1.2 million tonnes of fully recyclable and biodegradable folding boxboards…"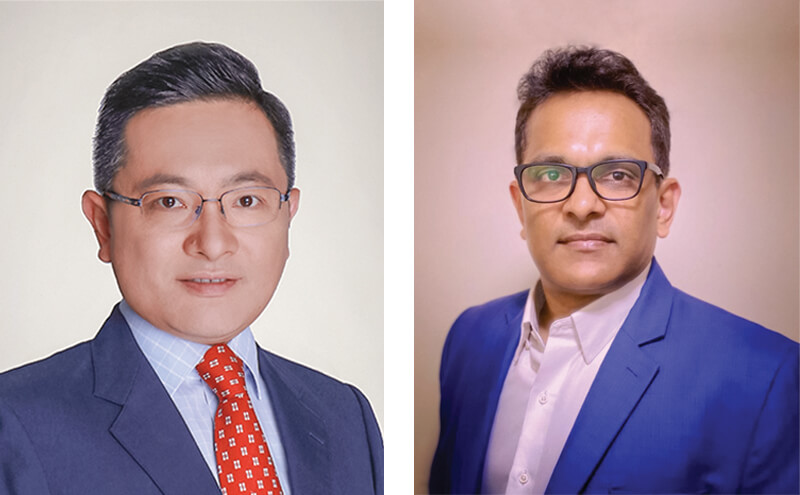 In a joint interview with Paper Mart, Mr. Wanyan Shaohua, Paper Business Head, Vice President (Commercial), and Mr. Suneel Kulkarni, Country Manager-Pulp & Paper, India & Subcon, APRIL Group, discuss recent developments in the company and their views on the Indian paper industry.
Paper Mart: Could you present a brief overview of APRIL Group along with its recent developments?
Wanyan Shaohua: We are one of the largest pulp and paper companies globally, with headquarters in Singapore. Our main manufacturing facility is in Indonesia, where we have almost 500,000 hectares of fiber plantations and a big industrial complex. We produce around 3 million tonnes of pulp, 1.15 million tonnes of fine paper, and 300,000 tonnes of viscose per annum.
The mill uses world-class engineering and technology to produce quality pulp and paper products sold around the world. We have three pulp lines and three paper machines. We are working on increasing the current production capacity which we call a 'debottlenecking project'.
Secondly, we are planning to develop a sustainable paperboard production facility at our operations in Indonesia. This will have the capacity to produce 1.2 million tonnes of fully recyclable and biodegradable folding boxboards. We are also planning to set up a mechanical pulp-making line to integrate and support the paperboard production line. Our long-term plans also include expanding viscose production.
Watch: Evolution of Paper Based Packaging
PM: Tell us your market presence along with your expansion plans in India.
WS: In terms of market presence, APRIL Group is covering Southeast Asia, including nations like Japan, Korea, and the Indian subcontinent. These, including continents like the Americas, and Europe, are our key markets. We have sales reaching customers in more than 70 nations around the world.
India is one of the most important and key markets for us. We have been in the Indian market for almost twenty years now. While we aspire to be part of India's growth story, we also try to complement local mills instead of competing with them. We position ourselves as quality suppliers to the market and fill in the gap of demand-supply seasonally.
PM: Could you shed some light on the infrastructure and the R&D efforts?
WS: With respect to the infrastructure, we have completely integrated operations in Indonesia with our own plantations. For energy requirements, we use captive power generated from biomass extracted from the wood fiber. In our integrated power plant, we have installed a recovery boiler, wherein we recover the waste coming out from the fiber and use it for power generation in our production operations. We are continuously seeking to increase the use of renewable energy in our operations. We also have two ports to support our logistics operations.
PM: What are the key trends driving the industry growth in India?
WS: In India, on one hand, the disposable income of the population is increasing. That means that demand for high-quality paper and paperboard will also increase. Secondly, growing awareness of sustainability and environmentally friendly packaging has further increased the demand for paper packaging. I would like to add, though, that these trends are not just for the Indian market, but everywhere.
Recently, we all have been witnessing a sharp surge in e-commerce. In fact, the entire e-commerce segment is very paper-friendly. For shipping and logistics purposes in e-commerce, packaging is required. This opens the door for further growth in the paper-based packaging segment. Also, similarly, with respect to environment-related issues, the Indian government's ban on single-use plastics should also be considered in this context. This will create further demand for papers, paperboards, and paper-related products.
At the end of the day, paper, or paperboard, is biodegradable, and sustainable. Meanwhile, our paper mills have been able to recycle around 90 percent of the water and chemicals used in the papermaking process, making the paper a more sustainable product than the conventional plastic packaging.
Moreover, I feel that virgin-grade paper products are much better in quality and are more hygienic than recycled-grade paper counterparts. Also, in recycled grade papers, the limited availability of waste papers is another factor that is affecting not just the Indian paper industry but across the globe. I believe the demand in the Indian paper industry, particularly for high-quality paper products, will continue to grow.
We have observed this trend in the U.S. and Europe over the past thirty years, and in the last twenty years, we have seen this in China, and in other Southeast Asian countries as well. The Indian paper industry is expected to grow in the same pattern.
PM: According to you, what behavioural changes in consumers have greatly influenced the paper industry in India?
Suneel Kulkarni: The growth of the consumer packaging segment is being driven by changing consumer behavior and consumption patterns. With the advent of COVID-19 and lockdowns, the people were not stepping out of their homes and were ordering food online. In this way, a lot of changes were witnessed in the packaging segment.
A few years ago, we had never imagined that food delivery platforms like Swiggy and Zomato, would become so huge. That surge has arisen due to the pandemic. Also, because of COVID-19, there has been an increase in awareness of hygiene and the demand for tissue papers and toilet paper rolls, though the consumption of disposables is still relatively lower in India.
Moreover, considering the demographic changes in the country, people are moving from rural places to big cities and growing from low-income strata to mid-income strata. There has been a growing inclination towards supermarkets and shopping malls. The consumption habits are gradually changing. This increasing consumption of consumer products, in turn, has increased the demand for packaging.
The writing & printing segment was severely impacted during the pandemic but is expected to stabilise in a few years. While the young generation is transitioning towards digital devices, we continue to prefer reading in the physical, paper format. For the sections of society that do not have widespread access to digital devices, the cheapest form of getting an education is still through books.
PM: What challenges are the paper industry facing?
SK: At present, the biggest challenge is the cost of the raw materials. For example, over the past two years, the prices of native starch and Hexa Sulpho OBA have increased by 39 percent and 44 percent respectively. Secondly, logistics costs are not very economical, as costs have increased almost fivefold.
All of this has put significant pressure on the costs of paper. Usually, people start looking for alternatives when products become expensive. They might spend on one or two reams of paper if it is affordable. But once it starts hitting the pocket, consumers start considering whether they even need this amount of product. That is the challenge the industry is going through.
Also Read: APRIL Group Invests in Paperboard Packaging Mill to Support Indonesia's Economic Development
PM: Please share your thoughts on the price sensitivity of the Indian market.
SK: The issue of price sensitivity is prevalent in every developing country. You will witness the same phenomena, same mindset, and same approach in countries in Africa, the Middle East, and South America. Earlier, the policies of the government were not very conducive to manufacturing; hence, India has always been a consumer market, rather than a manufacturing market. However, the scenario is now gradually changing.