In a conversation with Paper Mart magazine, Ms. Jyotsana Shrivastava, Senior Vice President, Paper & Packaging Specialties, India, Archroma, talks about the challenges and the message she has for young women who wish to join the paper industry.
Women today are already advancing into various fields and we see more women now in the paper industry also including on the shopfloor – which is very heartening.
Paper Mart: Could you present a brief overview of your company and its product portfolio for the packaging and paper sector along with your day-to-day life in the organisation?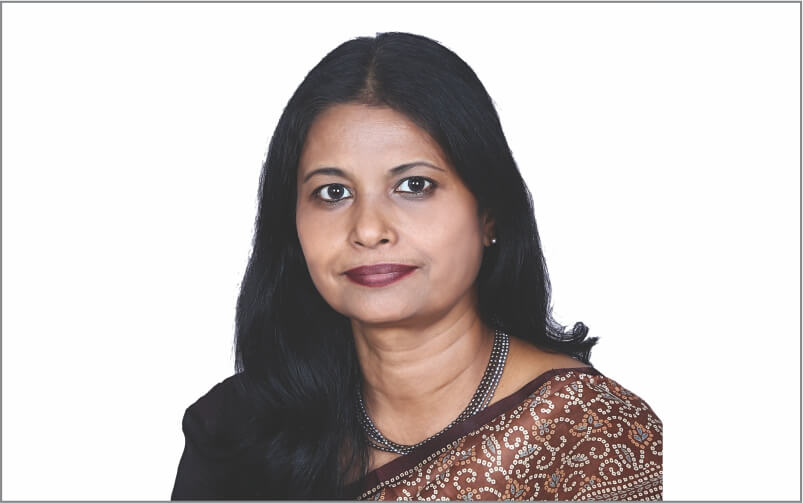 Jyotsana Shrivastava: Archroma is a global specialty chemicals company committed to innovation, quality, service, cost-efficiency and sustainability. We serve many markets like packaging & paper, textiles, paints, industrial & construction, and home care. Archroma is a leader in colours and specialty chemicals, with expertise in the management of whiteness, coloration, special coatings and strength for all kinds of packaging and paper.
At Archroma, I am responsible for businesses of Paper chemicals, Coatings, Home care and New Market in India, along with textile business for Sri Lanka. The spread of various businesses and markets offer me a unique opportunity to engage with customers across industries.
While the routine activities of business management are part of my regular responsibilities, my focus is on working closely with our customers and identifying areas where Archroma can add value to their business. Building a robust and sustainable business is critical and for that, it is important that we are close to the customers, understand their changing needs and continually innovate to meet these requirements.
Archroma is well-known for its innovations and solution systems aimed to help packaging & paper manufacturers to optimise productivity and create value in their markets. We have introduced over 70 systems designed in line with the principles of "The Archroma Way to a Sustainable World: Safe, efficient, enhanced, it's our nature", for paper, packaging, fashion, technical textile, and many other applications. At Archroma, we believe that we can help transform packaging & paper making by providing solutions that bring value, including sustainable value, whilst optimising costs and resource utilisation in production.
PM: Both the paper industry and the specialty chemical industry are predominantly male-centric. What are the challenges you strive to overcome every day?
JS: My journey in the last 25 years in the area of specialty chemicals and largely in the paper industry has been very enriching and fulfilling. I had not planned to be part of the paper industry but have had the opportunity to work in this industry and have really enjoyed my journey here.
The industry is quite male-centric but I must admit that I have never had any difficulty with that – in fact, I have been fortunate to have such strong, close relationships with all my customers and enjoy that even today.
Watch: IVAX Paper Chemicals Interview
PM: Paper mills are generally located in remote areas and considered less lucrative than other sectors. What are your thoughts?
JS: It's true that the paper industry is perceived as less attractive and this can be a challenge to attract talent to the industry. Most paper mills are located in remote areas and travelling to these sites and getting reasonably good hotels was quite a challenge. However, this has been improving rapidly and we now have many of these areas getting connected by flight too. But I have enjoyed the experience thoroughly and it has helped me to evolve as a stronger person.
I have also been very fortunate to have worked with very good organisations throughout my career spanning across erstwhile Ciba and then BASF and now at Archroma. I would like to give credit to my team and industry associates who have helped my journey to be successful and enjoyable.
PM: What are your views on the Indian paper industry in terms of challenges and opportunities?
JS: The paper industry in India has various challenges faced on raw material, energy and infrastructure costs. Despite paper being a sustainable product, the paper industry is still perceived as a polluting and resource-guzzling industry. We have seen the industry has been working on these challenges continuously and have come a long way to make paper making more sustainable.
PM: Could you shed some light on the future potential for the pulp & paper industry along with the key trends that are catalysing the growth of the market?
JS: With only 5 percent of the world's production share and a massive gap in per capita paper consumption, the long-term growth of the Indian paper industry is promising. The Indian paper industry is the fastest-growing paper market in the world.
The packaging industry is booming and we can see so many new plants coming up. Increasing consumerism, retail, and enhanced focus on sustainability are driving the growth. Sustainable packaging is one of the key drivers for the paper industry. India has imposed a ban on single-use plastic which is a boost for the paper industry. This is a unique opportunity for all chemical suppliers to develop suitable sustainable solutions and contribute to making the world more sustainable.
Archroma has recently launched a brand-new innovation in the area of barrier coating for food packaging under our Cartaseal trade name. The new barrier will complement the established Archroma portfolio of coating solutions such as Cartacoat® RM rheology modifiers with FDA- and BfR-compliance for improved runnability, Cartacoat® B range of binders, Cartabond® crosslinkers and Cartacol® surface sizing agents for improved printability of multipurpose papers.
Also Read: Pioneering Women in the Paper Industry
PM: What would be your message to young women, who would want to follow similar footsteps?
JS: Women today are already advancing into various fields and we see more women now in the paper industry also including on the shopfloor – which is very heartening. My advice to them is that they should continue to pursue their career in areas of their interest and not get discouraged by some hurdles – these are everywhere.