Dee Tech India deals in paper machine clothings, paper machineries and special kind of diagnostic equipment that aids in the inspection of paper production processes, ranging from electrical or mechanical and process auditing to inspection.
In an interview given to Paper Mart, Mr. Neeraj Singhal, Director, Dee Tech India, spoke about the company's unique and innovative inspection tools and his commitment to providing quality equipment for the Indian paper industry.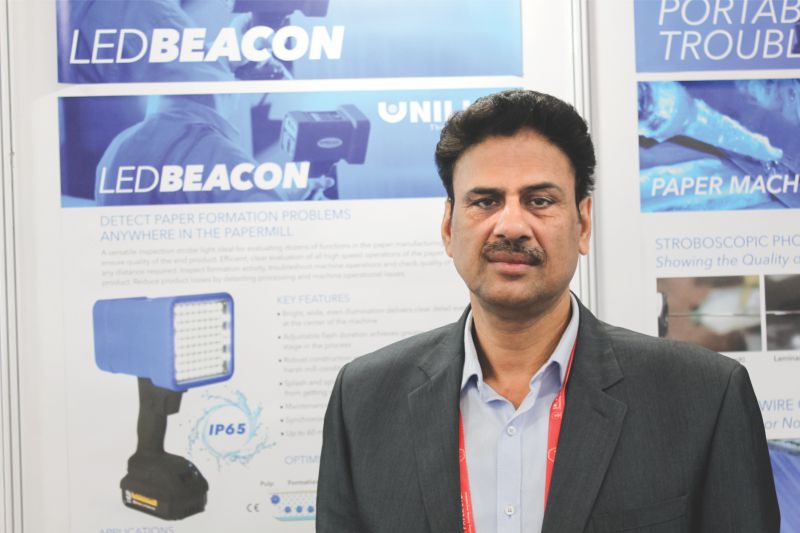 Excerpts:

Paper Mart: Could you tell us a little bit about your company and product portfolio?

Neeraj Singhal: Established in 2002, Dee Tech India supplies an array of products which are used for different industrial purposes. We are a trading company and have collaborated with many world-renowned companies from USA, Germany, UK, China and various other principal companies to trade their technologies and equipment in India. Our range of products includes paper machine clothings, press rolls, pressure screens and baskets and all types of dosing (reciprocating /screw type) and chemical transferring pumps.

Over the last 10 years, we have introduced some very good technologies and inspection tools which were not available to most of the mills till date in India (except bigger mills). One of our inspection tools is called Handheld Stroboscopic Lights. It's from Unilux. It facilitates in diagnosing quality and spot product imperfections anywhere on the running condition of paper machine in paper mills; it is used to conduct inspection of felt and wire, formation, dewatering, turbulence, bearings, gears and surface quality. These portable units come in flood, spot and UV versions. Many mills save expensive fiber by inspecting and making rectification with the use of this equipment on paper machine in day-to-day working

PM: Could you tell us about the major developments that took place in your company recently?

NS: In the last few years, we have updated and upgraded ourselves both in terms of innovations and experience. We have introduced new technologies for the paper industry in the past few years in the field of auditing as well.

PM: Could you tell us about the market shares your company has in India and other countries?

NS: For our Dee Tech India products, we have approximately 20 percent share on the Indian market but our product like Led Beacon from UNILUX has 100 percent market share in India and all over the world. These are handheld stroboscopic lights which were introduced in India in 1995. These stroboscopic lights are in great demand amongst Indian paper mills.

PM: Could you tell us about the companies you have supplied your products to?

NS: Customers for our high-end products come from various industries. We have supplied our products to the paper industry (companies like International Paper, ITC-PSPD, Century Pulp & Paper, JK Paper, Emami Paper Mills, Khanna Paper, NR Gp., Shah papers, etc.), the steel industry, the textile industry, and the printing and packaging industry. Our clientele includes companies that understand our technologies well and believe in adding quality to their products.

PM: What are your future targets?

NS: Our products, especially our special inspection analytical equipment, are quite popular worldwide. We are majorly focusing on bringing similar advanced technologies to India over the next few years. We are sure that the Indian paper industry will prove quite favorable to our business.