In an interview with Paper Mart magazine, Mrs. Rhea Mazumdar Singhal, CEO, Ecoware Solutions Pvt. Ltd., takes us through the overview of the company, the product offerings, the gender bias in the industry, and the message she wishes to convey to young women.
The biggest injustice is not trying. I would ask all women to take the first step and pursue their goals. Don't limit yourself, you don't have to pick just one thing as long as you are happy doing the multi-tasking.
Paper Mart: Could you present a brief overview of Ecoware and details about its manufacturing facility along with your day-to-day life in the organisation?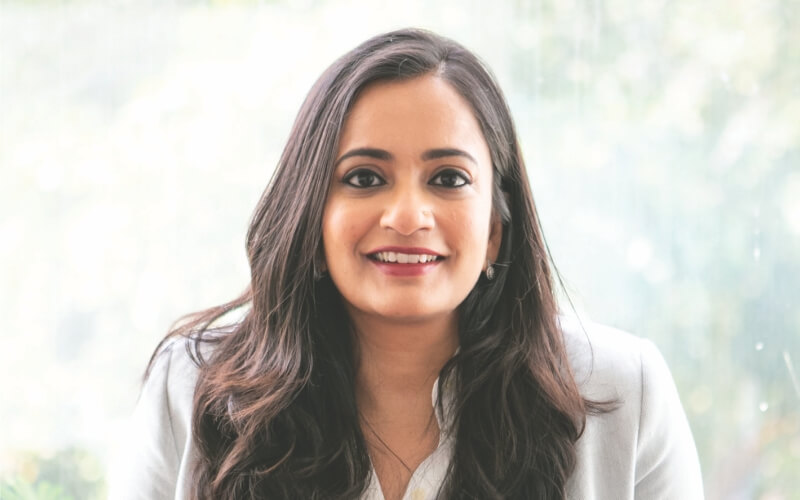 Rhea Mazumdar Singhal: Ecoware was founded in 2009. With our facility based out of Greater Noida, we commenced our production in 2010 and created a new category of packaging by using bagasse to make naturally compostable and biodegradable disposable tableware . Our aim was to replace single-use plastics which eventually end up in landfills causing untold damage to the environment and human health. We had three key priorities with safety being the first, i.e., whatever the company creates should be safe for people and planet. Our second priority was to be purpose-driven and create positive impact. We have generated employment by creating an industry that never existed before. Moreover, women constitute about 30 percent of the team. Ecoware creates around USD 2.5 of Environmental, Social, and Governance (ESG) impact for every dollar invested by the company. We have displaced over a billion pieces of single-use plastic in our journey. A hundred percent of our revenue is derived by applying principles of a circular economy. The third key priority for us is authenticity, every claim we make against our product is certified. This helps strengthen our brand and build stakeholder confidence.
Currently, we have a team of over a 120 people, 16 sales partners globally, 23 distributors in India, and more than 500 point-of-sales shops. Our clients include major firms like the fast-food chain Haldirams and the Indian Railways. In terms of our range of products, we have six different categories including plates, cups, bowls, boxes, trays and cutlery. The Ecoware solution is a sustainable alternative that is 100 percent natural, biodegradable and compostable. Made from waste of annually renewable crops such as sugarcane, wheat and rice, Ecoware offer all the utility of plastic plus added benefits of being microwave and freezer safe. Ecoware degrades naturally in soil within 90 days and is affordably priced on par as most single-use plastics.
I am the founder of the organisation and I work in the area of business development to create new opportunities for the organisation. Talking about my day-to-day life, exercise is an integral part of my day and that helps me focus.
PM: Kindly guide us through some of the key strengths of Ecoware and your product offerings. What challenges did you overcome?
RMS: Our raw material is waste, so, the concept of waste to wealth is very much embedded in our company vision. After the pandemic, start-ups like Ecoware have become more pertinent because everyone wants disposable as it has less risk of transmitting diseases. Our focus has predominantly been food & beverage, but now, we're innovating with other industries such as e-commerce and pharmaceuticals to help them reduce their plastic footprint. We are also getting a lot of global contract manufacturing enquiries because the world is keen to move its operations from China to India
We are India's first and largest sustainable food packaging company. Hence, we are seen as the market leaders. Our strength is that we have all the accreditations required for any sort of collaboration, whether it is the railways, airlines, or Quick Service Restaurants (QSRs). As the world is moving away from plastics, and looking to create sustainable supply chains and produce better alternatives, they want to collaborate with us.
Our products sustain a temperature range from -20 °C to 180 °C – that means you can bake, refrigerate or microwave them. The products give you a lot of versatility in terms of usage. Besides dining, we also have a takeaway portfolio and that's also one of the strengths of Ecoware.
We did not want anyone to use plastics as better alternatives were available but we had to work really hard to spread this message. Convincing people to use our products has certainly been a challenge. However, the credibility that we brought with time has given us a lot of recognition. I had the honour of receiving the Nari Shakti Puraskar, the highest civilian honour for women, from the President of India in 2019. This has allowed me to work at the cross-section of climate change, sustainability and women empowerment.
Watch: IVAX Paper Chemicals Interview
PM: What are the chief growth drivers of the sustainable disposable tableware market?
RMS: I think there are various growth drivers in the disposable tableware market. There is a post-COVID opportunity and there is a lot of need for disposables. Secondly, India has a good potential to be the manufacturer of such products as the world moves out of China. Thirdly, the government banned the use of 'single-use plastic' from July 1 and in a way, forced people to start thinking about sustainability as an opportunity and collaborate with enterprises like Ecoware.
The other thing I would like to mention is that people want to make healthy choices when it comes to food. People are turning vegan, going organic to consume healthy ingredients and get healthy nutrition. They are thinking about food in the purest form. Hence, you need packaging that truly complements it. You can't be serving healthy food in plastic! Moreover, consumers are constantly changing, evolving, and aligning themselves and their purchasing power to businesses that are more responsible.
PM: What else can be done to facilitate the growth and consumption of compostable tableware in our country?
RMS: The ban on single-use plastics on the July 1 is a welcome step by the government. However, to change a consumption pattern, you need to penetrate all parts of our country. Also, the government should lower the GST rates from 12 percent to 0 percent to make a product more affordable and encourage mass consumption.
PM: Tell us about your journey that led you to this industry along with your experience.
RMS: I am a pharmacologist. After working for Pfizer in the UK, I moved to India in 2009. I was shocked to see so much plastic being disposed of without a thought of recycling and decided to become an entrepreneur. The journey started as a bit of an experiment. I never expected Ecoware to be what it is today but I'm really proud of the threefold impact we created and the lives we have changed.
Also Read: Pioneering Women in the Paper Industry
PM: What would be your message to young women who would want to follow similar footsteps?
RMS: The biggest injustice is not trying. I would ask all women to pursue their goals. If they have an idea or want to do something, they need to take the first step. Don't limit yourself, you don't have to pick just one thing as long as you are happy doing the multi-tasking. I want to tell every woman out there to use her voice and speak her mind.