The Indian paper industry is desirous of conducive policy environment allowing more efficient raw material plantation and an improvement in transport infrastructure.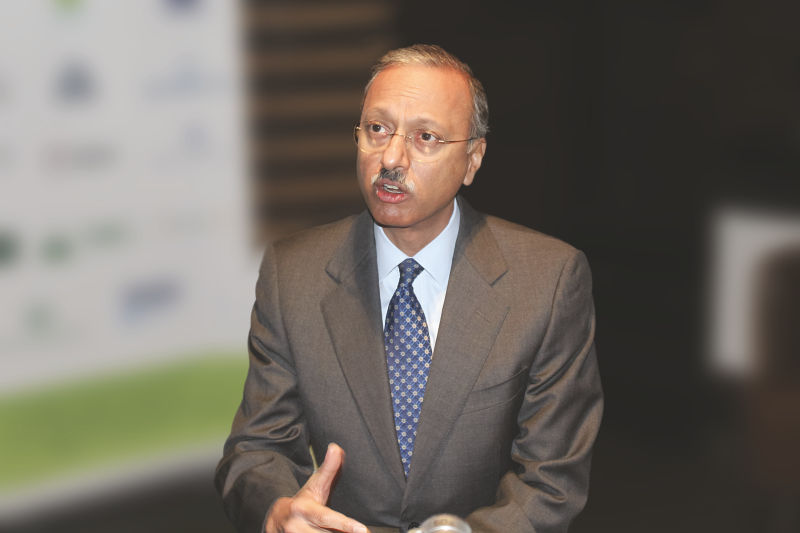 Mr. Harsh Pati Singhania, Vice Chairman & MD, JK Paper Ltd. recently talked to Paper Mart on a slew of subjects significant to the Indian paper industry including the persistent raw material crunch and sought govt.'s policy intervention to unlock a huge of expanse of waste lands or degraded forest lands for plantation purposes. He also added that such initiatives would not only assist 'Make in India' program by enhancing the domestic production and creating jobs but also would further the goals of environment conservation.

Moreover, JK is consolidating its big-ticket expansion worth Rs. 1800 Cr. done recently and would keep looking for further growth avenues through inorganic capacity expansions. As per Mr. Singhania, JK Paper looks forward to expand its outsourced paper program under its brand and closely looking over its pilot plantation project in Myanmar; if successful, it may go further by initiating similar projects overseas. Excerpts:

As is clear from the IPMA-AGM deliberations, the Indian paper industry has got tremendous growth potential coupled with few inherent challenges. Keeping those challenges or constraints in view, what kind of expectations does the paper industry have from the Government?

Well, basically the growth would continue to happen in India. India in fact is the fastest growing markets for the paper industry globally in terms of percentage growth because our base levels of consumption are very low; so all categories will continue to grow. I think the issue however is majorly the raw material availability and its cost. So, what the industry would desire is a conducive policy environment which allows more efficient raw material plantation. In this regard, the industry has been stating the case that degraded forest land, which is lying as waste and in that sense is a non-productive asset, should be allowed to be utilized by the industry for plantation purposes; the industry is not desirous of ownership of these lands and which shall stay with the government anyway. However, the benefits of doing so will be extended to everybody and not just to the paper industry. When you are going to grow trees on such waste lands, you are going to create adequate amount of jobs in rural areas for the poor people. Generating income and employment for those people is very important in India from the perspective of livelihood-source creation.

Secondly, we will be improving the condition by improving the ecology. You will have more green cover; you will have soil and water conservation along with other benefits that come from ecological balance by growing trees. Also, the industry will get access to raw material at lower cost like other countries, where the commercial plantation for wood has proved to be immensely beneficial. The beauty of this is that since wood is a renewable resource it can re-grow. If you take 5 to 6 years cycle at least 5/6th area of that land will always stay under green cover as the trees grow again or you can replant etc; so, actually it is a benefit for everybody.

Also, if the raw material is not available, we have to import fiber in one way or the other, either in the form of pulp, or waste paper, or in fact in the form of finished paper because the Indian industry is not going to be competitive because of higher raw material cost and it will not be able to expand. Therefore, raw material and finished stuff will come from overseas resulting in decline in Indian jobs and opportunities in India. So, this act alone is very important for 'Make in India' program, for example, to see that investments happen and to see that the jobs happen.

Other major challenges are around infrastructure. If there can be an improvement in infrastructure, it surely will help bring down the cost of transportation for moving goods and raw material across the country. Paper is fairly transport-intensive business in sense that you need around six tonne of inputs, whether it is raw material or it is coal or other chemicals, to make one tonne of paper. Therefore, there is a fair amount of transport cost involved and reducing this will make a big difference.

What are the new developments at JK Paper and what are the future plans related to the expansion, growth, production enhancement, etc. Kindly brief us about the JK's idea of outsourced paper distribution in the country.

See, we have completed a major expansion program just 3 years ago, involving about Rs. 1800 Crore plus and in that we have put in a new pulp mill and paper machine which are amongst the largest in the country and, therefore, we have actually finished a major phase of our expansion. What we are doing now is consolidating. We have got benefits that the new capacity is fully absorbed in the market; we have got better quality products; we have got products of different specifications available now. So, we have been able to consolidate on that. So, as far as we are concerned, there is no major new expansion program right now, but de-bottlenecking, improvements in efficiencies, and so on will continue for a while. Through this our balance sheet is looking good, reflecting also in our stock prices; so, that improvement in JK Paper is an outlook that will continue to happen.

You asked me about our outsourced products. Well, we are the only major paper company which is doing this and we are really going to continue to expand this program. We have increased our volumes of this outsourced quantity in this financial year as compared to the last year. Essentially, what we do is we get paper from other overseas mills made in our brand name which we sell through our brand using our distribution network; we will continue to pursue that activity.

Can we expect some inorganic or organic growth for JK Paper both on the pulp side and paper side?

As far as organic is concerned, I have already mentioned that on completing our major expansion program we would like things to get absorbed first and then will see the next phase of our growth. We will certainly continue to grow in the industry and will see what the next phase is. For inorganic, we always see opportunities to come and if there are opportunities that fit in well, we will certainly examine that.

Including overseas pulp opportunities?

We would look at that as well. On the overseas front, we are currently doing a pilot plantation project in Myanmar, where we have set up a plantation program and covered some area; but that is on the pilot basis. First we will see the results; if it is positive, we will see how we can accelerate that.

I would like to take your expert views on the packaging sector. In India, a lot has been happening on the cartonboard side, but not much on the containerboard side. What is your take on that?

Well, you know the fundamental point is that packaging industry, both in terms of carton-board and containerboard, will continue to grow because packaged goods are a reality and more packaged goods are desired now. You have the inner box and then you have the corrugated box; both of this will continue to grow. The real issue here is that corrugated box in particular is dependent largely on imported waste paper and the cuttings. The quality of fiber that we generate out of our Indian waste paper is inferior; so it is the strength of the imported fiber that will make containerboard grow in India.

The other side is that this industry is also very fragmented which is distributed as smaller units and there are varying quality standards. I think slowly we will have consolidation in terms that there will be some players who would be doing things in a better manner, producing better quality of ream, better strength boxes and doing things like that. We would be seeing growth in this sector though it will be a bit slow but it will last.