IPPTA organized a zonal seminar on "Replacing Single Use Plastic by Paper With Emphasis on Food Packaging " in the city of Mysuru on August 3 & 4. The event was co-organized by CSRI-CFTRI. The two-day event started with a welcoming and brainstorming inaugural session, which truly set the stage for upcoming sessions. Various technical sessions and panel discussions followed the inauguration. IPPTA & CFTRI made arrangements for various scientific and technical collaborations and discussions among the industry leaders present and the resident and visiting scientists of the host institute. His Highness Shri Yaduveer Krishnadatta Chamaraja Wadiyar, the Maharaja of the Erstwhile Kingdom of Mysuru, concluded the event with the Best Paper Award and an address on behalf of the hosts.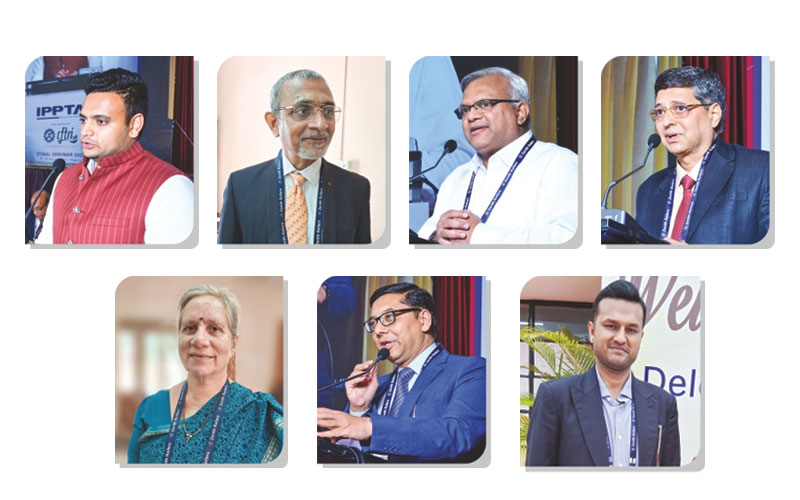 Indian Pulp & Paper Technical Association (IPPTA) recently organized a zonal seminar, themed "Replacing Single Use Plastic by Paper With Emphasis on Food Packaging". The two-day seminar was organized on August 3 & 4 by IPPTA and the Council of Scientific & Industrial Research – Central Food Technological Research Institute (CSIR – CFTRI). The entire event was organized within the exemplary campus of CFTRI in Mysuru, Karnataka.
The inaugural session was held in the CFTRI auditorium with dignitaries present on-dias, including Patron – Dr. Sridevi Annapurna Singh, Director of CSIR – CFTRI; Mr. Ganesh Bhadti, President of IPPTA; Mr. M K Goyal, Honorary Secretary of IPPTA; Mr. Pawan Agarwal, President of the Indian Paper Manufacturers Association (IPMA); Mr. P N Shridhar, Deputy General Manager (Sustainable Products and Packaging) at ITC Limited (Secunderabad); and Prof. Rajeshwar Matche, Chief Scientist at CSIR – CFTRI and the Chairman of the Organizing Committee.
The inaugural session touched on a comprehensive range of topics that were discussed elaborately during the two-day seminar.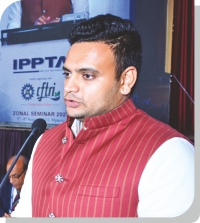 The Chief Guest – His Highness Shri Yaduveer Krishnadatta Chamaraja Wadiyar, the 27th Head & Custodian of the Erstwhile Kingdom of Mysuru, addressed the seminar, "In relation to today's seminar, for banning or moving towards alternatives of single-use plastic and plastic in general, it is indeed an honor that the seed sown so many years ago continues to aid in solving problems relevant today, and in benefiting society as a whole — my congratulations to IPPTA on conducting this seminar here. I am sure that the discussions and talks that happened over the course of the last day, have helped towards creating solutions for a cleaner and much more environmentally friendly India. It is a matter of pride for me to be here and once again thank you for giving me this honor. Everywhere we go, we have a huge issue with trash, especially with its disposal, with trash piled up on each side of the highway, especially if you go to the smaller rural towns, the smaller highways. This issue is made more acute by plastic, which percolates into microplastics seeping into the soil, and our rivers, and finding their way into the oceans. We need to find means towards eliminating the use of plastic, or at least reduce it, so that the burden on the environment is reduced at all costs. I am sure that the conference here has resulted in many such solutions coming forward. I am truly honored to be here. CFTRI stands as a model of what we can achieve when modern means are percolated while giving our heritage its due honor. Thank you, and my best wishes to you all."
Opportunity for Indian Paper Industry: Paper Needs to Compete with Single-Use Plastic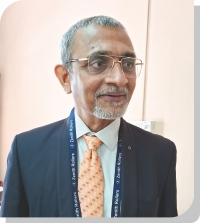 The welcome address was given by Prof. Matche, Chief Scientist at CSIR – CFTRI and the Chairman of the Organizing Committee, "It is an absolute honor to have the presence of eminent personalities. Single-use plastic puts a lot of challenges on the environment, hence, in India, and globally as well, this product has been banned. The ban brings a negative right on plastic, for single usage, but it does not bring a positive right for paper usage. Now paper needs to compete with single-use plastic, a very versatile material as it acts as a good barrier to moisture and oxygen. We need to explore if we can get these advantages and required barrier properties in paper packaging while reducing the cost. Through this conference, we are collaborating with premium institutes like CFTRI, where a lot of R&D is done in food areas. The issue is, when paper comes in direct contact with food it leads to safety issues. Yet, the usage of paper as a direct packaging material is not very well regulated in terms of safety parameters. The Government of India is very keen to bring on comprehensive regulations across all types of packaging material, from paper to metal to plastic. For instance, the Food Safety and Standards Authority of India (FSSAI) has banned the usage of newspapers directly as packaging owing to resultant health hazards. So, before any such regulation comes it is my appeal to R&D institutes, academic institutes, and regulatory bodies, to come together and work regarding- which chemicals are being used, which of them are harmful in terms of global or specific migration, and can we have alternate chemicals or materials, etc. This is an opportunity, as globally also this area is not well regulated, and if we are able to bring out some research, and identify the particular type(s) of chemicals, or packaging that can be used in direct contact with the food, then we can be a global leader in this area."
Need for Collection, Cleaning & Recycling and Mapping How Indian Foods Interact with Paper Packaging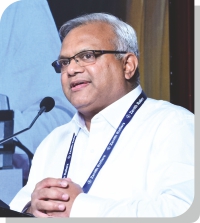 The keynote address was presented by Mr. P N Sridhar, Deputy General Manager (Sustainable Products and Packaging) at ITC Limited (Secunderabad), "In packaging, initially, product-package compatibility was being focused on, then came the cost concern. India is a beautiful country but we have never marketed them the way the Europeans or the Westerners have. The more tourists flow, the better it is for all our industries, but there are aspects going against us. There is litter that you find wherever you go, therefore, to make India a global tourism destination, our first effort was Swachh Bharat, a programme that led to the implementation of Extended Producer Responsibility (EPR) for plastic packaging. As packaging managers tried to cut their costs, they made their plastic thinner to the extent that even a secondary packaging material ranged between 25-35 microns. The product had excellent properties, very good moisture resistance, very good oxygen resistance, and very good water resistance, but on disposal, it had huge littering potential. As the thickness kept going down it became unremunerative to collect used plastic for the Swachh Sanchalak. So, they stopped picking up plastic. As opposed to plastic, the paper industry has always had an excellent stream of waste paper collection and recycling, both formal and informal. The plastic industry started with a minimum of 50 microns for plastic and Swach Sanchalaks were not collecting it due to its low return cost. Gradually, the Government banned plastic products below 75 microns and manufacturers changed to 75 microns as per the law. At 75 microns, the paper has a big yield advantage. It has become viable for many industries to reduce plastic consumption.
In the coming years, the single-use plastic ban and EPR will be fused, that is if anything has the potential to litter, the government will remove it at its source itself. By 2024, CPCB is going to mandate the quantum of recycling, categories of plastic, etc. That said, Europe is looking at modulated EPR, that is they need to pay the fine for putting out plastic packaging which cannot be recycled, in euros per ton. By 2024 or 2025, modulated EPR will also enter the Indian market and the government will start asking all packaging material manufacturers and manufacturers of materials for dispensing, to be accountable and responsible for collecting back whatever they have put out into the environment. For the last five to six years, we have been working on paper-based barrier-coated solutions, especially for food packaging. In food and beverage dispensing in the takeaway or delivery segment – the alternatives available are paper cups, paper bowls, etc. Although traditionally paper cups were imparted with LDPE, now many other solutions designed with some recyclability factor are available. But what happens to the paper cup after we drink from it? This is the question we will face probably within the next one or two years. Who is responsible for collecting it and recycling it? The remnants in the paper cup and bowl, which means tea bags, tea, milk, juice, coffee, stuck rice particles, chicken leg pieces, etc., none of us would touch with a barge pole in any of our recycling. Hence, our weakest link in the chain is how are we going to ensure that good quality material is available for recycling. The minute it is direct food contact, the FSSAI bans recycling material, so we will have to use good quality virgin fiber, which can be easily recycled another three to four times. But once contaminated with food, recyclability cannot happen.
IPPTA fraternity is known for various innovations and can aid the enabling of source segregation, cleaning, and waste paper collection mechanism. In the last 10 to 15 years, the industry has innovated heavily, especially in water consumption, energy consumption, specific water and energy consumption, and specific emissions. Our next innovation has to be regarding consumption and dispensing, and a tie-up with CFTRI can help in this regard as not all types of food and beverages can be easily dispensed or packed with paper in spite of barrier coating. We could use a chemical simulant for dry, wet, or oily food, but that is the Westerners' definition of food and simulant. We need to try to find what would simulate a lemon pickle, a paneer butter masala, or a biryani, with turmeric or mustard oil. The container starts staining within 30-40 minutes which the delivery takes. We can evolve solutions with CFTRI on testing, which should be based on Indian conditions. Once the government derives standards through the Bureau of Indian Standards (BIS), FSSAI will start specifying these standards. So, the mandate given to us is to work on compatibility, ensuring an Indian scientific method of mapping how our foods interact with paper and its various barriers, and the need for collection, cleaning, and then recycling."
Watch: JMC Paper Tech Launches New Subsidiary JMC Papers
Paper: A Hope to Protect Oceans and Nature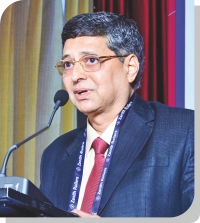 This inaugural program was presided over by Mr. Ganesh Bhadti, President of IPPTA, "For the last two years, I am working with some of the scientists here – with Dr. Sandeep from actuary effluent treatment sector; with Dr. Sunil Kumar of CSRI, Dehradun, on energy management. We are working with the Confederation of Indian Industry (CII) for energy management and the Bureau of Energy. The paper industry is witnessing a quantum change in its operations, with changes in the product portfolio, and priorities, but at the same time, opportunities are also available and we are trying to explore those situations along with the available technologies. The government has banned single-use plastic, but the implementation is taking some time. At the same time, the paper industry also needs time to develop a suitable product to replace plastic. About 25 years ago, in 1997, a British navigator and research scientist was sailing through the North Pacific Sea when he observed from a distance an island-like area. When he approached it, to his surprise it was a garbage patch. Today, that garbage patch is called GPGP, Great Pacific Garbage Patch, and it spans an area of 1.6 million square kilometers, which is almost 6,500 times of Mysuru. It exists between Hawaii Islands and California. Further navigation revealed similar patches in the Pacific Ocean. Some of the statistics are alarming – about 450 million tons of plastic is generated every year, and by 2050 the figure will reach nearly 600 million tons, with only 6-7 percent being recycled. There are five oceans that are badly affected, and the Indian Ocean is one of them. We are also now working with CFTRI as time and the effort we put in is very important now. We are sitting in an institution known for its intensive work in developing food-grade products, and a knowledge of international standards."
Challenges of Paper Packaging over Plastic Packaging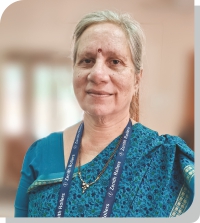 Dr. Sridevi Annapurna Singh, Director of CSIR – CFTRI, also presented her thoughts on the seminar, "I am happy that IPPTA decided to come here because we have the scientific background and you are looking for technological solutions, this hand-holding would definitely make the pace go much faster. If a barrier could be developed, I would like to ask if there could be a thin barrier that is made from alternate macromolecules that are already available in nature and are biodegradable, so they can be just peeled off after food use. Some other solutions may be fermentation or organic waste, which could be disposed of as fertilizer while the paper gets recycled. When you look at food packaging there are many things that we need to understand, first and foremost being the perishable nature of food. It is not simply replacing single-use or even recyclable plastic, which anyway is not allowed for food packaging. Many of the grains are breathing living materials, so there will be moisture coming out of these grains, carbon dioxide, and so on. Moisture can affect the shelf life and as we are looking at more and more processed foods for enhancing the shelf life, we need to keep this in mind. Paper does become soggy and its strength is gone. So we also look at food packaging in terms of the gas barriers. If the food is exposed to oxygen, or even light, some of the nutrients could get destroyed; many times the colors would change, the flavor will change, and other chemical changes will happen. The packaging material also protects it physically which means that there could be breakages if it is not protected properly. If the barrier properties are not good there can be microbial biological spoilage too. The packaging material often has many additives and can impart flavor and certain colors. Some of the chemicals used in making the packaging can leach into the food product and all of these can cause food safety issues, as well as sensory negative attributes to the food. So it is not as simple, and that is probably why plastic has been so popular. It had all these wonderful properties which made it very useful to use for food packaging. Nearly 50 percent of single-use plastic is used for beverage and food packaging only. Further, it is easy to print and mold into the desired shape.
On the other side, we have climate change, greenhouse gases emission, and oceans filled with plastic. It is estimated by 2050 there will be more plastic than fish in our oceans, which is alarming. Plastic has this wonderful feature of only breaking up and not breaking down, it means that it will start breaking up into microplastics and will end up choking our beautiful diversity. We have to find a balance between what we are eating, how we are living, and what it is doing to our planet. We also need to hold hands to solve this great problem by taking small steps at a time. You are welcome to come back to us with any projects. We will be happy to work together."
The IPPTA 2023 journal was released during the inaugural session. It serves as a platform for researchers, academicians, industry professionals, and experts to publish their research findings, technical papers, and innovations related to the pulp and paper sector.
Also Read: Zenith Rubber: Unveiling New Epoxy Resin Composite Roller Cover
The Paper Industry is a Very Important Cog in the Developing Wheel of India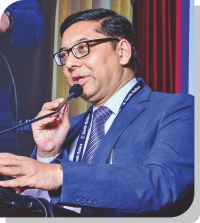 Mr. Pawan Agarwal, President of IPMA, presented the Vote of Thanks and also threw light on the continuous contribution of the paper industry to Indian development, "The Indian paper industry has come of age as I see a lot of old friends along with the new generation in the audience. However, we have to understand that whatever we have done is too little, and too much has to be done in the coming years. The paper industry is a very important cog in the developing wheel of India. The industry has a role to play in many of the central government policies, for instance, Swachh Bharat Abhiyan – we are the natural scavengers of the waste being generated in the country; 100 percent literacy mission – it is not possible without the paper industry. Paper has a DNA that is naturally sustainable. We use wood, or agro fiber, to produce paper, and even if it is recycled fiber, it originates either from wood or agro. Hence, our product is sustainable, biodegradable, and natural, unlike plastic, but we have to be very careful about our manufacturing process. As the IPMA President, with conviction I can declare that over the past one and a half decades, the Indian paper industry has reduced its freshwater consumption by 80 percent, which is phenomenal.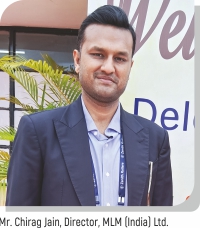 So, our manufacturing processes have to be sustainable and environmentally friendly as well. We have to be very cautious about our overall energy consumption, our overall carbon footprints, and the chemicals we are consuming to make a sheet of paper. There is no need to invent the wheel again and again, as much technology is already available to replace single-use plastic. We have to simply adapt the technology available to suit our requirements. In association with CPPRI and CFTRI, we can definitely make a product that can replace single-use plastic in the country."