ITC's new Chandrahati PM 4 will be state-of-the-art production line for first class decor paper with lower operating costs reduced fiber, filler, energy and water consumption.

October 11, 2016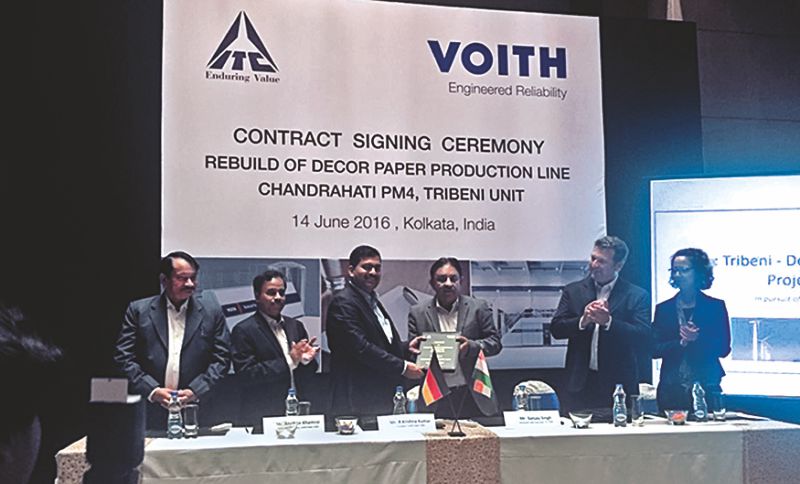 Voith has won a new contract to supply a new decor paper machine in India – the Chandrahati PM 4 – for ITC Limited – Paperboards & Specialty Papers Division, which is India's largest producer of graphic paper, specialty paper and cartonboard. Its new paper machine will be located in Tribeni, about 60 kilometers north of Kolkata, and will increase the company's production capacity for decor paper.

Voith has already realized a number of projects for ITC in the past. A determining factor in awarding this latest contract was Voith's longstanding and extensive experience in Process technology, design, installation and service. Moreover, Voith has experts on the ground in India thanks to its two offices in Kolkata and Faridabad and can therefore work quickly and easily with ITC to develop optimum solutions.

"The Chandrahati PM 4 is a transformational project, where ITC has drawn on Voith's unique expertise and reliability. World-class decor paper will be produced through the state-of-the-art technology and equipment to be supplied by Voith Paper," says Sanjay Singh, Divisional Chief Executive at ITC PSPD.

ITC is planning to use the Chandrahati PM 4 to produce decor papers with basis weights from 50 to 110 g/m2 meeting international quality demands. Production lines for decor paper have to meet special requirements. For example, a high gloss print quality and good opacity, i.e. impermeability to light, must be guaranteed, which is why up to 40 percent filler is used in the production process. The PM 4 will be equipped with Voith TwinFlo refiners in stock preparation and the Advanced Wet End Process with Voith's HydroMix, ComMix and latest BlueLine products such as newly innovated IntegraGuard screens. In addition, the system is designed for the frequent use of short fibers and high filler content.

The MasterJet Pro headbox from Voith, equipped with ModuleJet technology for dilution control, has been optimized for the production of decor paper and ensures the best formation results, excellent basis weight profile and optimum fiber orientation. The MasterJet Pro also has intelligent CD basis weight control, satisfies the requirements for frequent format and grade changes and has optimal accessibility for cleaning purposes. The wire section is equipped with DuoShake, the high-performance shaking unit from Voith. Thanks to the new CombiPress, the degree of dryness of the paper is already high before the first open web draw, resulting in good runability. In the dryer section, there is a high-pressure drying group for hardening of the wet strength agent and a high-efficiency cooling group ahead of Calendering for web cooling. The ModulePro helps in web remoistening ahead of the calender and the 2×2 EcoSoft calender ensures smoothness and is designed to meet the requirements for decor paper.

"With this order, the Indian paper industry has again shown faith in Voith Paper's ability to provide technological solutions and ensure quality and cost leadership for our customers in a challenging market," comments R. Krishna Kumar, President of Voith Paper, Region India.