The company, in partnership with some of the world's best machine and equipment makers, has been a leading pulp and paper technology supplier to the Indian paper industry for quite some time. MR MAC-TECH, through its supplies and technical advisory, has become an invaluable technological partner of many mills in the industry and has helped them overcome crucial process bottlenecks, like when it collaborated with Fibremarx Papers Pvt Ltd in upgrading their pulp and paper sections.
Excerpts from the interview with Mr. Rajiv Kumar Agarwal, Director, MR MAC-TECH: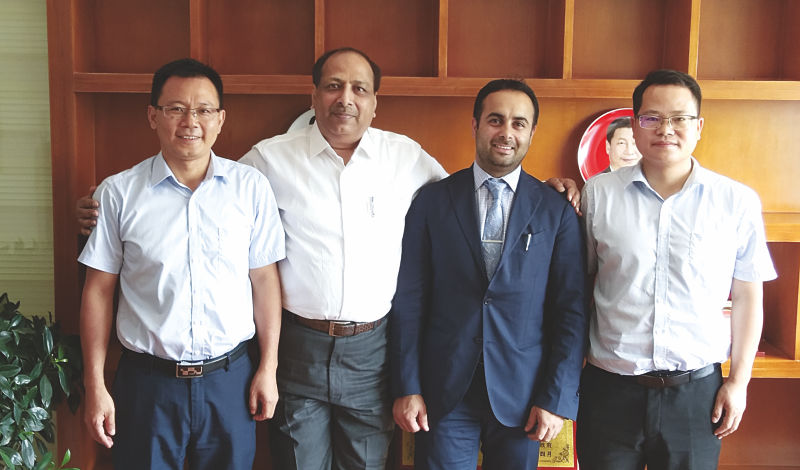 Paper Mart: It is known that your help to Fibremarx has been crucial to help it revamp its pulp and papermaking sections. Kindly brief us a little about your role in the project.
Rajiv Kumar Agarwal: The experience with Fibermarx has been extremely good. Working as a technology partner and technical advisor of Fibermarx has been rewarding for both of us in terms of experiences we got throughout the project, from conception to the start-up. After the careful survey of the mill, I suggested many things to Mr. Jasdeep Singh, who is extremely keen in and responsive to technological issues, especially my advice regarding the selection of film press technology.
I advised Fibremarx in favour of Dazi's film press, and suggested they should visit the machine maker's facility in China, and which they did. Fibermarx made a well-informed and calculated decision when it zeroed in on Dazi's film press. I have overseen the entire process of installation and start up of the film press and am happy to say that results have been extremely satisfying.
PM: Please introduce MR Mac-Tech to our readers. How is the company helping the paper industry deliver quality grade products?
RKA: MR MAC-TECH was incorporated in the year 2011, with the support and guidance of industry technocrats and hardcore professionals. The intention of the company was clear from the very first day, to deliver the best quality product available worldwide to the Indian paper industry within economic viability.
As a supplier of quality technology and equipment, we believe when highly-engineered, cutting-edge solutions are adopted, mills are bound to reflect good results all around. We also believe that the industry should focus more on updating and uprating the existing installations on a regular basis instead of going for entirely new plant installations.
PM: Talk about the paper machine technologies (products/services) available with MR Mac-Tech?
RKA: Today MR MAC-TECH is equipped with capability of handling individual paper mill sections as well as turnkey projects. The best part with MR MAC-TECH is that we are involved in the detailed engineering of all the equipment we supply.
For the last 15 years, I have been working with Ippolito & Pisani (S.P.A.) which is a press and dryer fabric manufacturing company. MR MAC-TECH is also associated with Coldwater Jocell AB for the last six years. Coldwater Jocell is engaged in manufacturing of rubber graphite sealing strips for suction rolls and UHMW polyethylene drainage element in their Sweden facility. Coldwater acquired Coorstek-Willbanks about one and a half years ago for manufacturing of premium quality Ceramic Drainage Elements.
MR MAC-TECH is fortunate to be associated with FJLIME, or more precisely Mr. Stefano Germiniasi, whose company is involved in designing and manufacturing of complete stock preparation.
We are also associated with Dazhi Paper Machinery, a company with complete paper machine solution for manufacturing quality paper. We also represent Karlbuch Gmbh, which manufactures calendar rolls.
…the industry should focus more on updating and uprating the existing installations on a regular basis instead of going for entirely new plant installations.
PM: Please share some information about major orders/projects/ installations executed by MR Mac-Tech in India?
RKA: We have a turnkey writing-printing paper project of around 200 TPD in North India. This project would have a double-loop DIP from FJLIME and is expected to deliver commercial production by third quarter of 2019.
As you already know that we have also installed a film press from Dazhi Paper Machinery in Fibremarx Paper, where we are also renovating the complete drying section to eliminate the bottlenecks in machine's speed.
We are also modifying the press section of Katyayini Papers in order to attain a speed of 800mpm.
PM: What are the new developments at your company's end? Is there any addition to the existing portfolio?
RKA: I am looking forward to getting an opening in the instrumentation segment of the paper industry and have been closely working with various overseas partners to explore more on the subject.