PepsiCo has announced its plan to further develop and scale the world's first recyclable paper bottle.
September 29, 2020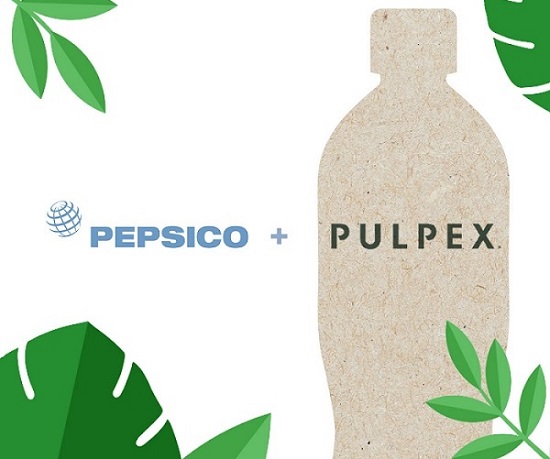 PepsiCo has joined the consortium of global consumer goods companies, including Unilever, to further develop and scale the world's first recyclable paper bottle, initially developed by Diageo and Pilot Lite.
It is our belief at PepsiCo that no single organization or industry can solve the plastic waste challenge on their own. That is why we are working on innovative solutions with peers pre-competitively through partnerships like this with Pulpex Limited, as well as others like our work with the Carbios Consortium on enzymatic recycling, the development of a renewable bottle with NaturALL Bottle Alliance and our work with Danimer Scientific on compostable and bio-based flex films. Our hope is that we can leverage our scale and reach to accelerate change and meaningful progress through collaborative, holistic solutions.
Innovative solutions and partnership are critical to driving meaningful progress toward a circular economy. The Pulpex consortium is well positioned to deliver sustainable packaging at scale and across industries, having impact beyond what any organization could achieve alone. We're proud to be a part of it – Simon Lowden, Chief Sustainability Officer, PepsiCo.
This new bottle is made from sustainably sourced pulp to meet food-safe standards and is being designed to be fully recyclable in standard waste streams. The goal of the consortium is to ensure that the technology is developed so it can be used across industries. PepsiCo expects to test our own branded paper bottles, based on Pulpex Limited's design and technology in 2021.
We're very excited to be working on this breakthrough technology and moving toward solving the technical challenges around developing beverage packaging from renewable resources. Paper is a highly recycled material and can be sustainability sourced, but poses numerous complexities for containing beverages. Our R&D team is incredibly proud of this effort to find solutions to these challenges and drive our sustainability agenda forward – Ron Khan, VP of Beverage Packaging, PepsiCo.
Through this innovative effort, PepsiCo is taking another step towards our goal of reducing virgin plastic content across our beverage business by 35% by 2025. We are also working to make 100% of our packaging recyclable, compostable, or biodegradable by 2025–and we are about 90% complete. Through this partnership and continued efforts, we continue to drive progress toward a circular economy where plastics need never become waste by focusing on Reducing, Recycling, and Reinventing our packaging for consumers.