A proactive policy framework on behalf of the Govt. is much sought after to safeguard the paper industry from cheaper imports and wavering raw material scenario, feels the new IPMA president.

Mr. Saurabh Bangur, Vice President, the West Coast Paper Mills is the new President of IPMA, possibly the youngest to be accorded the honor. Paper Mart had a brief conversation with Mr. Bangur about his plans to discharge the new responsibility and the new developments at the West Coast Paper Mills. He informed Paper Mart of his views on dangers of import from ASEAN nations, how to engage the Govt. on safeguarding the Indian paper industry from imports, usage of waste lands for plantations, and the industry's serious attempt to reduce its environmental footprints. Mr. Bangur also divulged some expansion plans at West Coast Paper Mills.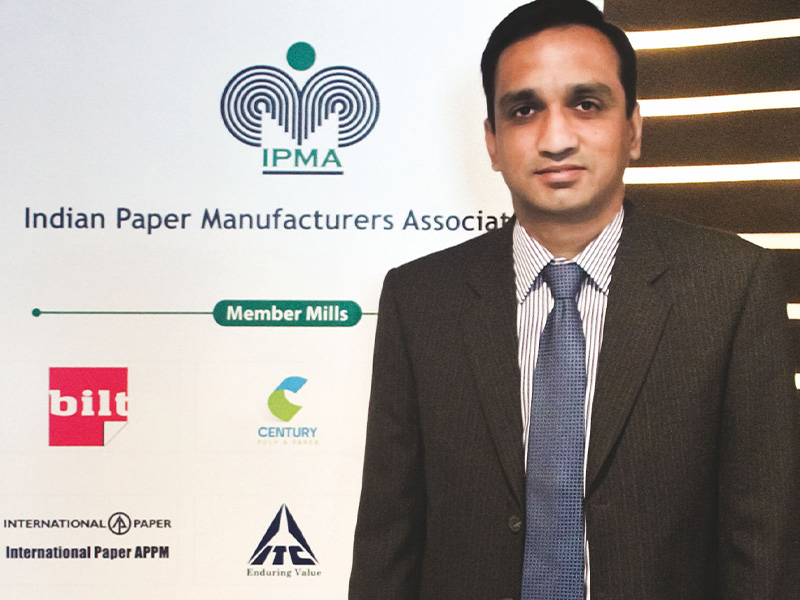 You are probably the youngest president of IPMA. Paper Mart would like to know your views on how you intend to contribute towards the industry's growth.

I think lots of challenges are being faced currently by the paper industry on aspects of sustainability and viability. As the president of the association now, there is a great responsibility on me to consolidate ideas and efforts to address those challenges. Industry today is in a phase when no expansion is lined up for the next 2-3 years; no Greenfield or Brownfield project is in the offing. We, on some accounts, are hesitant about making fresh investments in this sector and at the same time the Govt. is talking about the 'Make in India'. But there is no initiative from the association members to have further expansion in this sector. This situation has been precipitated on account of a slew of challenges that the industry is facing.

One among the challenges is cheaper imports from ASEAN countries; I would rather call it a threat than a challenge, where we are pitted against giants with tremendous cost advantages and quality production. We have submitted a pre-Budget memorandum to the Govt. suggesting a safeguard duty of 10-15 percent on the imports from ASEAN nations. If the Govt. accepts our proposal – though we are aware of the policy constraints – it would be a great breather for the Indian paper Industry.

The paper industry's growth is seemingly in tune with the GDP growth if it grows with 5-7 percent. However, within the bigger basket of the industry, different segments would be growing differently with packaging clocking the higher growth rate and W&P the lower. Our association believes that manufacturing sector should be the prime mover of the GDP growth. Unfortunately, since no vigorous expansion is underway or expected in the next few years, the import has become a growth component. The industry has to build a consensus over safeguard duties, raw material sustainability, etc. and persuade the Govt. to formulate facilitating policies.

Moreover, I am all for dispelling this myth that the paper industry is anti-forest and unsustainable; that's an utter lie and need to be exposed. There are many industries which are simply the resource guzzler and highly unsustainable, both in terms of their raw material and final product. On the contrary, the paper industry is sustainable in terms of both, regenerative raw material and biodegradable product. We are consuming the natural resources but, at the same time, we are restoring it back and that makes us a kind of long-term sustainable industry.

My main focus would be to engage with the Govt. to make this industry long-term sustainable, to make products cheaper and competitive, and to compete with bigger giants outside India. Our raw material cost is almost 50 percent of the total cost of production, so it has to be under our control and competitive which is not so currently. Our wood cost is currently at USD 100 per tonne compared to an Indonesian giant whose wood cost is not even USD 40 per tonne!

Moreover, I would look forward to accelerate the campaign for convincing governments for granting us the waste lands for plantations purposes. We are not interested in the ownership of the lands; let the land be owned by Forest Development Corporations or farmers or whatever bracket is there. We just want to use the land, cultivate plantation and get the produce from there.

What kind of response has the association been getting from the Govt. on the subject of degraded lands made available for plantations?

We all know that land is a very sticky subject; nobody wants to touch it. However, the new government in the last two years has started seeing the point we are making and my take initiatives to utilize the degraded land available, both to the benefit of the industry and environment. But, again, understanding the fact and execute a policy are two different things. As an association, IPMA would continue persuading the Govt. see the better side of our proposal.

What if the Govt. doesn't get convinced on this or it takes a long time to work on this? Would the denial on part of the Govt. affect 'Make in India' program in relation to the paper industry?

Well, if that's the case, we would still keep our constructive engagement with the Govt. on track vis-à-vis land utilization and would, at the same time, request the Govt. to provide us some safeguard by levying some duty on imports from ASEAN. Either one of the two is essential for our long term viability and competiveness.

As far as the unavailability of the land for plantation is concerned, this would of course be inimical to the 'Make in India' program, especially on paper production front. We indeed have been trying to convince the Govt. the same and requesting them to provide some backend and frontend support as there is a huge market in India with tremendous growth potential. It would be very unfortunate if this market is catered by outsiders with production base overseas.

What are the new developments at the West Coast Paper Mill? Any future plans or expansions lined up?

We are running at our 100 percent capacity, which is around 300,000 tonnes/year, steadily for the last three years. Besides, we are exploring few other options depending on their growth potential in the country, either in the specialty paper or packaging board.

But, again looking at the limited land availability in and around our existing site, adding another capacity there would be very difficult. If we want to add capacity there, we will have to de-bottleneck many of our existing production capacities over there. So, lots of things need to be worked on, viz. amount of investment, rate of Interest on that investment, space requirement, technology desired, etc. and our team is studying all.

Standing currently at 100 percent capacity, I think in the next 6-9 months down the line we should be able to firm up some plans. It is likely to be a Brownfield project (as Greenfield is out of question as far as current scenario is concerned).

Inorganic growth is also a possibility?

Yes, but getting the right asset available at right price and right location would be the key for us to consider growing inorganically. And, yes, we have been looking for such opportunities. I would reiterate that we have to have a right location, raw material availability, right quality of asset, which ought to make our company sustainable for the next 15-20 years. Both the fronts are open, but inorganic in this sector is very limited.

So, primarily we can expect some kind of expansion in the existing facility?

Yes, it is more viable from today's scenario. However, you never know some opportunity might come up later on.

Anything else that you would like to add to this interview?

Pollution is again a very sticky subject. The paper industry is unfairly tagged as polluter despite its constant effort to adhere to all the pollution norms set by pollution control boards. In the last few years, massive investments have been made to meet standard production parameters resulting in significant reduction in water, power/energy, and chemical consumptions. Efforts have also been made to mitigate the carbon footprint and reduce other pollutants.

This negative tag of the pollutant industry should be done away with because we are also planting trees and meeting all the pollution norms howsoever stringent they may be. Also, the Indian paper industry is at par with the global industry in terms of technology used and processes adopted. All the association members are constantly trying to make this industry pollutant-free and more viable. The whole perception of this industry needs to be changed with passage of time.