"We are consuming around 3 lakh MT of wood and plywood waste per annum whereas we are now supplying clones and seed sapling for plantation in around 25000 hectare area generating 35 lakh MT of wood per year," says Mr. Madhukar Mishra, Managing Director, Star Paper Mills Ltd.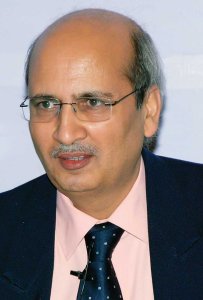 Star Paper Mills Ltd., established in 1938, is an integrated pulp and paper mill. From 6000 MTPA to 75000 MTPA, Star Paper Mills has come a long way. It produces a wide range of industrial and packaging papers catering to almost all segments of consumers. For the sustained availability of fibrous raw material, a massive 'Social Forestry Programme' was initiated in the year 1996-97 by the company with a distribution of around 1 million seedlings amongst the farmers for planting on their farmland. Today, the area covered under plantations is around 25000 hectares. Paper Mart interviewed Mr. Madhukar Mishra, Managing Director, Star Paper Mills Ltd. to know more about the journey.
Paper Mart: Please tell us about your pro-afforestation schemes. How much area is covered under plantations by you and what percentage of raw materials do you procure from social farm forestry?
Madhukar Mishra: Realising the need to have an assured sustainable supply of raw material, Star Paper Mills Ltd. made a humble beginning by encouraging farmers to plant Eucalyptus in their fields in our nearby areas. The area has gradually been expanded to Saharanpur, Muzaffarnagar, Bijnore, Moradabad JP Nagar, Haridwar, and Dehradun. Beginning in 1996 with the distribution of 1 million Eucalyptus seedlings, the activities were accelerated and expanded with the enthusiastic participation and response of farmers and we now distribute approximately 35 million saplings each year in a mix of clonal and non-clonal.
The high-yielding clones are produced in our high-tech nursery. Our emphasis is to increase the productivity of renewable wood resources to benefit the farmers and to increase the productivity of wood per hectare. The plantations raised with Eucalyptus seedlings are having an average yield of 70 MT per hectare in a 5-year rotation whereas plantations raised with Eucalyptus clonal plants give a yield of more than 200 MT in the same interval of time. For this, we have developed a Research & Development centre, where we started the development and production high-quality, and high-yielding clonal plants of eucalyptus and poplar.
Star Paper Mills has also initiated a project for selection and hybridisation and developing still better yielding clones with better pulp properties which shall benefit all the stakeholders. CPPRI and FRI are our partners in this project which is partially funded by the government through cess funds.
Our farm forestry program also generates rural employment and the benefit goes to landless labour and small farmers in the catchment area. Besides employment generation in harvesting and transportation, producing value-added products from the harvested trees also enhances local economic activity.
We are consuming around 3 lakh MT of wood and plywood waste per annum whereas we are now supplying clones and seed sapling for plantation in around 25000 hectare area generating 35 lakh MT of wood per year. Our social forestry activities for the generation of wood are more than 10 times and much surpassing our annual consumption.
PM: Tell us about the hardwood and softwood trees that are grown by the mill. Do you think that sourcing wood from farm forestry is a win-win situation for both mills as well as farmers who want a steady source of income?
MM: Star Paper Mills promotes Eucalyptus and Poplar as hardwood plantations among farmers by developing and distributing planting materials. The main objective of agroforestry is to increase farmers' income & sustain the supply of wood to mills in a win-win situation.
Enhancement of wood availability through social forestry has led to the development of plywood and particleboard industries in the area thus improving economic prospects for farmers.
Watch: Evolution of Paper Based Packaging
PM: Do you think that India's agroforestry policy is a step in the right direction? How do you think the recent announcement of policies and legislative changes to promote agroforestry and private forestry in Budget 2022 will help?
MM: India's agroforestry policy is helping farmers to grow tree crops to increase their income. Farmers also get a handsome amount after around five years to meet their special one-time expenses. However, government policies have not percolated to the grass root levels and much is needed to be done by field staff to achieve its objectives. There is also a need to facilitate captive plantations so that paper mills can procure material at prices comparable to global peers.
PM: Have you been able to improve the productivity of degraded lands, control soil erosion, and push moisture conservation through your social farm forestry program?
MM: In our catchment area, there is practically no degraded land. The agroforestry model is helpful in soil conservation, moisture retention, conserving biodiversity, and environmental amelioration besides rural employment generation. It has also led to a significant increase in green cover.
Also Read: Getting Greener Forestry Practices of Paper Mills
PM: What are your company's future targets in the area of farm forestry?
MM: There is a continuous improvement in our plantation program and we, at Star Paper Mills, have planned to further increase the capacity of our clonal facility besides working on evolving improved clones.