On the way to reliable sustenance with continuous reduction in freight and handling costs.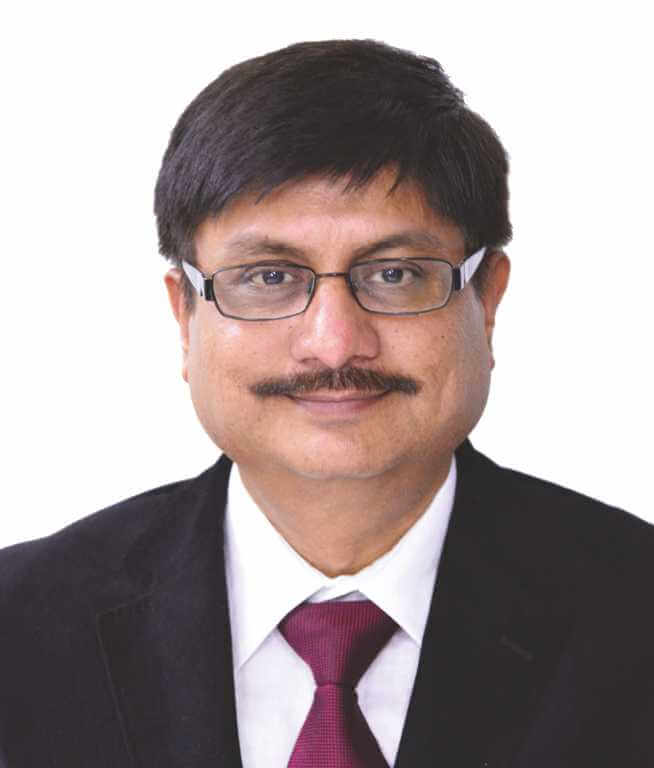 The pulp & paper industry (Forest-Based Industries-FBIs) in India post-implementation of the National Forest Policy 1988 have faced tremendous challenges in sourcing their raw material (RM) – wood and bamboo. The government's support to source raw material was withdrawn indicating that the industries are to source their RM on their own. There has been a long challenging 33 years of progressive and emphatic journey so far; the pulp & paper industry has evolved and grown a lot.

About 50 years before, the fiber primarily used was bamboo and mixed hardwood, which was mainly sourced from government-owned forests. Comparing today's cost of production and the quality of fiber, earlier, the quality was very poor and the cost of production was also high with high chemical consumptions and lower yield, though paper was accepted by the market since paper market was mainly the sellers' market. Over a period of time, the market has grown to be globally competitive with lesser cost of production and exceptionally demanding quality of paper. In India, with the continuous adoption of improved global technology, the Indian paper industry has kept pace and is expanding its global footprint though the cost of production is still high especially when we consider RM costs.

Demand and Supply Dilemma for Indian Pulp & Paper Industry

The existing capacity requirement of RM is around 12.5 million MT per annum for the pulp & paper industry in India. With my own assessment, about 10 million MT per annum is required by other FBIs like plywood, MDF and poles (organised and unorganised) leading to an overall demand of about 22.5 million MT per annum.

If we observe historically, the availability of raw materials is a cyclical process and its prices get impacted accordingly. Having an assured supply for any forest-based industry in India has always been a concern and the prices are governed mainly by demand and supply.

Industries have progressed by generating their own RM near their own catchment and protecting it by assuring viable lucrative prices to farmers so that they continue to plant and maintain coppicing crops in the long run to enhance their income by the way of supplying to pulp & paper industry.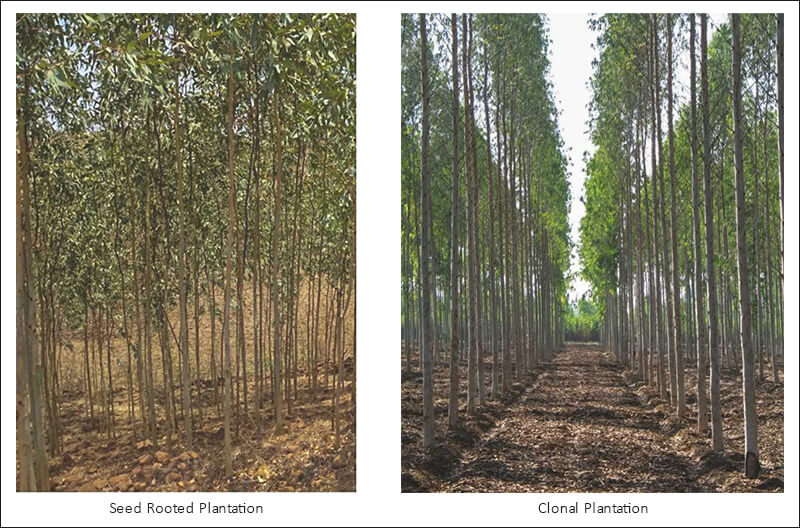 Backward Supply Chain with Reference to Raw Material (Wood & Bamboo)

Wood and bamboo are biological products and these are grown on farmers' lands providing much needed sustainable rural employment all throughout its backward supply linkages beginning from raising plants at nursery/CPC, site preparation, planting, protecting, harvesting and transporting to reaching the consumers. Challenge or threat as perceived by FBIs post NFP 1988 to arrange their own raw material got converted to an opportunity by encouraging farmers to plant eucalyptus, poplar, casuarina and subabul on their own land, has turned out to be a boon for the industry. Most of the units have developed or are in the process of developing their own decentralized cost effective self sustaining catchment with the vision to overcome the biggest challenge of assured raw material supply.

Overcame Challenges in Managing Raw Material Supply Chain – Success Story
Lower yield per acre- Yield enhancing Research & Development programme.
Higher Gestation period- Reduced through Research & Development
Availability: Sustained & Assured RM Supply throughout the year.
Manual Labor dependent operations-Explored mechanized operations and implemented.
Continuously reducing carbon footprint- reducing distance of sourcing-reduced consumption of fossil fuel
Handling in Mills Yard- Enhancing load ability of trucks / tractor trolleys – Sustaining production without interruptions.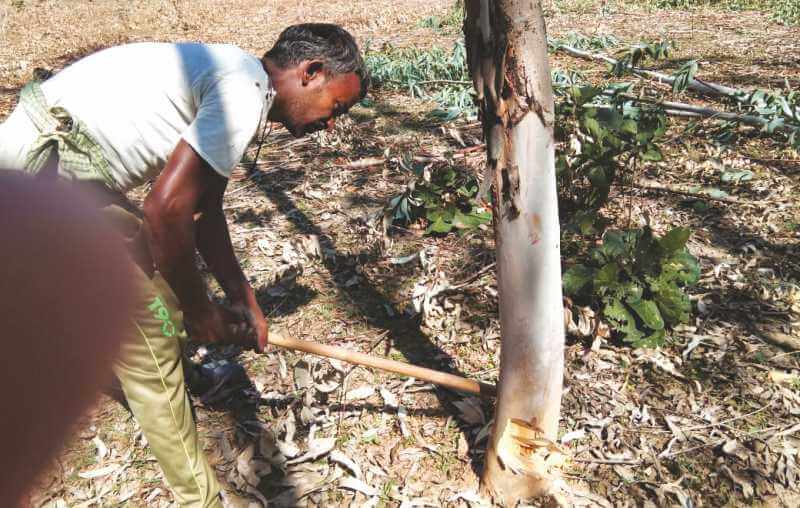 Evolution of Wood Yield/ Acre and Gestation Period of Tree Crops – Enhancing Financial Viability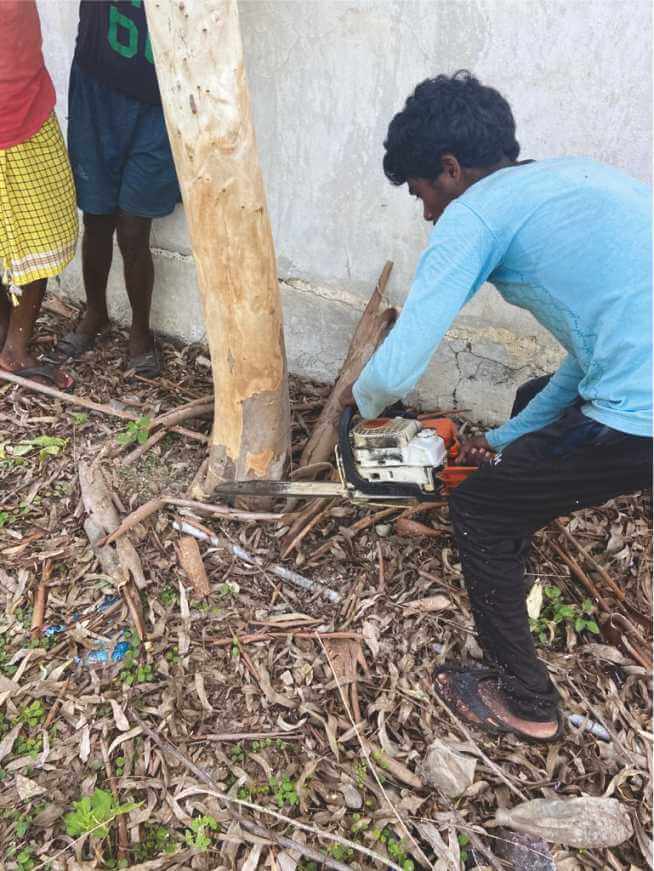 Considering the period of 1988-89 when farm forestry began, it was not a smooth go-getter amongst farmers. Tree crops were seed rooted with excessive genetic variation with a rotation of 7-8 years yielding about 10-12 MT per acre. Acceptability of farm forestry efforts amongst farmers was very poor as tree crops had long gestation periods with low yield which was not lucrative to farmers. Against these odds, the industry continued to make efforts to overcome these challenges. Various global success story learning were incorporated like selection of site-specific, genetically superior, high yielding eucalyptus/poplar "Candidate Plus Trees" (CPTs), testing of the CPTs were conducted with finally selection of successful clones it took about 13-15 Years to reach favorable stage of reducing gestation period from 7-8 years to 3-4 years and improving yield from 10-12 MT per acre to 35-40 MT per acre. Simultaneously, casuarina and subabul tree improvement programmes too have been successfully incorporated amongst farmers. Various viable and successful agroforestry, agri-horti-forestry models have been introduced with intercropping of wheat, soyabean, tobacco, chilli and with various vegetables which has resulted in further improved financial viability for farmers.

Secondly, with the improvement in yield per acre, the requirement of land for raw material gets reduced. In other words, the higher availability can be fetched from the same quantum of land. These efforts have resulted in successful covering of three main pillars of sustainability viz. financial (benefits to farmers and Industries), environment (sequestering additional carbon), and social (providing regular employment to rural communities).

Pulpwood Seed rooted and Clonal plantation

To improve productivity and to reduce gestation period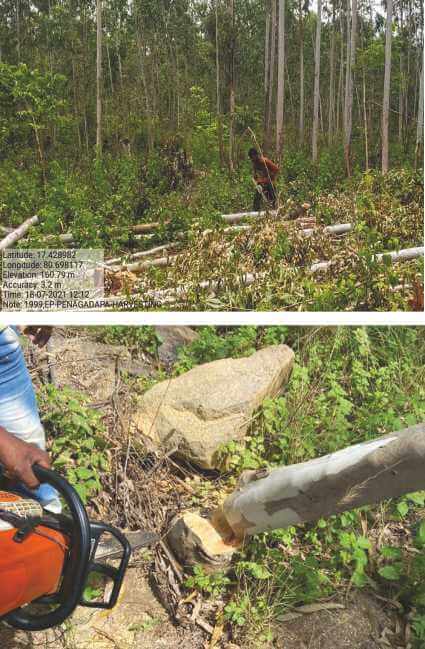 Efforts to Ensure Long Term and Sustained Availability of Raw Material

The pulp & paper industry with above mentioned efforts have resulted in the acceptability of pulpwood crops amongst farmers as any other agriculture crop, which give them continuous returns and protect farmers against any natural vagaries. The overall cumulative planting has taken place more than the overall demand of the mills even to the extent of planting 120,000 Hectares in a year: IPMA.

In addition to fulfilling their own requirements, the pulp & paper industry has supported the demand of plywood/MDF manufacturers and have also provided supplies to poles market which is quite unorganised, consuming huge quantum of eucalyptus and casuarina wood. Eucalyptus and subabul are coppicing crops which add to the additional availability during their due cycle of harvesting.

Evolution of Wood Harvesting

From labor intensive to partial mechanized – From Axe to hand saw to power chain saw and from manual debarking to mechanized debarking

The harvesting of wood or bamboo is highly labour-dependent. About 15-20 years ago, factors like harvesting labourers' availability, and the affordability of the cost was not a concern. Gradually, with the opening of various avenues, migration of rural labourers to urban areas, and initiation of various government schemes and other freebies resulted in the shortage of overall labours. The Indian pulp & paper industry geared up long before as it anticipated such challenges well in advance and started exploring mechanization at feasible stages of harvesting from 2009-10.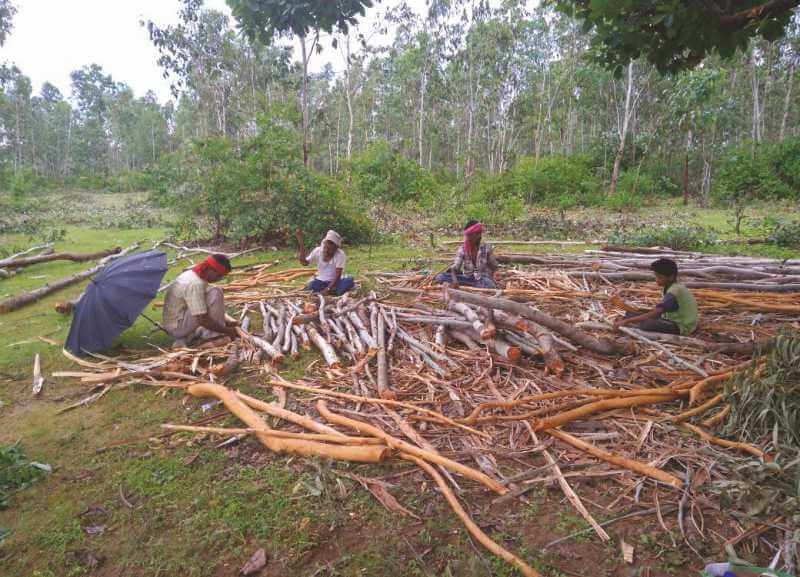 Wood harvesting involves cutting of trees, billeting to the desired sizes, debarking, loading of the billets into the trucks and finally transporting to the consuming mill sites. Initially, cutting of trees was done through axes which was slower and inefficient, leading to wastage of wood. The introduction of mechanization was firstly through power chain saws which led to the reduction of about 5 percent labour and enhanced higher recovery of exploitable wood though it was miniscule per MT of wood, say about 0.5- 1 percent. Still considering the harvesting of about 22 million MT of wood annually, it is about 0.2 million MT. Countries Like Brazil have complete harvesters where trees are cut, debarked and cut into billets of uniform sizes in a few minutes. In such countries, pulpwood plantations move into thousands of hectares at a stretch, providing cost feasibility of holistic mechanization in terms of efficiency and huge scalability involved from a single site.
Also Read: BILT Graphic Paper Products Completes Remote Commissioning of ABB's Induction xP Plus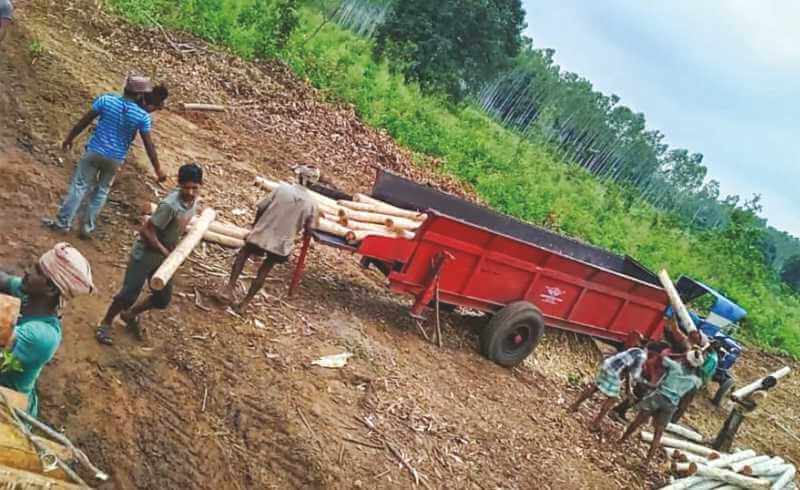 Pulp & Paper Industry Interventions- Wood harvesting in India
Out of various harvesting stages, debarking of wood is a rate-determining stage which is the slowest and consumes higher cost. To overcome this, during the year 2009-10, exploration and development of debarkers considering the Indian conditions began and in about 2 years' time, rotor mobile debarkers were introduced commercially, gradually replacing manual debarking. It has enabled in providing savings of about INR 200/MT and the ability to keep pace with the demand of debarked wood.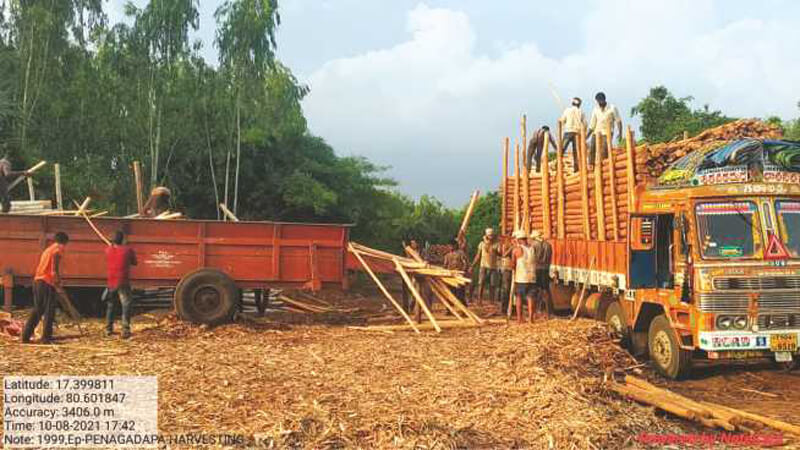 Pulp & Paper industry interventions- Mechanized wood debarking in India
Continuously supporting reduction in transportation costs and carbon footprint

Pulp & Paper industries fiber sourcing strategy continuously improved and evolved with a vision to develop its resources nearer to their respective mills of which encouraging results have been achieved with reduction in average procurement distance from 700-800 Kms to 250-300 KMs, resulting in reduction in transportation cost. Considering current freights, it provides cost advantage – savings of about INR 700-800/MT compared with previous landed price of total procurement. Secondly, trip-wise carbon emissions (reduction in usage of fossil fuel) too have reduced contributing towards the betterment of the environment.

Another highlight of the pulp & paper industry's massive farm forestry programme is that it has resulted in protecting forests indirectly. Villagers who used to venture in the forests for pilfering head-loads of fuel wood have started getting the lean waste wood and bark at their doorstep, thus, the pilferage from forests has reduced leading to regeneration of rootstock and green cover.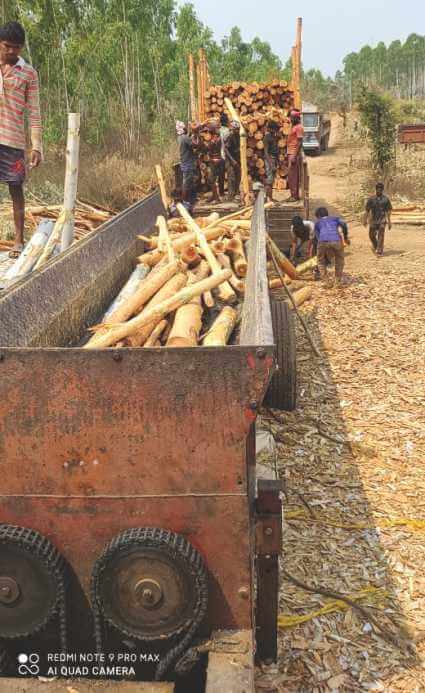 Raw material handling in mills yard

More or less all the mills have advanced to mechanized yard handling operations whether it's feeding to chippers through static grabbers or handling at yards through mobile grabbers. It has resulted in huge reduction in manpower deployment and has given comfort in smooth and uninterrupted running of chippers.

Along with the successful implementation of mechanized operations in the yard, load ability and handling of tractor trolleys too have been worked, ultimately keeping pace with the ever increasing RM handling in various mills, ensuring cost reductions and improvement in efficient operations.

Conclusion – the Way Forward

The Indian pulp & paper industry's passionate efforts especially with respect to building a robust, sustainable, reliable and cost reducing supply chain has paved the way to survive from the challenging times of the previous 25-30 years. This has resulted in a reliable supply sustenance of raw materials with reduction of about INR 1000-1200/MT in the overall supply chain beginning from farmers' fields to mills' chippers.