The order is included in Valmet's orders received for the second quarter 2021. The value of the order will not be disclosed.
July 8, 2021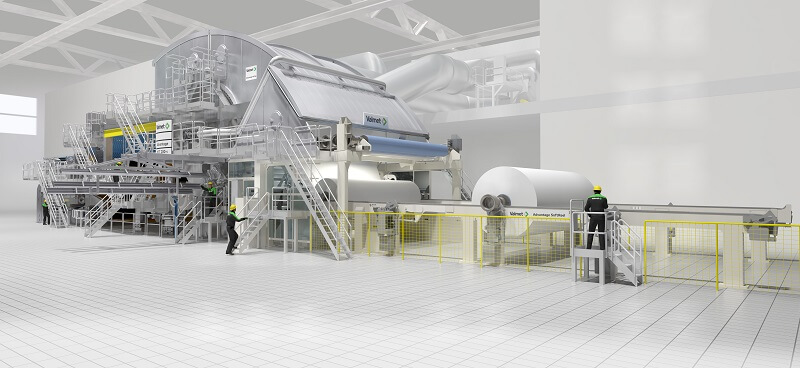 Valmet will supply the ninth tissue line delivery, including an extensive automation package, to Turkish tissue producer Hayat Kimya. The company has decided to invest in a new tissue machine at their new mill in Russia, with a target to meet the increasing demand for their high-quality tissue products. The new line will add 70,000 tons of tissue to their current production of facial, toilet and towel tissues. The start-up is planned for the end of 2022.
Exclusive: Kuantum Papers Interview With Paper Mart.
Hayat Kimya has previously installed seven Valmet Advantage DCT 200TS tissue production lines to its mills in Turkey, Russia and Egypt, and is currently installing the tissue machine TM9 at its new site in Russia. Hayat Kimya is constantly utilizing the latest technology to reach the highest efficiency and lowest possible energy consumption.
The new tissue machine TM10 will have a width of 5.6 m and a design speed of 2,100 m/min. The raw material to be used in tissue production will be virgin fiber. The new production line is optimized to save energy and to enhance the quality of the final product.
Valmet's scope of delivery will comprise a complete tissue production line featuring stock preparation systems and a Valmet Advantage DCT 200 TS tissue machine. The machine will be equipped with an OptiFlo headbox and a cast alloy Yankee cylinder. It will also be featured with the Advantage tissue technology including ViscoNip press with Valmet Black Belt R, an AirCap Heli hood and air system prepared for co-generation, WetDust dust system, sheet transfer system and a SoftReel L reel. The stock preparation line will consist of OptiSlush pulpers, OptiFiner conical refiners and OptiScreen machine screens.
Also Read: Toscotec to Supply a TT SYD Steel Yankee Dryer to Mirae Paper.
Furthermore, the delivery will include an extensive Valmet automation package with Valmet DNA machine controls, drive controls, process controls and machine monitoring, as well as Valmet IQ quality controls with IQ Fiber and IQ Softness sensors, MD Controls and IQ Dilution CD Controls. Complete engineering, installation supervision, training, start-up and commissioning as well as a spare parts package are also included in the delivery.