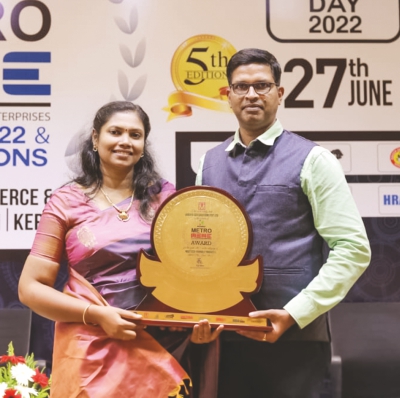 Varsya Eco Solutions Private Limited, an ISO-certified company, specializes in the manufacture and distribution of cost-effective eco-friendly products. The brand exclusively offers eco-friendly and biodegradable products like bagasse disposable plates and containers that are made from renewable resources such as bagasse, wheat, and bamboo fibers that help minimize harm to the environment. In a recent interaction with Paper Mart, Mr. Nitheesh Sundaresan, Founder, Varsya shared an overview of the company's work, vision and mission, their manufacturing capabilities and vast range of biodegradable products, as well as current qualitative and quantitative trends in the biodegradable crockery market.
Company's Overview
Varsya Eco Solutions Private Limited is a company that recognizes the importance of sustainability and preserving the environment. Varsya Eco Solutions was established to address these challenges and promote eco-friendliness by launching the brand VARSYA. The brand exclusively offers eco-friendly and biodegradable products that help minimize harm to the environment.
Our bagasse disposable plates and containers are made from renewable resources such as bagasse, the dry fibrous residue left over once sugarcane has been pressed for juice, wheat, and bamboo fibers. These materials are not only eco-friendly, but also provide benefits such as being suitable for hot, wet, and oily foods, and are a great alternative to plastic/styrofoam disposable tableware. They are also ideal for take-away food items.
Manufacturing Partners & Product Line
At Varsya Eco Solutions Private Limited, we only source the final products from trusted and high-quality manufacturers, ensuring that the products meet our strict standards for sustainability and quality. Our manufacturing partners use raw materials such as bagasse, recycled paper, natural clay, and other renewable resources to create our eco-friendly product lines. We work closely with our partners to ensure that the production process is sustainable and environmentally responsible. To ensure transparency in our manufacturing process, we maintain an open line of communication with our partners and conduct regular audits of their facilities. This allows us to verify that they are using sustainable production practices and maintaining the quality of the final product. Currently, we have partnered with several manufacturers across India to produce our eco-friendly product lines. Our partners have state-of-the-art machinery and equipment set up to produce high-quality products.
Watch: JMC Paper Tech Launches New Subsidiary JMC Papers
One of our most popular product lines is the Varsya eco-friendly notebooks, which are made from 100% recycled waste papers and do not contain any wood pulp. Our pens and pencils are also made from recycled waste papers. This process produces lower carbon emissions and uses 77% less energy compared to virgin fiber paper. We also offer Varsya biodegradable carry bags, which are made of a bio-based polymer compound manufactured from renewable natural materials such as cassava starch and other vegetable oil derivatives. Varsya bagasse disposable plates and containers are another product line that we offer. Our clay tableware is made from natural clay extracted from deep soil layers. Its porous nature allows both moisture and heat to circulate through the food, which results in slow yet aromatic food. We also offer disposable kraft containers and paper cups, which are made from high-quality kraft papers and white paperboard with food-grade coating. These products are light-weight, durable, leak-proof in normal shake, grease-resistant, and suitable for hot curries and beverages.
Trends In Biodegradable Tableware Market
The market trend for biodegradable crockery is definitely on the rise, and the demand for sustainable alternatives has increased significantly in recent years. According to a report by Grand View Research, the global market for biodegradable tableware is expected to reach USD 1.23 billion by 2027, with a CAGR of 6.2 percent from 2020 to 2027. One of the main challenges faced by the industry is the use of plastic film coating on many sustainable alternatives, such as paper cups. This coating is used to maintain the integrity of the food and to ensure the longevity of the product. However, this creates a barrier to the biodegradability of the product and contributes to plastic pollution.
Varsya Eco has recognized this issue and has come up with an innovative solution by developing a bio-based alternative. Our company has revolutionized the packaging industry with its biolayer technology derived from vegetable seeds. This biolayer provides a sustainable and environmentally friendly alternative to plastic coating. Our biolayer is non-toxic and completely biodegradable, ensuring that it does not harm the environment in any way. It also serves as a food migration barrier, making it an excellent alternative for packaging products in various industries, including FMCG, pharma, printing, and courier industries.
India is the world's second-largest sugarcane producer, with an estimated 550 million metric tons of bagasse produced annually. This provides a vast resource for bagasse-based products, making it a sustainable and readily available option. Additionally, the Indian government has taken steps to promote the use of eco-friendly products, including bagasse tableware.
Also Read: SPS Kalyan: One-Stop Machinery Solutions to Agro-Based Tableware Manufacturers
The Ministry of Environment, Forest, and Climate Change has even suggested a complete ban on single-use plastics by 2022. The advantages of using bagasse-based tableware are numerous. They are sturdy, microwave-safe, and can hold hot and wet foods without leaking or getting soggy. Additionally, they are compostable, and the discarded products can be used as natural fertilizers, making them a sustainable and eco-friendly option. Moreover, bagasse products are affordable and widely available, making them accessible to consumers and businesses alike.
In conclusion, we believe that bagasse tableware is an excellent alternative to unsustainable tableware products, especially post-Covid-19. The increased awareness of environmental issues and the need for sustainable solutions have made bagasse products more popular than ever before. We encourage everyone to switch to bagasse-based products and contribute to building a greener and more sustainable future.