Ankutsan's Adana mill saw a successful running of the RunEco EP600-50-HF1 turbo blower. Runtech Systems technology replaced the existing liquid ring pumps on the machine, resulting in a 55 percent reduction in specific energy consumption (SEC).
Sep 15, 2023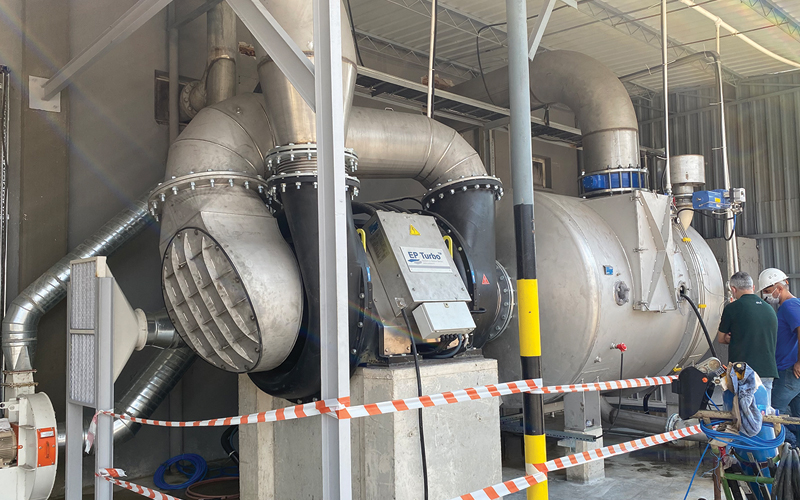 Ankutsan Adana mill sees the successful running of the RunEco EP600-50-HF1 turbo blower, whose delivery included an ABB frequency converter, an EcoDrop water separator, and an EcoFlow Multi with six measurement points. The turbo blower replaced the existing liquid ring pumps on the machine, resulting in a significant drop in specific energy consumption (SEC).
After the successful commissioning and start-up, the SEC dropped by over 55 percent by measuring the water flow online accurately with EcoFlow enabling vacuum level optimization.
Watch: JMC Paper Tech Launches New Subsidiary JMC Papers
EP600 Turbo vacuum blower is a two-stage speed-controlled blower designed for large paper machines and both greenfield and retrofit installations. The closed 3D impeller design gives top efficiency together with good controllability. The EP Turbo unit includes an integrated high-speed drive, which eliminates the need for a gearbox or coupling. The compact design of the turbo blower makes retrofit installations easy. All the installations at Ankutsan were done during normal paper machine operation and no production shutdown was required in switching to a turbo blower. Needed process connections were made earlier during scheduled maintenance shutdowns.
Mr. Fatih Soylu, Electrical and Automation Manager at Ankutsan Adana summarizes the project, "We want to reduce our energy consumption and costs to be more competitive in the global market. We know that one of the high-energy consumers is the vacuum system. When we were researching the new technologies in vacuum systems for saving energy, we saw that Runtech Turbo Blower technology saves more energy. Then we started to research the references of Runtech Turbo Blowers in Turkey's market. And we got good feedback from these references. In the end, we chose Runtech for the new vacuum investment. Our expectations and targets are saving 50 – 55% electrical energy consumption, also decreasing steam consumption (coal consumption at boiler) and increasing paper web quality."
Also Read: Lee & Man Paper Contracts Andritz for PrimePress X Shoe Press for PM26 at Malaysian Mill
"We have had very good cooperation with Runtech in all stages of the project. Runtech sent our Turbo before the contract schedule. We started erection works at the beginning of August and commissioning in the middle of August. Approximately in 5 days, we commissioned the Turbo Blower and made the fine tunings. For the last 2 weeks, we worked with Turbo Blower and saw a decrease in electrical energy consumption by approx. 50 – 55% and also a decrease in steam consumption. It means Turbo Blower achieves our targets," Soylu says.
Ankutsan Adana mill produces recycled test liner and fluting with an annual paper production capacity of 50 thousand tons. Ankutsan A.S. has a production capacity of 350 thousand tonnes per year.