"MRL has a very strict internal quality control system that ensures that the rollers are as per specifications, with quality checks at each step."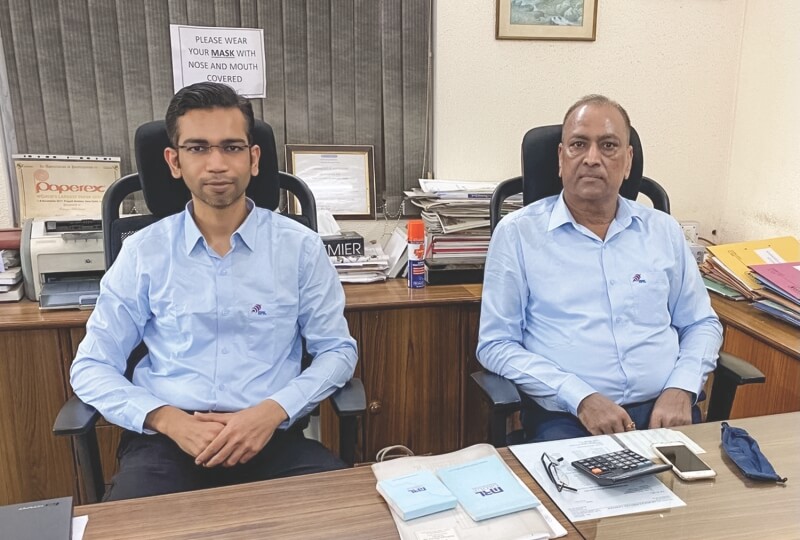 Modinagar Rolls Pvt. Ltd. (MRL) is a pioneer in manufacturing rollers and delivering high-quality precision custom rolls along with a variety of repair and maintenance services to various industrial applications. Founded in 1995, MRL also does dynamic balancing for all types of rotating bodies. In an interview with Paper Mart, Mr. Bhupendra Agrawal, Managing Director, and Mr. Shalabh Gupta, Technical Director of Modinagar Rolls Pvt. Ltd. talk about their company's history, product portfolio, and manufacturing capabilities.
Paper Mart: Could you please take us through the business journey of Modinagar Rolls Pvt. Ltd. and its product range for the paper and packaging industry?
Bhupendra Agrawal: Modinagar Rolls Pvt. Ltd. (MRL) started operations in 1995 on a very modest scale. MRL started with a single grinder from the UK, and since then, it has been constantly expanding and has now become one of the largest industrial roller manufacturing plants in the country. Over the years, it has set up a separate small rollers plant, and a hard chrome plating plant. It has also expanded its rubber coating division by adding a new PU coating unit to provide all possible roll coverings under a single roof.
MRL manufactures rollers for paper and other industries and also performs all kinds of reconditioning and repairing work. It has an advanced rubber and PU coating plant, with specialised solutions for all applications of the paper industry. The motto of MRL is 'Any Roll, Any Size, Any Industry.'
PM: Kindly shed some light on the unique features of the rollers manufactured by your company.
Shalabh Gupta: MRL has a long-standing technical collaboration with Kraiburg Rubber Company, Korea. Our rubber compounds are formulated under the guidance of Kraiburg, ensuring better running life and performance. For highly critical applications, MRL uses fully imported Kraiburg rubber compound, providing unmatched runnability and top performance to customers.
MRL has a very strict internal quality control system that ensures that the rollers are as per specifications, with quality checks at each step. We put extra emphasis on the raw material quality check, which provides repeatability and uniform results in our products. There is a thorough pre-inspection of every roll that enters our factory, which helps in detailing all the tasks required on the roll at the beginning itself, avoiding any last-minute surprises.
"We are constantly investing in R&D for making our machines faster with high accuracy."
The customers trust MRL to meet their emergency SOS requirements whenever there is a breakdown in their plant, as MRL provides the quickest turnaround time in the industry for grinding, rubber coating, etc.
PM: Could you please outline the kind of machinery installed in your company along with the manufacturing capabilities?
SG: MRL has complete in-house infrastructure for manufacturing all kinds of rolls. We have the capacity to make rolls starting from very small to the largest possible size of 10m in length and 2m in diameter. We make new rolls as well as do reconditioning on old rolls. We have the facility for all kinds of rubber coverings for the paper industry, as well as PU coating for high-speed machines. We have our own hard chrome plating unit for dryer cylinders, paper rolls, and mirror-finished applicator rolls. MRL has more than 15 roll grinders, 4 dynamic balancing machines, multiple lathes, boring machines that are running round the clock to cater to the industry.
PM: Tell us the current market presence and expansion plans of Modinagar Rolls – both domestically and internationally?
SG: MRL has put up a new plant in Hyderabad, whose operations will start in October 2021. This facility is being specifically established to fulfill the growing demand of our South Indian customers for rubberizing, grinding, dynamic balancing on their rolls, without having to pay high freight costs. The Hyderabad facility will feature state-of-the-art machines like Voith grinder, fully computerized dynamic balancing machine, CNC blind drilling machine, cold feed rubber extruder among others. Due to its central location in South India, it will provide cost and time benefits to the customers, matching the same high-quality standards as the Modinagar plant. On the international front, we are already exporting to neighbouring countries, and have now increased our footprint in the African and Southeast Asian regions.
PM: How do you view the Indian paper industry and the market potential of sophisticated precision rollers?
SG: The paper industry has been going steadily in our country, and is expected to follow the same trend in the years to come. With new paper machines coming up in every corner of the country, the demand for rollers is also increasing. The new machines are of wider deckle and high speed, and old machines are also upgrading themselves to increase production. All this is possible only when rollers are of high accuracy and precision. We have been consistently working on increasing the accuracy and speed of our operations for many years now. The grinding of calendar rolls is performed under 5 microns parallelity which is best in the industry. All the rolls shipped by us are dynamically balanced, which reduces vibration of the machine, and hence results in low wear and tear. The accuracy of bearing size is very important and is checked and conditioned for all new and old rolls. We are constantly investing in R&D for making our machines faster with high accuracy. Going forward, along with the quality and precision, there is also a requirement for timely delivery with the best quality, and MRL is fully geared to provide the same to the customers.