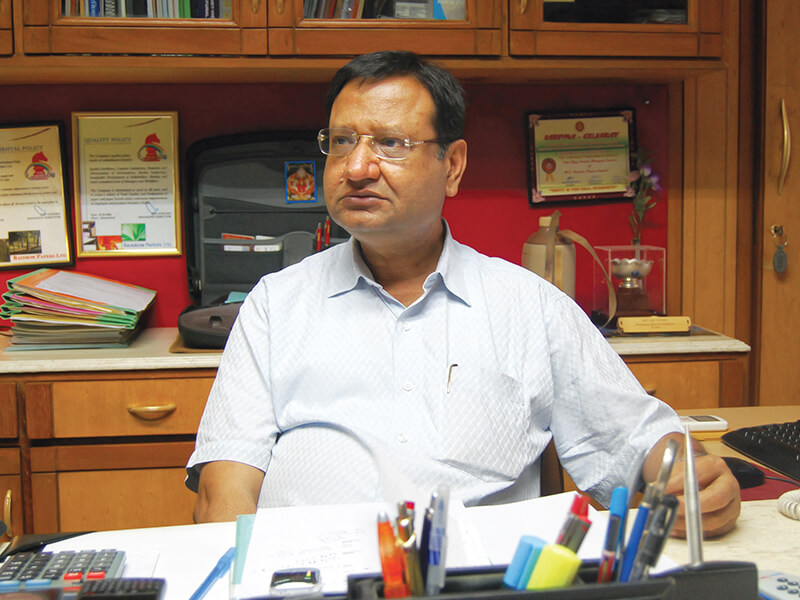 Often people give answers like cricket, reading, music etc when asked about their passion but, Mr. Ajay Goenka CMD, Rainbow Papers Ltd. said "PAPER IS MY PASSION". He spent nights watching the manufacturing of paper at a very young age when you and we might be sleeping in comforts. His passion made him visit Sirpur Paper Mills 18 times in a month where he learnt the technicalities of paper production, dispatching, controlling staff, inventory management etc. During the interaction we make out that in spite of being a proud owner of Rainbow Papers, he is deeply rooted to his culture & traditions and has calmness as a still water. The presented are the dialogues from the interaction.

Initial startup

At the age of 13 joined the family business of paper trade under the name Mahadev Ganga Parsad Kishore & Company, the distributor of Orient Paper Mill and Sirpur Paper Mill. He traded good quantities but learnt a very important lesson in his first deal by facing the challenge of realizing money i.e. the selling is one part of trading but, realizing the money is the most important part of it. Later on he added substantially to his business.

Further to satisfy his ego he wanted to put up a Paper Mill. God paved the way for the land which was a result of an acquisition of the company called Rainbow Pigments. He continued with the name Rainbow as 7 is his lucky number and company started paying dividends. Further in 1981 he was graced with the opportunity to buy a small crepe paper machine from Orient Paper Mill and started to convert kraft paper to crepe paper, which was a big turning point as it cemented the way for product development and they developed varieties of crepe paper. Again in 1987, eyeing on the opportunity he got an Air Knife Coater from Sirpur Paper Mill as a scrap. Rebuild it and started offline coating. In, 1989 sidelined himself from trading and pursued his passion of manufacturing paper.


Business Ideologies&their Application:

He has a firm belief in god and runs his business with open policies i.e. with 100% transparency. His ideologies are as follows:

•Doesn't take short term gain and believe in long term perspective; which he has strictly inculcated in his business by investing regularly in technology up-gradations, better automation, ERP installation, Quality System etc, instead of simply expanding capacities.

• Understanding the customer, his requirements and developing a cordial relation; as before selecting the customers for export he checks his background, visits his establishments, understand his needs, meet their partners & families and then join hands.

• Not worried about the competition but focus on improving; on which he said "Arjun ki Aankh" only one line i.e. paper line, one culture, moving ahead forgetting past, consolidating position day by day, don't bother about what people talk , always focuses on future.

• Commitment and transparency is the key to success, which he always infuse in the mind of his team to communicate the true fact i.e. if there are any irregularities in the final product it should be communicated to the customer and that is the USP of Rainbow "work with transparency".

•Always have alternate plans to fall on them at the time of crisis; like the continuous availability of the raw material is crucial. So he is in a thought process of buying a pulp mill in Africa or Indonesia along with some land to tackle the future pulp requirement.

Business and Market Development

Serving the customers with 186 varieties of papers, improvisation is a regular feature at Rainbow. Started with a small capacity of 6000 TPA Rainbow went through tough times before stabilizing the business. The stint of International market started in 1997-98, when they faced tough competition for their packaging board in the domestic market thus, extensive touring were undertaken, country to country along with samples, presenting to the customer, giving introduction of the company etc. Mr. Goenka himself went to Iran with 72 hour visa, just to explore the market. Facing the challenge of not been established as a brand they opted for the policy of customization as to provide the customer the worth for his money. He use to tell to his customers "Certainly I don't have a brand but I will provide you commitment, good price, long term contracts but my paper will have this problem". Now they have dedicated export customer base for the majority of its production.

Continuing the process of improvisation, Rainbow has imported two machines from Germany. One machine is already installed and the other one is under installation with a total capital outlay of Rs. 327 crores. Besides they are also planning to install Packaging Board machine in next financial year. Apart from this

Rainbow had also installed a de-inking plant of Kadant Lamort & 10 MW power plant. Further on the road of improvisation they are planning a subsidiary company in Nigeria carrying the name Rainbow to manufacture paper for the local markets. Rainbow came out with first of its kind of GDR (gross deposit receipt) to raise the capital for investment and got itself registered under Luxemburg stock exchange.

His outlook on industry

The newsprint scenario will be good for another 10 years but the demand will decrease slowly as more and more people are attracted towards the electronic media like IPADS , IPhones , EBook readers etc. Further with the advent of computer arena people thought of paperless office but ultimately it has given push to the use of paper. Moreover today copier paper if the one the fastest growing segment. With the cultural transformation and improvement in the standard of living demand for packaging is growing phenomenally. On the whole the future of the Indian paper industry is bright and uprising .

CSR at Rainbow

As a part of Golden Gujarat initiative they have made a committee where a pregnant women gets cash incentive of 3500 rupees in the 7 8 and the 9 month for upholding the good health. Everyday two trucks of fodder are sent to feed the cows. Besides that, they have joined the scheme of Akshaya Patra, where they are sponsoring 400 children for education along with sponsoring for other charities too. At their factory, subsidized food is available for the entire workforce.