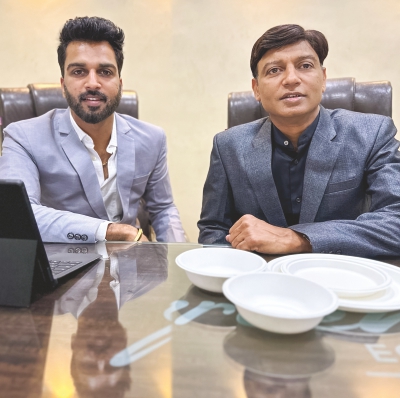 Greenvale Eco Products is one of the leaders in manufacturing products from renewable resources. The company is creating huge opportunities for industries looking to move away from plastic packaging, with their products having the capability to withstand moisture, oil & high and low temperatures. Greenvale holds a wide range of biodegradable and compostable food packaging products at their local headquarters in Ichalkaranji, Maharashtra. In a recent conversation with Paper Mart, Mr. Shyamsundar Malani and Mr. Anilkumar Malani, Managing Directors, Greenvale spoke about Greenvale's financial growth, extensive product line and manufacturing capabilities and trends in the biodegradable crockery market.
"We are producing around 250 tons per month and gradually we are planning and implementing things to raise it by 2.5x by August 2023"
Company's Overview
Greenvale Eco Products is at the forefront of manufacturing products from renewable resources. Our products have the capability to withstand moisture, oil and high and low temperatures, creating huge opportunities for industries looking to move away from plastic packaging. In terms of financial growth, Greenvale Eco Products has been growing at an annual growth of 1.5x to 2x on an average since 2016-2017. When it comes to product range, we started with 11 products at the beginning and at present we are very proud to have a range of 60+ eco-friendly and biodegradable products across various categories like plates, bowls, trays, containers and clamshells covering all the basic necessities for household and HO-RE-CA industry so that people can have many options to switch from traditional plastic products to biodegradable bagasse tableware. Overall, the characteristics of Greenvale Eco Products make it a popular choice for environmentally conscious individuals and businesses looking for a sustainable and cost-effective alternative to traditional disposable tableware.
Manufacturing Operations & Product Line
The manufacturing process of Greenvale tableware typically involves a series of steps,which are the collection and cleaning of bagasse where the bagasse fibers are collected from sugarcane mills and cleaned to remove any impurities, followed by pulping where the bagasse fibers are pulped by adding water and chemicals to break down the fibers and create a pulp, after which the bagasse pulp is then molded into various shapes and sizes using molds and presses. The molded bagasse products are then dried in an oven to remove any moisture and increase their strength. The dried bagasse products are then trimmed to remove any excess material and finished to achieve a smooth surface and are then packaged and distributed to customers for use.
Watch: JMC Paper Tech Launches New Subsidiary JMC Papers
From a production perspective, Greenvale Eco Products is growing exponentially, as currently, we are producing around 250 tons per month and gradually we are planning and implementing things to raise it by 2.5x by August 2023 with the help of around 100 semi-automatic machines; currently we have 42 of these machines. As I mentioned earlier, Greenvale Eco Products offer 60+ biodegradable tableware products across categories like plates, bowls, containers, clamshells and food trays. All these products are derived from sugarcane bagasse and all these are compostable as well. Greenvale Eco Products' tableware has certain key characteristics. Bagasse tableware is eco friendly as it is made from sugarcane fibers as mentioned, which are a renewable and sustainable resource. Using bagasse tableware helps reduce the amount of waste sent to landfills and reduces the environmental impact of food service operations. Bagasse tableware is strong and durable, making it suitable for use with hot and cold foods and liquids. Bagasse tableware is microwave-safe, making it convenient for reheating food. Bagasse tableware can be stored in the freezer without losing its shape or durability. Bagasse tableware is fully compostable and will break down in a compost pile within a few months. Bagasse tableware is free from harmful chemicals and additives, making it safe for use with food. Bagasse tableware is an affordable alternative to traditional plastic and paper tableware, making it an excellent option for budget-conscious businesses and consumers.
Trends In Biodegradable Tableware Market
According to a report by Grand View Research, the global biodegradable tableware market size was valued at USD 1.2 billion in 2020 and is expected to grow at a compound annual growth rate (CAGR) of 5.3% from 2021 to 2028. This growth is primarily driven by the increasing demand for eco-friendly, sustainable, and biodegradable products as consumers become more aware of the environmental impact of their consumption choices. Another report by MarketsandMarkets estimates that the global market for biodegradable plastics will grow from USD 3.02 billion in 2020 to USD 6.12 billion by 2025, at a CAGR of 15.1%. This growth is also driven by the increasing demand for eco-friendly products, as well as government initiatives and regulations promoting sustainable practices.
Also Read: Bionova: Commitment to Reduce Environmental Waste with New State-Of-The-Art Production Plant
In addition to the quantitative market trends, there are also some qualitative trends that are driving the growth of the biodegradable tableware market. These include increased environmental awareness, that is, consumers are becoming more aware of the impact of their consumption choices on the environment, and are seeking out products that are more sustainable and eco-friendly, many governments around the world implementing regulations and initiatives to promote the use of biodegradable and sustainable products, which is driving demand for biodegradable crockery, companies investing in research and development to create new and innovative biodegradable crockery products that are more durable, affordable, and aesthetically pleasing as well as consumers increasingly prioritizing sustainability and eco-friendliness when making purchasing decisions, and willing to pay a premium for products that align with their values. Bagasse tableware is also a biodegradable and compostable alternative to traditional plastic or paper plates and bowls, and has good strength to give tough competition to plastic disposable tableware.
Overall, the market for biodegradable tableware is expected to continue growing in the coming years as more consumers and businesses prioritize sustainability and environmental responsibility.
By looking at such a big opportunity, we are expanding in every possible manner. We have our own mould making facility where we design and develop our own moulds and also provide moulds to other fellow tableware manufacturing companies. We have developed our own tuning workshop where we do R&D for our future machinery, we are becoming more independent with each passing day. Earlier we used to rely on the Chinese market for machinery and technologies but in recent times we developed a tendency and trained ourselves to stand independently in the industry.