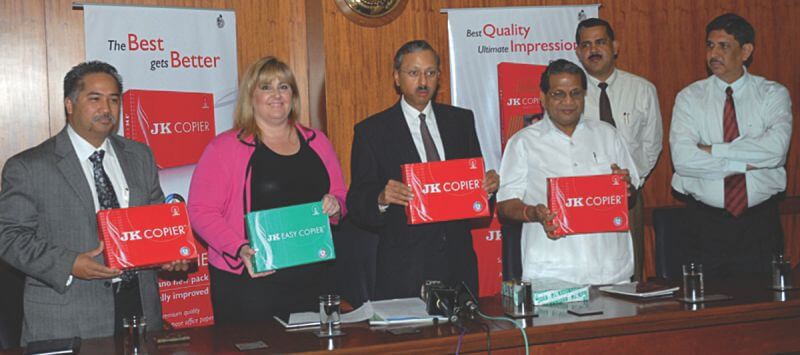 JK Paper Ltd has tied up with Hewlett Packard (HP) for its internationally acclaimed 'ColorLok' technology. With this JK Paper, joins the select List of 11 leading global paper companies like International Paper, Stora Enso, M-Real, Mondi, APRIL, Domtar etc who have been licensed 'ColorLok' technology by HP to provide high quality printing experience. JK Paper owns the largest selling brands in the copier segment in India namely JK Copier and JK Easy Copier, besides JK Copier Plus, Sparkle, Cedar etc.

While announcing the launch of improved and upgraded JK Copier incorporating ColorLok technology with new packing, Mr. Harsh Pati Singhania, Managing Director, JK Paper said, "Our effort to be in step with technological advances in photocopying and desktop printing has made JK Copier the largest selling multifunctional office paper in India. The partnership with HP for path breaking ColorLok technology will provide JK Paper a qualitative edge and "first mover advantage" in the growing digital printing segment in India."

Globally and in India there is a shift towards digital printing in both commercial and SOHO segments. In India, digital printing is estimated to have reached 9% of total printing market currently vis-à-vis 3% in 2005 and this share is likely to rise even further over the next few years.

"This launch of ColorLok Paper fits in well with capacity expansion plans outlined by us to the tune of Rs 1500 crore mainly in the copier paper segment. The capacity expansion is aimed at continuing the Company leadership in the branded copier paper market. The entire copier output will be based on this upgraded technology platform", added Mr Singhania.

"Not only the ColorLok paper provides better quality printing, the new technology significantly reduces printing costs. It provides good quality 'duplex' printing i.e. printing on both sides and reduces paper jamming thus saving on paper usage. By making printers run smoothly, this also increases the life of printers as well. For instance a component in laser printers – Fuser – that costs over Rs 10000 in India lasts 40 % longer if ColorLok paper is used", said Ms Kimberley H Eliott, Strategic Alliance Manager from HP Headquarters at San Diego.

Initially, JK's three top copier brands namely JK Copier, JK Esasy Copier and JK Copier Plus will sport ColorLok logo.