The new PM3 is manufacturing high-quality tissue paper for the local market.
October 19, 2021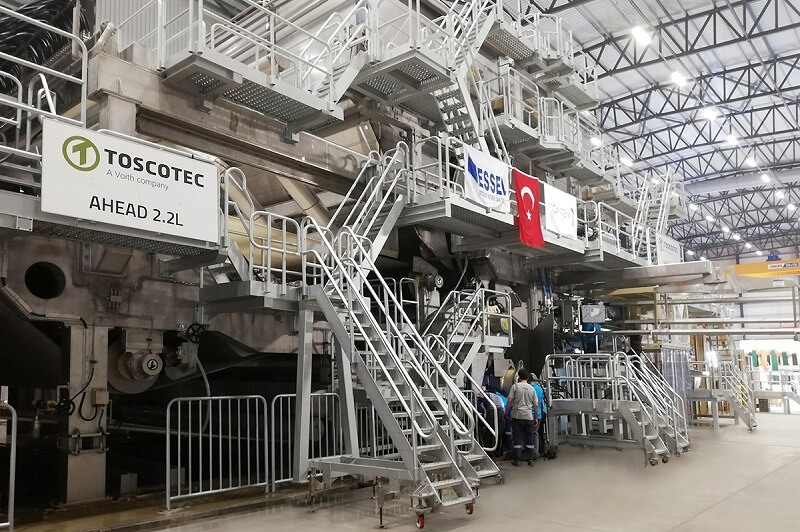 Essel Kâğıt has started up an AHEAD 2.2L tissue line supplied by Toscotec on a turnkey basis at its Osmaniye mill in Turkey. This is the fourth tissue machine that Toscotec fired up in a period of only three weeks in four different countries in Europe and Asia.
Featuring a net trim width of 5,700 mm and a production capacity of 270 t/d, this AHEAD 2.2L line is Turkey's biggest and most productive tissue machine. It features a fully hydraulic TT Headbox-MLT with dilution control, TT NextPress shoe press technology, a third-generation TT SYD with optimized geometry for increased heat transfer efficiency, and gas-fired TT Hoods with multiple stages of thermal energy recovery and designed for cogeneration upgrade.
The turnkey supply includes the complete stock preparation system, Toscotec's patented Short Approach Flow TT SAF®, electrification and controls, and dust and mist removal systems. The production line also includes two OPTIMA slitter rewinders with tension and nip control and an automatic shaft puller for top winding efficiency. A full-service package completes the turnkey supply: mill engineering, erection supervision, commissioning, training, start-up, and Toscotec's YES Connect-Vision AR system for effective on-remote service.
Ahmet Temuroglu, Project Manager of Essel Selüloz ve Kâğit Sanayi Tic. A.Ş., says, "We are very satisfied with the outcome of this investment operation. Toscotec demonstrated its ability to manage and successfully complete a turnkey project on a tight schedule. They kept their focus on our common goal and showed great flexibility in solving various issues and adjusting their schedule to meet our requirements. The new AHEAD machine is already operating at good efficiency, we are confident we will soon fully reap the benefits of this advanced technology."
Also Read: Essity Invests in World's First Tissue Machine Running on Geothermal Steam.
Pier Paolo Brunazzi, Toscotec Project Manager, says, "We had very productive cooperation with Essel, as we built a trust-based relationship since the beginning. They are now operating Toscotec's top-of-the-line tissue technology including our latest product innovations. We expect them to achieve both their production and tissue quality targets in a very short time."