Myntra steps up its sustainability game during its ongoing Myntra Big Fashion Festival by replacing bubble wraps, plastic cello tapes and polycovers with shredded materials and paper tapes/covers/boxes.
October 13, 2021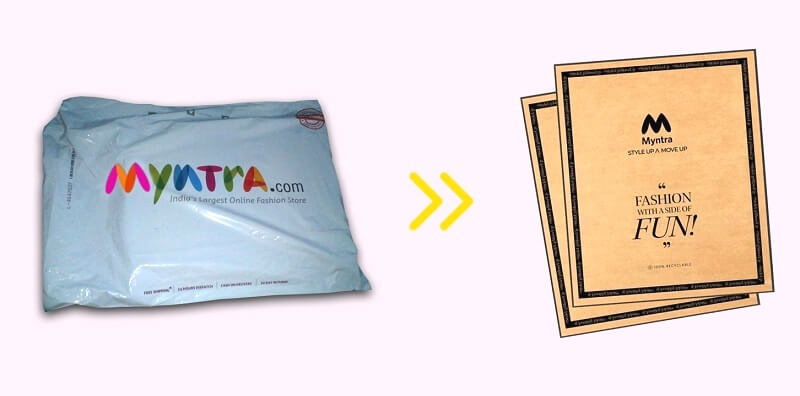 In an effort to reduce plastic waste, Myntra, India's biggest fashion and lifestyle e-commerce giant had incorporated plastic-free packaging for its Big Fashion Festival, which was held from October 3 to 10.
Taking its commitment to sustainability a notch above, Myntra has eliminated 100 percent single-use plastic in packaging. The measure is in sync with the company's efforts to align its brand partners to adopt green packaging. In its sustainability journey, Myntra has adopted many sustainable business practices and initiatives along the way, and now eliminating 100 percent plastic from its packaging is another major milestone accomplished.
As a part of this initiative, the customers have started receiving their orders in sustainable packaging across the country. All bubble wraps, plastic cello tapes, and poly covers have been replaced with sustainable and eco-friendly shredded materials, paper tapes, and paper covers & boxes respectively.
According to the company's press release — the preparations for this initiative began last year. Multiple in-house teams spent months on suitable material and process exploration and worked with its brand partners and sellers to make sure the alternative packaging was sturdy enough to handle different kinds of products and specific requirements of the supply chain.
Also Read: Pulp For Packaging Grades: A Growth Area.
Also, Myntra's Fulfillment Centers were equipped with all the right technology and infrastructure in place to carry out this initiative. For a seamless execution, Myntra's teams undertook numerous educational webinars and training sessions for the vendor partners to help them implement the new paper packaging system across the country. To facilitate faster adoption of these paper bags in the packaging value chain and to ensure that the sellers get them at a regulated price and optimal quality, Myntra equipped its seller portals to enable sellers to place orders directly for the bags.
As of September 2021, Myntra claims that this approach has resulted in the diversion of 670 tonnes of plastic.