Papermaking is one of the main business of Shanying Huazhong Paper Industry Co., Ltd and enjoys certain popularity and influence in the industry.
September 25, 2020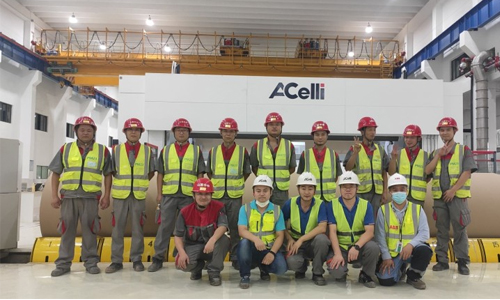 The company introduced their papermaking production equipment for the domestic and international market in order to build an industrial packaging paper production base with waste paper as raw material.
At the beginning of 2019 Shanying Huazhong Paper Industry Co., Ltd entrusted A.Celli Paper with the supply of two latest generation E-WIND® P100 rewinders for the mill located in Jingzhou District, China. During September 2020, Shanying Huazhong Paper officially completed the commissioning and start-up of the machineries and this event is certainly a reason for success, in connection with the next contractual steps.
The E-WIND® P100 Paper Rewinders, highly developed in terms of design, have a paper width of 7960 mm, they guarantee a maximum production speed of 2500 mpm (design speed) and they are able to accommodate large reels on the unwinder with diameters up to 3800 mm and a weight of about 65 t.
The machines will allow the Chinese group to process high-quality flat paper and Testliner paper of the lowest grammage (from 50 to 110 GSM).
With this supply, A.Celli Paper offers its customer a considerable qualitative leap aimed at important and ambitious production goals, in the spirit of partnership, in an extremely demanding market such as the Chinese paper one.