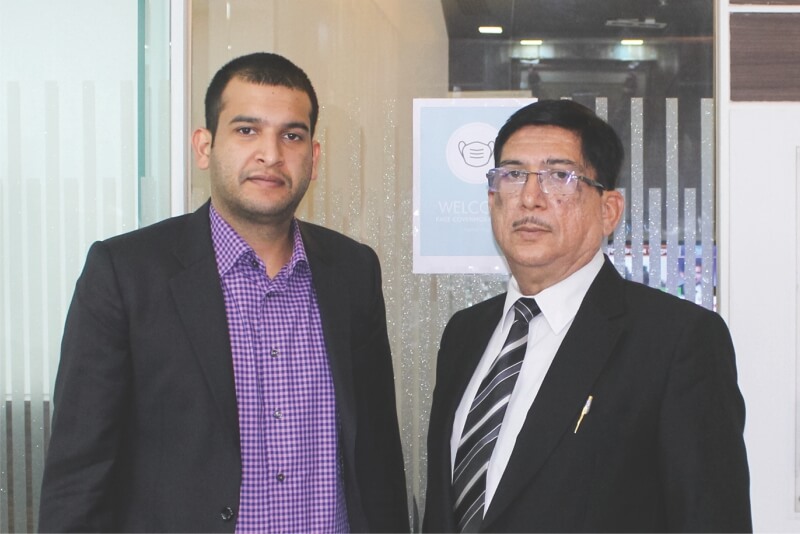 Bansal Dye Chem Pvt. Ltd. is a leading supplier and distributor of chemicals. Based in Delhi, Bansal Dye Chem fulfils the requirement of Optical Brightening Agents and Coating Chemicals for the paper mills primarily in North India without the involvement of any intermediary. In an interview with Paper Mart, Mr. Rakesh Kumar Bansal, Director, Bansal Dye Chem Pvt. Ltd., talks about his journey, product portfolio, USP, and outlook on the Paper Industry.

Paper Mart: Tell us in brief about Bansal Dye Chem Pvt. Ltd. and walk us through your journey.

Rakesh Kumar Bansal: Bansal Dye Chem Pvt. Ltd. is a notable supplier and distributor of Optical Brightening Agents (OBAs) and other chemicals. Located in Delhi, Bansal Dye Chem serves the paper mills of North India irrespective of their sizes and scales. We are distributors of Deepak Nitrite Ltd, Apcotex Industries Ltd., K. Patel Chemo Pharma Pvt. Ltd., Kohinoor Chemicals, Auchtel Products Ltd., SNF (India) Pvt. Ltd., and work closely in product development with our principal suppliers.

As far as my journey is concerned, I started this business with INR 10,000 in my pocket. I used to work at R & D Deptt, BILT Yamuna Nagar and utilised that experience. My son Rohan Bansal, recently joined Bansal Dye Chem Pvt. Ltd., after getting experience in the USA and is aiming to diversify to other businesses in addition to the current business.
PM: Please elaborate on the product portfolio and clientele of the company.

RKB: Presently, Deepak Nitrite Ltd. is the leading and the only fully backward integrated manufacturer of OBA and we are its sole distributor. We provide a full range of OBA to various writing & printing mills namely Century Pulp and Paper, Kuantum Papers Ltd, Satia Industries Ltd, Shreyans Industries Ltd, Bindals Papers Mills Ltd & Naini Papers Ltd.

Full range of tinting pigment violet, blue and red are our specialty of K Patel Chemo Pharma Pvt. Ltd.

With respect to the duplex board packaging segment, we provide chemicals to be used in the surface coating of the layers. In addition, we also supply chemicals/dyes for the MDF board industry which is presently the most financially remunerative vertical for us. Greenpanel Industries Ltd and Century Plyboards (India) Ltd are our chief customers in this industry. While we were previously the supplier of ground calcium carbonate and dealer of 20 Microns but now, we have narrowed down the scope of our product offerings.

Besides being into marketing SBR latex of Apcotex Industries, we are marketing dispersing agent of SNF, Lubricating Agent of Auchtel Products and Cross-Linking Agents, MF Resin, AZC, KZC, of Nikisu Fine Chemicals Pvt. Ltd and have a full range of PVA with low and medium viscosity.

PM: What are your USPs?

RKB: Quality and timely delivery are our USPs. We are known for our honesty, credibility, and integrity. One of the major plus points of our business is that we employ technical marketing practices. In fact, our customers do not perceive us solely as a dealer but as a technical expert too. When a paper mill faces technical difficulties pertaining to the chemicals/additives used in manufacturing, we have the prerequisite expertise to resolve those issues. We provide immediate support by fulfilling their requirements on a prompt basis. Besides, we have good financial management. My son has pursued a Master's in Finance and intends to use his knowledge in the business.

PM: What is your outlook on the paper industry and your future plans?

RKB: In my perspective, the Indian paper industry had recorded production of around 10 million tonnes in 2009. As I recall, Dr. APJ Abdul Kalam, the former president of our country, had said during an annual seminar in Delhi on 6th March-2009, that in 2020, the domestic production would be around 25 million tonnes which means the total size of the domestic paper industry must be around INR 1 lakh crore. By these estimates in view, the paper-making chemicals & additives would also register a corresponding or equivalent growth.

While we do not want to set up a manufacturing plant and would like to continue with the same business model, we plan to keep adding products to our basket. In this dynamic world, we should not stick to the same product but change as per industry demand. Our highest-ever turnover in sales has been INR 125 crore and we see the potential to surpass INR 200 crore mark shortly.

PM: Do you face any challenges?

RKB: Currently, the paper industry is affected due to COVID-19 and that affects our business.

A persisting concern of the chemical/additive industry is that the prices of chemicals are continually increasing along with the situation that waste paper is not readily available in our country. Margins have shrunk in terms of percentage while investment has increased to sustain the same profits.