The new easier, smaller, smarter, lighter optical transmitter for perfect ash and total consistency control.

BTG has now launched the perfect solution for measuring ash and total consistency of pulp suspensions in the range of 0.01 – 2% – the new RET-5503 PeakAsh. This latest addition to BTG's new generation of easier, smaller, smarter, lighter optical sensors pursues our effort to create transmitters with a radically streamlined design that are easyto- handle, slim and slender but also offer top performance at a very attractive pay-off.

Based on BTG's patented and wellproven Peak Method the new sensor employs LED and laser technology. Furthermore, its electronic involves modern microprocessor technology with advanced signal analysis. This allows for easy calibration to always secure stable and highly accurate ash consistency measurements.

Like other BTG sensors, the new PeakAsh is operated using BTG's generic electronic platform, the CPM, which ensures compatibility with present and future communication interface requirements, from analogue output with HART® to field buses. This monolithic communication interface makes handling the transmitter very user-friendly due to its familiar layout and menu navigation.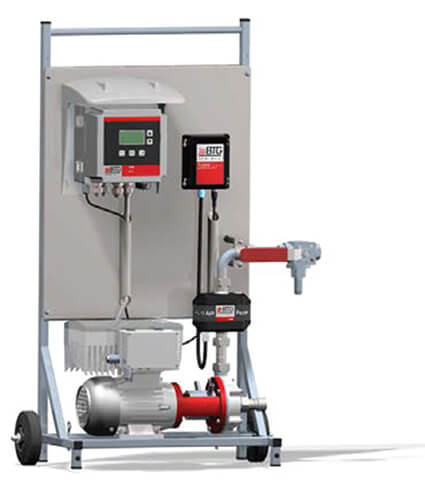 Being mounted in a special bypass arrangement the PeakAsh provides real-time results. The unit has a unique low maintenance probe fed by a pump solution which makes the sensor independent from process pressure and layout. A special wheel kit facilitates moving the unit from one site to another.

Due to being embedded in a wide-ranging portfolio of options PeakAsh will always provide a proper solution for your papermaking process or your request as a chemical supplier.

RET-5503 PeakAsh offers a number of advanced capabilities:

• In general, it is the best suited sensor for accurate ash control applications.

• Combined with BTG´s in-line sensors and specialist application know-how, it is the perfect solution for all white water ash and total consistency control applications.

• It can be highly recommended for DIP flotation optimization where highest ash accuracy is required.

• Its ability to hook up with a pre-configured PC allows chemical suppliers convenient data storage, remote equipment access and retention calculation – all through one customer-friendly software.