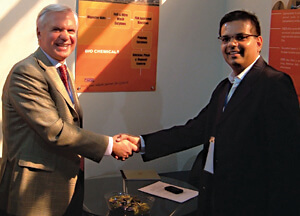 Finor Piplaj Chemicals Limited, Mumbai, India and Acquaflex srl, Rho, Italy announced the execution of a technology transfer agreement between them. The agreement was signed during Paperex 2011 show.

The agreement involves the licensing of new generation product technologies like biocides, dispersants, pulping aids, antiscalants, deposit control, wire and felt treatments and cleaning aids by Finor from Acquaflex.

Divulging further details, Nirmal Shah, Director, Finor mentions "the production of Acquaflex's performance paper chemicals in India combined with the high level of application and technical knowledge within both the companies would be a winning proposition for Finor's customers as well as both the partners. We are excited by the association and will leverage on the vast experience to develop a profitable business in India and the region surrounding us".

Finor is an established specialty chemicals manufacturer and offers a wide range of wet-end products to the papermaking industry in India. Finor manufactures products in Ankleshwar, Gujarat to where it is also re-locating its paper chemicals application laboratory and has sales offices across India.

Dr. Antonello Dito, Foreign Countries Development Manager and co-promoter, Acquaflex adds "the technical background and the field experience of our technical engineers, continuously supported by the modern Acquaflex application laboratory, make it possible for our customers and partners to have an effective and highly professional support system at their service. We help to solve existing problems and to avoid any further difficulties. To assure this, our engineers engage in extensive studies of the industrial processes always with a high degree of experience and professionalism. Our association with Finor was carefully done to ensure we share the same values while growing our business in the region".

Acquaflex has been serving key European markets with its range of water treatment and paper treatment chemicals. Acquaflex manufactures products in Rho on the outskirts of Milan where it also has its modern laboratory.