June 18, 2013

The combined serial inkjet and page printer, copier and multifunction product (MFP) market in India totaled 690,344 units in the first quarter of 2013, a 8.9 percent decrease from the first quarter of 2012, according to Gartner, Inc. Total end user spending remained almost flat witnessing a fall of 1 percent from the same period last year, totaling USD 237.5 million. Both the monochrome and color markets posted a decline of 2.9 percent and 11.2 percent.

"Vendors are targeting the small and midsize business (SMB) and Small office home office (SOHO) markets in India with increased focus on the cost and quality needs of office users," said Zalak Shah, research analyst at Gartner. "Key market players are trying to stimulate demand with new offerings and working closely with channel partners for market expansion."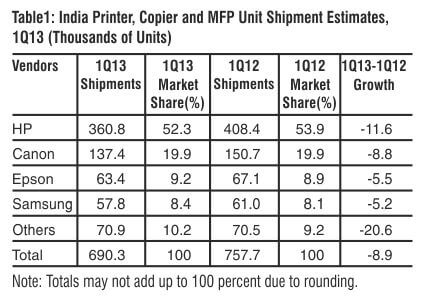 HP remained the market leader in the Indian printer, copier and MFP market (see Table 1), as its market share totaled 52 percent, followed by Canon with 20 percent share. Epson accounted for 9 percent, while Samsung Electronics accounted for 8 percent of the market in the first quarter of 2013.

Source: Gartner (June 2013)

The Page A4 MFP segment continued to grow in the first quarter of 2013 and posted a growth of 18 percent compared to the first quarter of 2012. HP continued to perform well in this segment, with a growth rate of 39.5 percent and a market share of 55 percent. Samsung, at No.2, grew slightly with its market share at 20.5 percent, Canon's shipments declined by 3 percent, and it accounted for 12.5 percent of the market.

The Page A3 MFP segment declined 14.8 percent compared to the first quarter of 2012. Canon again led the market with 26.3 percent market share; while Konica Minolta was No. 2 with 16 percent market share. Canon performed well in the low and mid speed monochrome device market for this segment. Konica Minolta declined 4 percent due to a fall in the low-end segment as compared to the first quarter of 2012.

The page printer market overall experienced a decline of 14.1 percent in the first quarter of 2013. The market leaders in this segment remain the same with HP at 55.4 percent market share, followed by Canon at 25.7 percent market share, and Samsung with 10 percent market share. HP, Canon and Samsung's shipments declined 13.7 percent, 27.6 percent and 15.2 percent. Color page printers in the 11-20, 21-30 and 31-40 ppm segment did well compared to the first quarter of 2012.