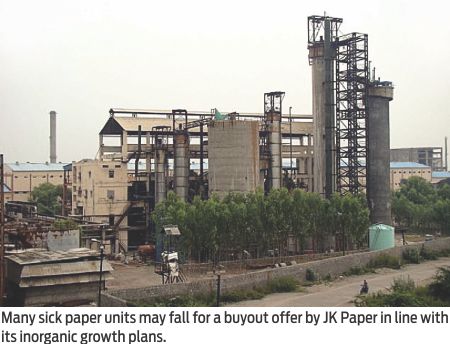 Four-Five mills in India at present may offer attractive propositions in the line of JK's inorganic growth strategy. Companies other than JK, venture capital firms, and private equity firms are also willing to invest in such acquisitions.

As the non-binding buyout offer by JK Paper Ltd to buy two units of Ballarpur Industries, viz. Ballarpur unit and Ashti unit of BGPPL in Maharashtra has most likely been rejected, JKPL is not seeing it as the end of its inorganic growth plan, as per the sources from the industry. The buyout offer and draft term sheet was received by Ballarpur Industries in July 2016, which it later confirmed in a BSE filing in October. The sources said that the present condition of the industry offer adequate opportunities for the inorganic growth of JK Paper.

On asked why the offer did not fructified, the sources aware of the development, requesting anonymity said that talks between the two firms had stalled because of a disagreement over the valuation of the assets. Unable to disclose the exact value of the offer, the same sources said that BGPPL is no longer keen on the deal and exploring other possible investors for arranging working capital for the company facing the serious cash crunch.

However, JK Paper is not deterred by the failure of the deal and is determined to tread the path of inorganic growth by acquiring units either sick, or closed, or willing to be sold, said the same sources. Divulging further, the sources said that the company at present is not willing to undergo any considerable Greenfield expansion projects as it requires huge time and resources for the feasibility test, clearances, etc. and takes time to stabilize in terms of production and the absorption of products in the market. The company rather is willing to add up to its size and product portfolio by buying various small- and medium-sized units, both functioning and sick, said the sources. As a matter of fact, four to five small- and medium-sized mills at present in India may be considered as lucrative buyout options by the company.

High cost of raw material and stiff competition from overseas paper industries have pushed many mills on the brink of breakdown. Famous paper mills in Telangana like Kaghaznagar mill too have been forced to shut down following downfall. Sirpur Paper Mills Limited (SPM) is an integrated pulp and paper mill situated at Kaghaznagar in Adilabad district, Telangana. Production at the mill has been shut down since September 2014. Likewise, many Govt. owned mills are also running sick and are waiting infusion of fresh capital to continue surviving. All such mills offer possibilities to JK for its inorganic growth plans.

Many MNC's held paper mills in India also faced serious difficulties, or even temporary shut downs recently. Overall, more than 320 mini paper mills and about a dozen big paper mills started operations since 1976 and after 1980 all these new mills started closing operations systematically, reasons range from questionable financial viability to raw material crisis. All these operational failures of the paper mills also calls for consolidation of the paper industry, one way may be the inorganic growth by big players as planned by JK Paper.

Furthermore, many other paper companies, venture capital firms, private equity firms, buyout firms, etc. are eying the possibility of investments in the existing Indian paper mills. In fact, Canbank Venture Capital Fund Ltd (CVCFL), a wholly-owned subsidiary of state-run lender Canara Bank, has invested Rs. 25 crore (USD 4.1 million) in Mumbai-based paper manufacturing company Gayatrishakti Paper & Boards Ltd., having two mills in Gujarat. CVCFL, set up in 1989, is one of the country's first and only public sector bank-sponsored, SEBI-registered venture capital funds to invest in emerging Indian businesses in the small & medium enterprises in various sectors.