A leading exporter and convertor of printing and packaging grades of paper, Kalpataru Papers LLP currently exports its products to more than sixteen countries.
In an exclusive interview given to Paper Mart, Mr. Dipesh Laddha, Director, Kalpataru Papers, talks about his company, product portfolio and future targets.
Excerpts.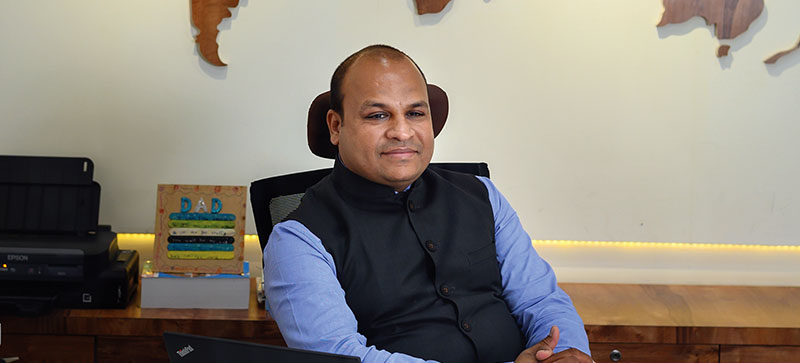 Paper Mart: Could you tell us a little bit about your company and product portfolio?

Dipesh Laddha: Kalpataru Papers LLP is a leading exporter and convertor of printing and packaging grades of paper, currently exporting its products to sixteen countries. Our head office is in Ahmedabad. We also have a branch office in Baroda and an international office in Dubai, UAE.

Kalpataru now has a strong presence in many countries including UAE, Turkey, Nigeria, China, Tanzania, South Africa, Bangladesh, Vietnam, Sri Lanka and New Zealand.

We provide packaging paper, writing and printing paper and speciality paper. The application areas for our products range from food packaging to pharmaceuticals. Kalpataru is now looking forward to extending its network to European and African countries.

We offer a wide range of products in exports such as slitted form and small OD roll of kraft paper, bleached kraft, poly extruded chromo paper and bleached kraft, core board in slitted and non slitted forms, test liners, flute mediums (from RCT5 and above), duplex board LWC/HWC, colour file board, crepe paper, and wood-free recycled paper – newsprint wrapping and packing grade. Also, we send tea bag filter paper to Sri Lanka, East Africa and India.

PM: What are your key strengths?

DL: Our unrivalled 30 years of experience in paper production and our broad understanding of wood pulp, primary fibre market trends have been our main strengths. Also, we are active in global market study reports and have been closely working with leading organizations of paper recycling and pulp plantations located in Europe and China. Our in-house converting facility enables us to handle delivery time with absolute precision, and our poly coated unit helps us in providing next-generation packaging solution for our customers.

PM: Could you tell us about the new developments that have taken place in your company?

DL: We have recently launched sugarcane and bagasse with PLA-based tableware and food bowls. This product profile has been launched for Singapore, India and UAE and will be extended to Southern Europe very soon. We have put up a dedicated team to look at the operations of this vertical at our head office in Ahmedabad.

PM: What are your future targets?

DL: By April 2020, we will start our procurement office in London, which will look after our primary fibre and pulp business. Also, in the plan is the sales office in Singapore, which will take care of our bagasse-based disposables and our paper exports to the Far East.