A Life Cycle Assessment run by the external consultancy WSP reportedly states that using the cup reduces environmental impacts by almost 2/3 compared to a standard paper cup.
January 23, 2020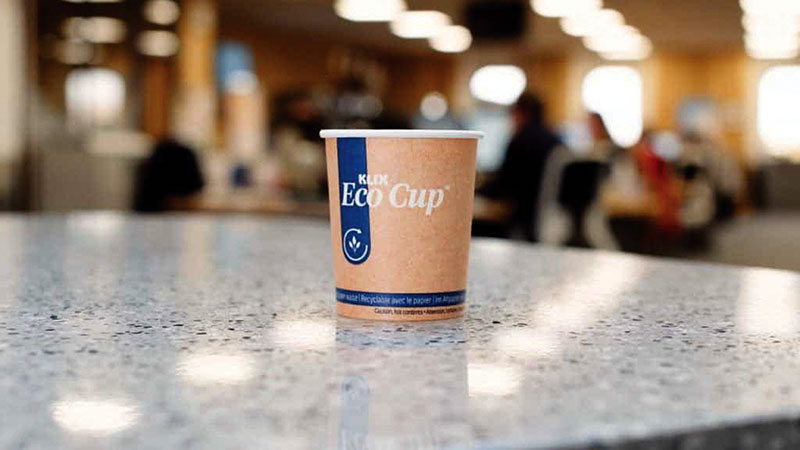 Lavazza Professional has launched a new recyclable and biodegradable product, KLIX Eco Cup – manufactured using paper sourced from sustainably managed forests. The product, created in partnership with manufacturer Kotkamills, will be available in KLIX vending machines from February 2020, serving a wide range of hot drinks brands, with more to come throughout the year.

According to the Kotkamills, most consumers are unaware that standard paper cups are difficult to recycle and are usually sent to landfill due to a Polyethylene (PE) lining that very few recycling facilities across Europe can process. The new KLIX Eco Cup™ is unique, the company says, due to a special patented water-based dispersion barrier board that enables the cups to be recycled with normal paper waste, just like office paper.

Ashley Weller, General Manager Lavazza Professional UK, said, "Calls for a reduction in single-use plastic for food and drink containers increased our commitment to offering our customers and consumers a revolutionary solution to meet their needs: KLIX Eco Cup marks another step forward in our mission to deliver the most sustainable drinks vending solutions in the world."

Commenting on the collaboration, Kotkamills CEO Markku Hämäläinen said, "We are pleased about the collaboration with Lavazza Professional. The company is a frontrunner in bringing eco-friendly solutions to the beverage vending sector, and they are ambitiously striving to implement a model of sustainability that responds to the challenge of reducing plastic in the next couple of years. This kind of collaboration partner is ideal for us."