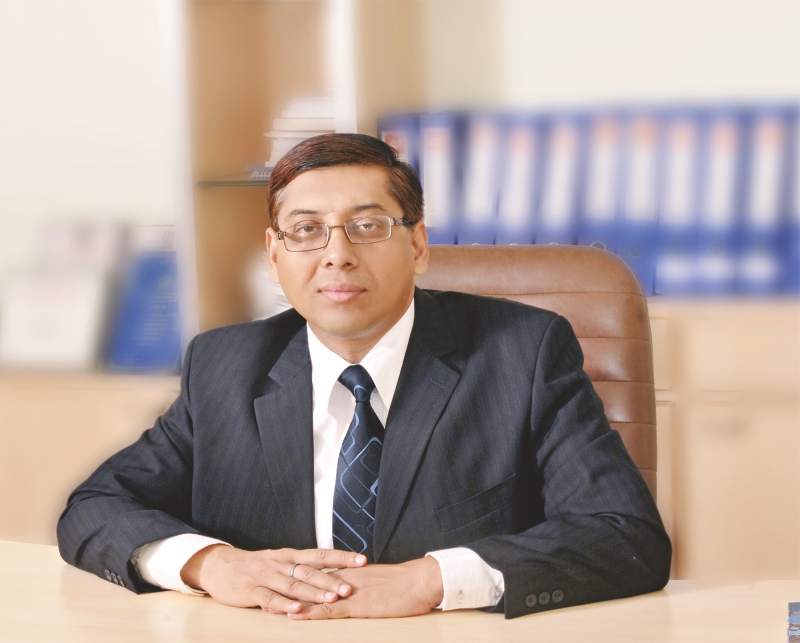 Even with biodegradable and sustainable operations, the paper industry's image has suffered a negative outlook from the general public. However, it is also true that the general narrative is built around various misinformation. In a recent conversation with Paper Mart, Mr. Pawan Agarwal, Managing Director of Naini Group, shared about the company's recent contract with Valmet to buy a specialty paper machine, plans to foray deeper into the specialty paper market, and his plans for office as the new IPMA President. His statements clarify that the paper industry might be already sustainable, but it needs to use available opportunities to rebrand its image and turn the general narrative in its favor. He shared key insights into his brownfield paper project which is set to get commissioned by early 2025, including key purchases, the vision behind the project, and capacity expansion.
Paper Mart: Naini Group has recently ordered a specialty paper machine for a brownfield paper project coming up at existing site at Kashipur in Uttarakhand. Please elaborate on this upcoming project and your new machine's key features.
Mr. Pawan Agarwal: At Naini, we are looking forward to expand our current capacities by acquiring state-of-the-art technology. Hence, we have recently ordered a specialty paper machine on Valmet. As the name suggests, the new machine shall be used to manufacture specialty paper products, mainly flexible packaging paper. The machine will have a deckle of 4.2 meters and a maximum speed of 1200 mpm.
The machine is being purchased as a part of our brownfield paper project in Uttarakhand. The project aims at exploiting opportunities in the flexible packaging segment. As a part of this project, we have invested in a hardwood fiber line, a 20 MW captive power plant, ETP, and other critical components. The super-batch cooking and fiber line delivery includes a digester plant consisting of four conical bottom digesters and a fiber line comprised of eight Valmet TwinRoll presses, a screen room, MC pumps, mixers, and tower scrapers, as well as the basic engineering and site services.
The new machine, once operational, will help us venture into newer markets with better opportunities and will add 130,000 TPA to our current manufacturing capacity. We expect the project to become fully operational by January 2025.
Watch: JMC Paper Tech Launches New Subsidiary JMC Papers
PM: Naini Group has been continuously making technology-based investments with Valmet. Can we get an insight into your vision and motivation behind these procurements?
PA: Valmet is one of the most advanced technology providers for the pulp and paper industry. In fact, the decision to collaborate with Valmet was neither instinct-based nor incidental. At Naini Papers, we are constantly working towards upgrading our existing technologies, and Valmet has proved an important provider to us. It is based on our market research, reference visits, the technological supremacy of Valmet, and our successful previous deals that we have purchased our new machine from the company.
We have upgraded our PM2 with Valmet's OptiFlo Fourdrinier headbox and the IQ Dilution Profiler with CD controls. The innovative single-layer headbox with a dilution system will improve web profiles, formation, and productivity of the machine. It will have an operating speed of 900 m/min and a wire width of 3,260 mm. Under the ongoing service agreement, Valmet helps us ensure break reduction, speed increase, profile improvements, and improving machine efficiency and paper quality.
Apart from the recent purchase, we have invested heavily in technology integration, and efficiency projects, especially in the last two years, and we have been collaborating with Valmet continuously during this time.
PM: Please elaborate on the recent developments at Naini Group.
PA: At Naini, we have heavily invested in technology-based upgrades at our manufacturing site, especially in the last 2-3 years.
As of 2023, our site is integrated with Plant Information Management Systems (PIMS), and our site-wide manual and mechanical operations are streamlined for better processes, less breakdowns, and better communications. Our bleaching equipment is R6 technology powered, and can easily work with hardwood dominant raw material batch. This reduces our dependency on softwood pulp, which needs to be imported. Our High-Efficiency Recovery Boiler (HERB-RB) provides us with up to 96 percent chemical recovery efficiency, reducing our emissions and waste discharge.
PM: Naini is among India's green pulp and paper manufacturing facilities. Please elaborate on how you integrate it into your system.
PA: Green Manufacturing for Naini is paramount, as we have been invested in the practices and sustainable production for a long time. Moreover, I stand for the fact that the paper industry is a sustainable industry. In recent years, we have transformed our manufacturing setup to include all kinds of green manufacturing practices.
Currently, we have two PMs employed at our manufacturing site. Each of them uses wood-based pulp to manufacture the finished products. We use both hardwood and softwood as raw materials. Additionally, we have been using fibrous agricultural waste as our raw material since our inception.
In order to address the raw material security issue at our facility, we have turned to agroforestry. As a part of our agroforestry operations, we collaborate with farmers to grow trees in their agricultural fields on contractual basis. Meanwhile, we offer them various techno-commercial support, such as fast growing varieties of Poplar & Eucalyptus, easy market access, etc.
We have also made various technological advancements, in the fields of environment, captive power generation etc., to ensure that our manufacturing process has the least possible carbon footprint. We have installed a roof-top solar power plant of 1.2 MW, which is successfully commissioned in February this year. We have added a new long wet lime kiln with a design capacity of 200 TPD, and a chain system for drying the lime mud inside the kiln. The kiln will be supplied with a burner system designed for either firing producer gas in combination with furnace oil or alternatively firing 100% furnace oil. The producer gas is a low-temperature, low-grade gas produced in a coal gasifier.
At Naini, we have been constantly working to reduce our emissions and treat our waste and discharge for minimal environmental hazards.
PM: The paper industry is taking new strides in India. Can you identify current market trends for us, and what is your strategy to deal with them?
PA: The paper industry is slowly gaining awareness and acceptance amongst the general public. Indian society at its core is pro-sustainability. However, there is a general myth about the paper industry not being sustainable, due to our raw material being wood and chemically-inclined lengthy manufacturing process. However, with time these myths are being addressed, and in line with government policies of plastic ban, the industry is experiencing industrial and product-based acceptance. The overall growth pace for the paper industry is slow, however, it is steady as well.
The application of paper-based solutions is experiencing a demand increase, and the packaging sector is at the forefront of this demand. The wide and dynamic applications have ensured a robust demand for packaging solutions, and currently, it proposes a ripe market.
Also Read: Dev Priya Industries: Constantly Enhancing Quality and Quantity with Current Production Capacity of 2,00,000 TPA
PM: Congratulations on being elected as IPMA's President. What are IPMA's plans and strategies to promote the interests of the paper industry in India and help it achieve global competitiveness?
PA: Thank You for your wishes; as the current office bearer of IPMA, I have identified three main objectives, which need to be addressed.
Firstly, IPMA will work dedicatedly to bust the myth about the paper industry's general image of not being sustainable. We need to ensure that the general notion shifts in our favor, so as to earn a societal-favour. The paper industry, right from the raw material procuring to the finished product, and its subsequent presence in the market, ensures that all our activities are sustainable. The adoption of environmentally friendly bleaching processes, new technologies in wastewater treatment, highly efficient boilers with advanced dust collecting technologies, etc., have ensured that our manufacturing processes are sustainable going forward.
Secondly, the office shall work towards attracting government initiatives. Our industry has huge potential to contribute to the Indian economy. Although in the past years, there have been many government programmes, such as single-use plastic ban, etc., however, there needs to be devised implementation and awareness of these government initiatives. Moreover, the paper industry can easily contribute to social strata improvement initiatives of the government.
As society moves towards sustainable living, the demand for paper-based solutions is going to grow, and we need to ensure raw material availability. Currently, agroforestry, agricultural waste, waste paper, and imports are used to satisfy the raw material requirements of the Indian industry. In the future, we can use barren lands to plant trees . This plantation drive will also create employment opportunities.
PM: Can you outline the changes that your product basket and market footprint will undergo after the project commissions?
PA: The recently ordered machine is for specialty paper production and shall add to our product portfolio in a relevant direction. Although we already have a variety of specialty paper applications in our product portfolio, we plan to widen the scope of our services in this sector, especially in relation to packaging solutions as it is promising high profitability in the coming times. Currently, we are involved in the production of Absorbent Kraft paper, Kristal Card paper, and industrial-grade Cup Stock production.
Once operational, we might venture deeper into various markets that require packaging-based solutions, such as the FMCG sector, food and beverages sector, pharmaceutical, and other industries which are looking for alternatives to plastic packaging. We plan to customize our products according to our client's requirements. The gsm range of our products shall be 30-170.
Naini Papers has a rich and solid history to back our future endeavors. Moreover, we simply do not put options to our customers, instead, we customize our offerings in accordance with their requirements. This is our market-based USP, which coupled with a sustainable image-based USP allows us relevance in the ever-changing market scenario.