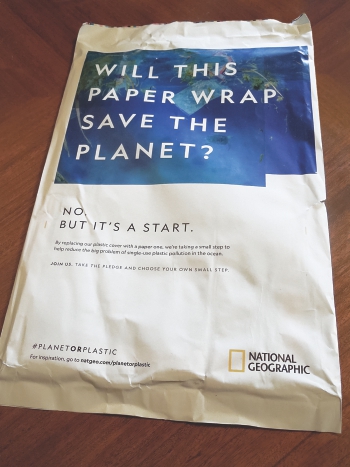 Taking the plastic hazards issue head-on, National Geographic launched a multilayer campaign to mitigate the crisis and gave up the plastic wrapper around its magazine. This change alone will eliminate the use of more than 2.5 million single-use plastic bags every month. However, the most fantastic thing about this decision is the adoption of paper wraps as a substitute to plastic!
For National Geographic's magazine subscribers in the U.S., U.K., or India, this month's issue arrived in a paper rather than plastic wrapper. The company also challenged all its international partners—who publish 36 local-language editions of National Geographic around the globe—to get rid of plastic wrappers by the end of 2019. The paper wrap around the magazine comes with powerful advertizing campaign asking "WILL THIS PAPER WRAP SAVE THE PLANET?" The answer says, "NO. BUT IT'S A START." These lines are emphatically pro-paper and a papermaker could ask nothing better.
The company hails the paper wrap as just a first step. Under the campaign banner of Planet or Plastic?, National Geographic would be deploying content across all its platforms to raise awareness and encourage consumers to act. Why is the 'Planet or Plastic?' campaign to encourage consumers to reduce single-use plastics important for the paper manufacturing industry? The answer is threefold: first, it would generate paper demand; second, it would promote circular bioeconomy; and third, most importantly, it would be restoring the right and well-deserved image of paper being absolutely sustainable.
Paper, the Image Makeover
Paper of late had lost its sheen in public minds, mostly because of mindless tirade against it. The concerted and prolonged anti-paper campaigns globally based on the myth of it being anti-forest made quite a dent in its image. One of the most sustainable products ever, paper did not deserve this kind diatribe against it. Instead, the industry making paper has proved itself as one of the ablest forest managers in recent times, transforming itself from being natural forest based industry to managed forest based industry.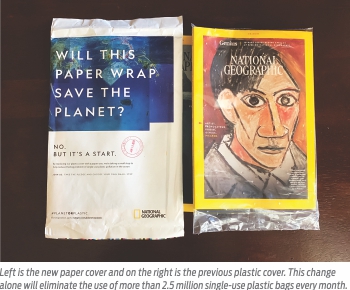 The industry changed with time with respect to its relation with forest amid growing concerns of deforestation, but sustainability always remained with it because of being based on a resource which could be revived and replenished. This fact never changed, but changed the image of paper on the negative side. Through various forums, the global paper industry has been fighting this continuously organized anti-paper campaign, imbuing consumers' mind with much negativity, or even guilt, about using paper. In this state of affairs, National Geographic's 'Planet or Plastic?' campaign vindicates the paper industry's stand with strong advocacy of using paper in place of plastic, which is causing enduring damage to earth's climate .
In fact, this anti-plastic campaign has in one stroke achieved what the paper industry could not achieve in its decade-long direct campaign to boost paper's image in public eyes. There is a consumer psychology involved in why the 'Planet or Plastic?' campaign has more credible ring to it than the direct pro-paper campaigns. When papermakers directly appeal to consumers to not think paper a unsustainable product causing harm to forests, consumers are prone to fall to a stereotype that 'makers are bound to favor their product'. This tendency pre-empts mind to see the logic or facts presented in favor of the argument that paper is really good and it being unsustainable or anti-forest is just a myth or a misnomer. However, when a consumers industry launches a movement with a good socio-environmental intention for the benefit of mankind by denouncing a certain hazardous product and advocating another product in its place, public minds are strongly influenced by the credibility of entire effort which is supported by neutral facts and data, and also by a subconscious feeling that the effort has no vested interest to get fulfilled. In 'Planet or Plastic?' campaign, the crusade is against plastic, which has been shown, through enough valid data, doing utter damage to the planet's ecosystem. It's not in the favor of paper directly and it's in the process that paper emerges out to be one of the various climate saving components, which is quite trustworthy.
Planet or Plastic?: A Bold Question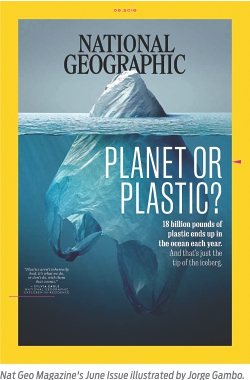 Three acutely penetrating lines summarize National Geographic's campaign and alert us to a harrowing reality of plastic choking the planet – WE MADE PLASTIC. WE DEPEND ON IT. NOW WE'RE DROWNING IN IT. The sound made by it quite fierce to both plastic makers and users, but for different reasons. The jolt is felt more when such efforts go beyond just lip-syncing to canvassing the whole problem through a dedicated amassing of data and spreading them among masses. This campaign just did that. The campaign is awareness-cum-action oriented, where on action part Nat Geo did away with plastic wrappers and adopted a paper cover (PEFC-Certified Paper) that can be recycled. This is a huge step in reducing the big problem of single-use plastic pollution in our oceans one small step at a time. Moreover, the Editors did an outstanding job on dedicating one whole issue of the magazine on ocean impact. The magazine cover was illustrated with work of Artist Jorge Gambo. The cover shows a plastic bag half submerged with floating part resembling an iceberg with haunting lines: 18 billion pounds of plastic ends up in the ocean each year. And, that's just the tip of the iceberg. No better allegory can be imagined because that's (18 billion pounds) the equivalent of five grocery bags of plastic trash sitting on every foot of coastline around the world!
To build support for the 'Planet or Plastic?' campaign, National Geographic is asking people around the world to pledge to reduce their reliance on single-use plastic. Those who take the pledge will become part of a new global community working to stem the tide of plastics polluting the ocean.
With the launch of the campaign and its June issue, National Geographic has also joined entertainment company Sky Media in supporting Sky Ocean Ventures, an initiative to invest in businesses that can help solve the ocean plastic crisis. National Geographic will contribute scientific expertise, grant and media muscle, and USD 10 million to help Sky Ocean Ventures identify and champion promising projects and technologies.
National Geographic will also join forces with like-minded corporations, nongovernmental organizations, and other institutions, in efforts to eliminate single-use plastic and promote recyclability, and it will support the National Geographic Society's network of scientists, innovators, and explorers who are tackling this challenge worldwide. For example, the North Face already is busy reclaiming waste plastic. The outdoor product company is partnering with National Geographic to introduce a limited Bottle Source Collection, featuring shirts made from recycled plastic bottles diverted from National Park waste streams. Look for them in our online shop and at the North Face stores starting May 23.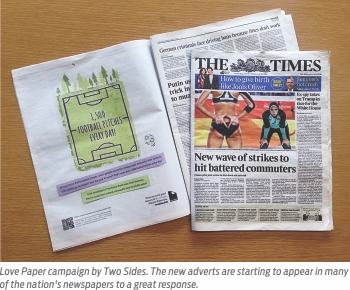 In an essay on the campaign, National Geographic writes, "With 'Planet or Plastic?' we hope to do nothing less than transform consumer behavior—and we're starting at home. We've hired an environmental consulting firm to conduct an internal audit at our headquarters in Washington, D.C., to assess how our own operations and supply chain use plastic." This sounds so good for the paper industry, especially the 'we hope to do nothing less than transform consumer behavior' part, which is crucial for roping right image of paper in users mind.
Towards Paper: Plenty of Visible Trends
National Geographic's campaign owing to its nuanced manifestation may be the cusp of various trends away from plastic and towards paper. Two Sides' No Wonder You Love Paper campaign which was first launched in 2012 to increase consumer awareness of print media's sustainability and improve perceptions and attitudes towards paper is something we already know. But again, the effort is from a paper industry advocacy group and has not so expansive outreach as Nat Geo's because of the psychology we talked about above. Loaded with credible pieces of evidence and studies, the campaigns by Two Sides however have created a desirable impact on users' psyche, and this can't be underestimated. Key messages highlighted by the campaign such as 'Europe recycles 72 per cent of paper consumed' and 'European forests have been growing by 1,500 football pitches every day' have ushered a new paper-friendly climate among consumers by pitching that paper is essentially pro-forest and its use is giving rise to new forest management techniques thus increasing the green cover.
Greg Selfe, Two Sides campaign manager, said: "The introduction of the new adverts has given the Love Paper campaign a new burst of life. Already the new adverts are starting to appear in many of the nation's newspapers and we've received a great response to them. Thousands of readers have been visiting the Two Sides website wanting to find out more about the sustainability of print media."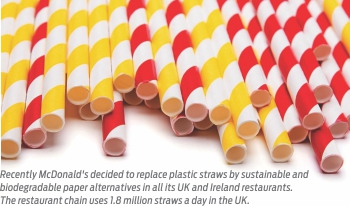 However, besides these campaigns, real actions are really heartening when someone starts using paper on large scale based on its sustainability parameter. No campaign can beat that! These are the real drivers to motivate users and manufacturers to keep going on, like National Geographic's decision to stop using plastic wraps around its magazine and start using paper in its place. Recently McDonald's decided to replace plastic straws by sustainable and biodegradable paper alternatives in all its UK and Ireland restaurants. The restaurant chain uses 1.8 million straws a day in the UK. The decision follows a successful trial in a number of McDonald's UK restaurants to test how customers react to the switch to paper straws. Transcend Packaging in Wales, and Huhtamaki in Belfast, will supply the paper straws for all 1,361 McDonald's restaurants. The straws will use paper from certified sustainable sources, the company said.
McDonald's are not the only company that has opted out of using plastic straws, other major restaurants, coffee shops and pubs are deciding to make a sustainable change. For instance, JD Wetherspoon pubs eliminated all plastic straws at the beginning of this year, and provided a biodegradable replacement that must be specifically requested by the customer. Other businesses, such as Costa Coffee, Pizza Express and Waitrose have also started to take action.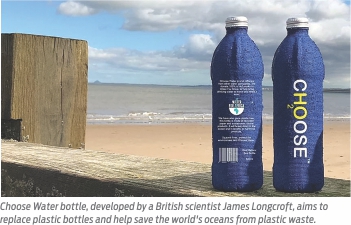 This seems quite startling that social media giant Facebook would decide to go offline with a magazine, quite a bouncer for many who thinks e-media has replaced print media. But Facebook seems to have understood the writing on the wall that print is still the powerful tool to reach its audiences. The launch issue of Grow, "a quarterly magazine for business leaders" – by Facebook – quietly made its appearance in business class lounges at Heathrow and a few more exclusive spots in and around London in early June. Facebook explains its new print offering, "The program is designed to deliver content in different formats that suit our audience. We know that business leaders have limited time for long reads at work, so we've also created a physical version with journeys in mind. We're distributing this to clients directly as part of our marketing communications, and in selected airport and train business lounges where we know they are often to be found."
In another development, the Choose Water bottle, developed by a British scientist James Longcroft, aims to replace plastic bottles and help save the world's oceans from plastic waste. The outer case is made from 100 percent recycled sustainably sourced paper pulps, while the waterproof inner lining is made from fully biodegradable and sustainable materials.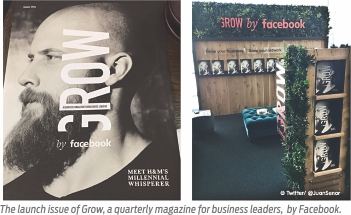 These trends and others show a visible movement towards a future where paper is certainly considered to be a viable alternative to a significant number of, if not all, polymer based packaging solutions whose sustainability and biodegradability remains a big question mark. Beyond packaging too, for example in writing and printing, there are strong undercurrents of preferences when the management of e-waste has proved itself as big a problem as is the case with plastics. Amid all these trends, there however is a portent for the paper that they themselves would do well to push the sustainability model of paper through various campaigns, especially when other industries have started doing your work.
________________________________
References: National Geographic Society; Two Sides.