The chocolate packaged in paper is Schoko & Gras, milk chocolate with hemp seeds. The limited edition comprises 35,000 bars and is available exclusively from Billa.
November 10, 2020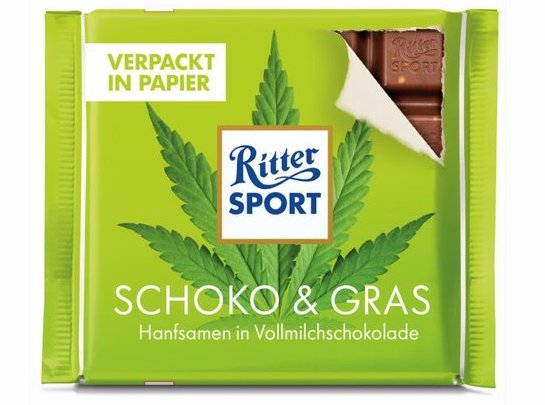 In collaboration with its retail partner Billa, Ritter Sport is offering a limited edition wrapped in paper in Austria. Following on from its first prototype, "In Papier", in early 2020, this sees Alfred Ritter GmbH & Co. KG taking a further step towards paper-based primary packaging.
The German family-owned company says that it hopes the practical test will provide new insights into how paper packaging performs during automatic packing, transport and, ultimately, on the shelf. The packaging material complies with that of the prototype but has a somewhat heavier grammage which makes it more robust – one conclusion which could be deduced after the initial test in January.
"Our goal is to develop a packaging material from a renewable, recyclable raw material which simultaneously complies with our high demands on product protection and safety", explains Katja Binder, Head of Packaging Development at Ritter Sport. "Having gleaned experience with the 500 bars of our prototype, we have optimised some features which we are now testing in practice on a much higher number of units. What it all comes down to now is whether the paper proves itself on its typical journey from production to the consumer", is how Binder summarises the expectations on the practical test.