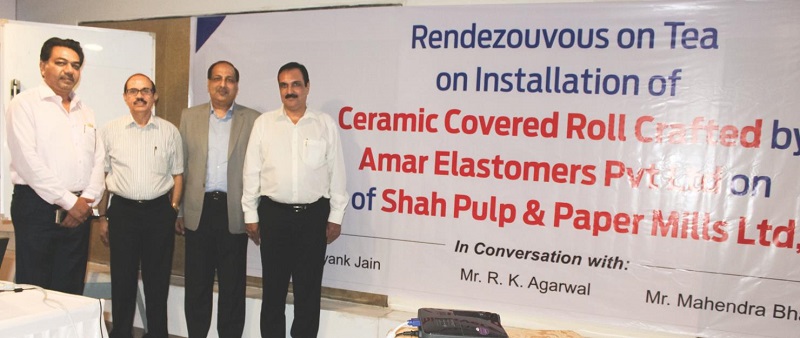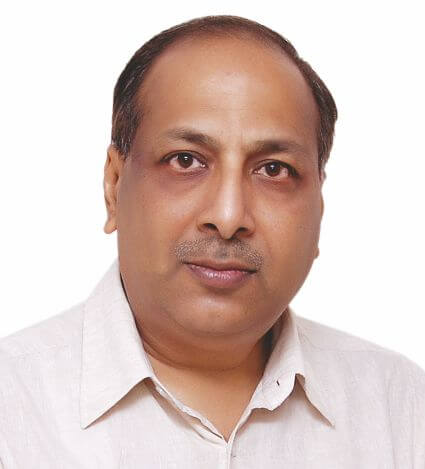 The Vapi based company obtains positive results from the ceramic covered press rolls installed in its paper machines. The new rolls have been supplied by Amar Elastomers, which became the first Indian company to design and manufacture ceramic coated press rolls.

Shah Group, incorporated in 1992 as a kraft paper manufacturer, now produces a variety of writing, printing (W&P) and other variety paper, and is an eco friendly paper manufacturer in India. The company is also known for adoption of best practices and technology to improve its mill operations, environmental footprint, and product quality.

As one of the lowest water consumer in paper industry, the company has recently installed ceramic coated press rolls, first time made in India. It arranged an open house to celebrate and discuss the recent installation where the supplier and few other mills were also present. At the occasion, Paper Mart jointly interviewed Mr. Mahendra Bhai Shah, Managing Director & Mr. R. H. K. Sinha, Director-Technical, Shah Group to know more about the recent installation, its performance, and company's expectations. Excerpts:

share with us a brief background of the company and its evolution.

Mahendra Bhai Shah: We have started our journey with 7500 tonne per annum and have achieved 2.06 lakhs tonne per annum today.

Shah Group underwent massive upgradation in the year 2013 by adding Metso Headbox, along with installation of binip press in the paper machine after which we started making W&P paper. Besides, the company also put in place the latest deinking plant from Kadant-Lamort. After these technological enhancements, we were able to produce quality W&P paper in the range of 50-90 gsm. We are also thinking of upgrading the machines by adding top former and film size press.

You have installed ceramic coated rolls, which is quite positive approach technically. How the idea germinated and fructified in getting theses rolls from Amar Elastomers, which is probably the first company to make it indigenously?

MBS: I had heard that ceramic rolls are not manufactured in India. The cost of the rolls after adding the cost of import was beyond the imagination for a unit like us. Then, we had a word with Mr. R. K. Agarwal, who has recently designed the first indigenous ceramic coated press roll and after getting convinced I gave a go ahead.

R. H. K. Sinha: For this (installation of ceramic rolls), credit goes entirely to Sri Mahendra Bhai Shah, who always likes to innovate and improve the operations of the mill. If any foreseeable improvement is there either in product, process, or business operations, he would always accept the challenge, like which happened when we put the proposal for substituting the Dynarock coated rolls with ceramic coated ones.

We had a number of troubles with Dynarock rolls where you need to grind it every 2-3 months increasing the downtime of the machine in the absence of rolls. Moreover, there were issues with doctor and doctor blades too and frequent changing of doctor blades contributed to downtime affecting the production. With the ceramic coated rollers these problems have considerably reduced. With these new rollers, we are getting a good life and excellent roll cover performance in the press section, which is crucial as the press section is the heart of the paper machine.

Moreover, with the ceramic coatings, the centre press (binip press) runability has improved. The coating parameters has also affected the water film characteristics formed between the web and coating, resulting in good sheet release. These are some of the benefits that we are getting with the new ceramic covered press rolls.

Please elaborate more on the major benefits with regard to productivity, efficiency, and product quality that you are actually getting from ceramic covered press rolls?

RHKS: First of all, we know for certain that the downtime we have been facing every three or six months because of roll or roll cover change is going to reduce significantly. Not to say, the productivity would go up because of that. Moreover, the downtime owing to doctor blade changing is also expected to come down considerably with these rolls. Another advantage that we are witnessing is doctor passing breaks have also been lesser and this is critical when you are making light-weight paper around 50 gsm. The draw between the presses has reduced resulting in lesser breaks, again a gain on productivity side. So, these are some of the benefits that we either hope to get or are getting from the installation of ceramic coated press rolls.

In nutshell, the new ceramic press rolls are going to give us better sheet release, reduced draw to the third press, increased runability of the machine giving higher stiffness to the paper, gain on drainage hence more dryness, lower load at drying section, less wear of doctor blades and, of course, better grinding life, may be up to 2 years, resulting in lesser downtime.

How would you rate your installation of this system or product in your factory on scale of 1 to 10 and why?

RHKS: Right now, I would rate it around 7 or 8. However, I must admit that the performance of the roll depends not only on its quality, but also much on the way it is engineered or installed. Our engineers have done a commendable job in that respect, especially with doctors. Setting of doctor blade holder is independently very important, whatever the type of roll be, to enhance overall roll performance. Amar Elastomers has also helped us in that regard by providing us a doctor holder setting equipment from Coldwater. We installed the new rolls on July 6 and are feeling better with kind of results we are obtaining, especially the better sheet release now.

Talking about the industry at large, do you think that people should upgrade themselves from conventional rollers to ceramic rollers?

RHKS: Upgradation is always needed to remain in the competition, especially in the age of rapid technological advancements. Upgradation is also mistakenly associated with cost increase; on the contrary, it helps bring down the cost of production and make you compete in market in terms of both cost and quality. And, of course, people should go for ceramic covered press rolls as these are superior to granite and other covered rolls in a number of respects. However, the cost of ceramic rolls is a tad higher and was hitherto not made in India; import was the only option. There are a number of issues associated with granite and other covered rolls such as the need of the regular grinding, flaking of fine granite corpuscles, etc.

On the other hand, the physical properties of coating materials have a direct effect on the behavior of water on the coated surface (hydrophilic/ hydrophobic) as well as its tendency to attract or repel binders, pigments, stickles, and other impurities. This fundamental understanding has been utilized in development of "Amar-Cera" (the ceramic rolls by Amar Elastomers) coatings and in customizing its chemical composition for different rolls of paper mills.

PM: We hear that you have considerably brought down the water consumption at your mill. Tell us how you did that?

RHKS: It's all about the team effort down to the bottom line men. Moreover, we achieved a low water consumption level out of necessity, as they say 'necessity is the mother of all inventions'. See, we or any mill can utilize any amount of water given to us as paper making is highly water intensive. However, we were allowed to use only a limited amount of water – 620 cubic meter per day provided by GIDC. So, we had to improvise our practices and equipment for efficient operation of mill without compromising with the quality. Many machine upgradations took place and various practices related to recovery and recovery within process were adopted. We are planning to upgrade our ETP so that we can recycle, say, to the extent of 80 percent or 90 percent.