In packaging, the future will be developing high tear factor packaging papers with value-added solutions. I feel the industry will change from using burst factor terms to tear factor terms, having high tear is more important than having high BF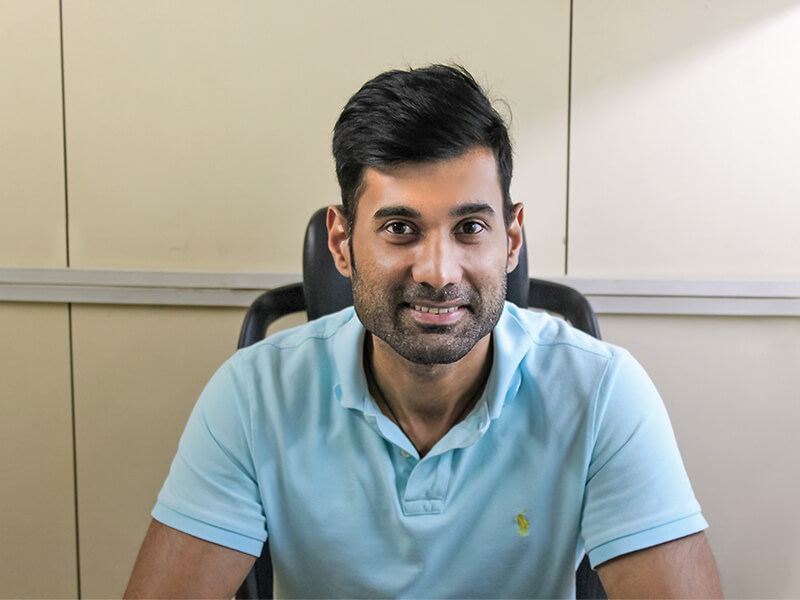 Shree Krishna Paper Mills & Industries Ltd. (SKPMIL) was established in the late 70s. The paper division was set up in the year 2004 and since then, SKPMIL has been using recycled fiber and virgin pulp to manufacture several varieties of industrial and specialty papers including newsprint, electrical insulation kraft paper, interleaving kraft paper, colour kraft paper, and absorbent kraft paper. The company recently entered the packaging sector with kraft paper for the carry bags. In an interaction with Paper Mart, Mr. Naynesh Pasari, Director, Shree Krishna Paper Mills & Industries Ltd. talks about the company's achievements, manufacturing capabilities, product portfolio, and R&D efforts.

Paper Mart: Could you present a brief overview and significant achievements of Shree Krishna Paper Mills?

Naynesh Pasari: Shree Krishna Paper Mills has been in the industry for more than 45 years. It was started by my father in the late 70s. Since then, the company has been growing together with its customers, innovating and delivering quality products to meet the growing global demand for different types of paper.

We used to primarily produce C1S and C2S paper for which we used to procure base paper and then do value addition of coating on it; we were also the first company in India to introduce and manufacture thermal paper. We give a lot of priority to R&D, and innovation and that's now embedded in the company's DNA and culture.

The biggest achievement has definitely been the introduction of thermal paper, back in the 1990s. SKPMIL does not believe in turnover or profits as achievement, our biggest achievement is when our consumers give us repeat orders.

PM: Describe the infrastructure, the product portfolio, the manufacturing capabilities, and the machinery installed at your facility. Has there been any upgradation or capacity expansion in the recent past?

NP: In the early 2000s, we closed our Bahadurgarh division which was the coating unit producing C1S, C2S, and thermal paper because of electricity issues and unviability in terms of small-scale industry. At the same time, we invested in backward integration by setting up a paper manufacturing unit in Rajasthan. The idea of the company was to have our own papermaking capability and then do the coating on it and serve the customers.

We had planned this plant as agro-based, but unfortunately, we couldn't get the required license for it and also learned that agro units leave a lot of environmental waste. So we went for waste paper-based manufacturing set up. We have almost 90 acres of land available for future expansion. If the situation becomes conducive, we look forward to utilizing that land.

We have the capability of manufacturing approximately 60,000 TPA in the GSM range of 30 to 150. Various grades are manufactured under one roof. We have one paper machine and one coating machine. The paper machine has a two-stage deinking plant from Lamort, France and the machine itself is from the USA.

Our coating machine is India's first and only manufacturing machine which has the three-stage coating– first stage, second stage, and back-barrier along with soft-nip calendar online, with almost 700 tonnes per month of manufacturing capability on the coating machine (offline coating).

Watch: Paper Mart News Roundup
PM: You have launched kraft paper for the carry bags this year; tell us more about the product along with the USPs.

NP: Initially, we had no idea how to make kraft paper for the carry bags and started with 5 tonnes. BF is one of the parameters but not the only parameter in this. If you want to give good quality to the product, then you need to have minimum GSM variation, minimum moisture variation, high-tear factor, relatively speck-free paper, less dirt count, and very little shade variation, so, it's a complicated product to manufacture and supply consistently and that is exactly where our USP lies.

With our efforts, we are indirectly supplying our products to KFC, Taco Bell, and other QSR brands that are using our papers through converters.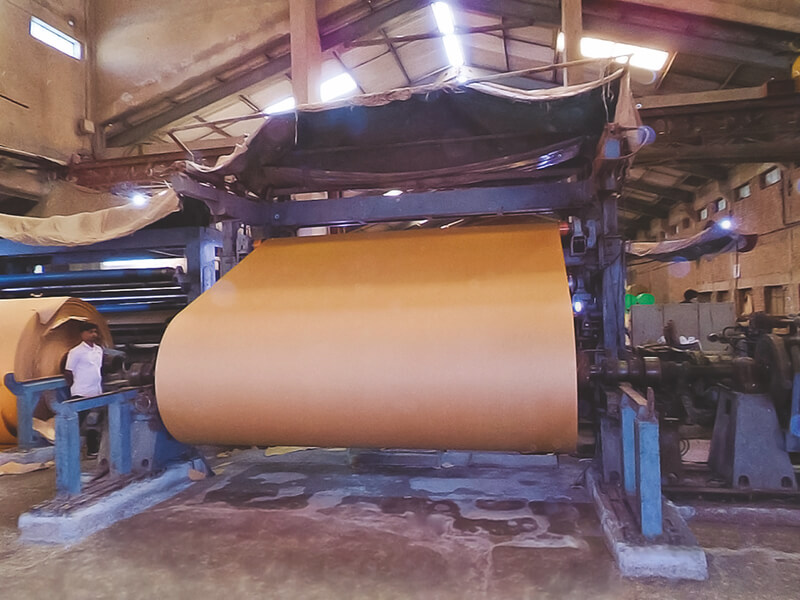 PM: Now that you have told us that you basically manufacture from recycled papers, do you face any challenges while procuring waste paper?

NP: Making 'wealth' out of 'waste' definitely comes with a lot of challenges. Unfortunately, India is highly dependent on imports of waste paper. The availability of pulp or waste paper is limited in our country but mills are in huge numbers. There are approximately 600 paper mills, out of which 70 percent are recycled paper-based. People set up their mills but the planning or strategy required for waste paper in our country is not something that anyone wants to do. It is a totally unorganized market. We are still living in the age when most people simply burn waste paper or pack food in it. India is a fibre short country as neither we have pulp nor high strength waste paper. Hence, we are always dependent on imported fiber to run the 450 odd recycled paper mills our country is operating. People do not follow the practice of segregating the dry waste and wet waste in our country and this is a major drawback. However, people now, at least, have the basic fundamental knowledge on the importance of recycling. So, that is the positive side.
After undertaking extensive R&D activities, we developed shuttering paper which has been a grade that we have developed in house using our own R&D and trials. We believe in creating products using our own research and not copying other mills.
PM: Tell us about your new product and R&D efforts.

NP: After undertaking extensive R&D activities, we developed shuttering paper which has been a grade that we have developed in-house using our own R&D and trials. We believe in creating products using our own research and not copying other mills, which recently has been the case with some mills who have simply just copied our technology. For any paper, you need to keep in mind the quality, cost factor, and process. We are sure that because of our sincerity, consistent efforts in R&D, our adaptability to new things, and our acceptance to change, we have been able to create this product out of scratch with our own technology.

Further, we are in the R&D stage of print-based decorative laminate paper. As we are already manufacturing shuttering paper, this is the complementary industry. So, this was the right product for us to do R&D upon. We have reached a situation in this development where we are confident that we will be able to make it. In this also we have not taken any help from anybody or copied any mills technology. It is our own painstaking research and development.

PM: Could you please shed some light on the various grades of food-grade paper manufactured by SKPMIL and what is the market scenario of such papers?

NP: Various certifications are required to be able to produce food-grade papers which can be grease-proof paper or carry bag paper. There are certain factors that have to be especially focused on for producing such papers.

The first thing starts with the quality of water – the kind of investments you have made for water management at the mill, to recycle it, and so on because the paper is ultimately made from water. The second thing is that the food-grade kraft paper should be odour-free. The paper should be free from heavy metals, chloroforms, there are certain other chemicals which when coming in contact with food create an impact on the food. Over a period of time, we have put a lot of effort into this process.

PM: What has been the impact of the pandemic on your company?

NP: I think everybody has been affected by the pandemic in some way or the other. The real answer lies in how fast one can absorb and accept the change, and take corrective actions. So, thankfully, we have already taken corrective actions. What lies in the future is still a grey area for everyone; however, I am confident that packaging will never die. In packaging, the key is how fast one can innovate with value-added solutions, whether it is the normal paper or coated paper. The value-added items in packaging are going to be a very big role player in the coming years.

Also Read: Kraft Paper: A Market in Transition
PM: Any improvement in terms of technology at your mill?

NP: In technology, if we say asset-wise or machinery-wise, we have always been investing. We have purchased some equipment for the pulp mill, out of which a few have been imported and the remaining have been purchased from domestic suppliers. The paper industry is a highly capital-intensive industry. So, if you want to keep playing the game, you have to keep investing.
We give a lot of priority to R&D, and innovation and that's now embedded in the company's DNA and culture. We never copy any other mill's technology as we believe in one thing: Develop something on your own, cross that journey, stand on your own feet – copying others is easy but the real satisfaction lies in being original.
PM: Anything else that you would like to add to the interaction?

NP: I think, overall, the industry has been going through a very challenging time because raw material remains uncertain and the prices are at an all-time high – be it raw materials or logistics. India has to become self-sufficient in terms of generating and consuming waste. How to give the same quality finished goods to the consumer with quality waste paper that is never consistent and higher input costs is the challenge the industry is going through.