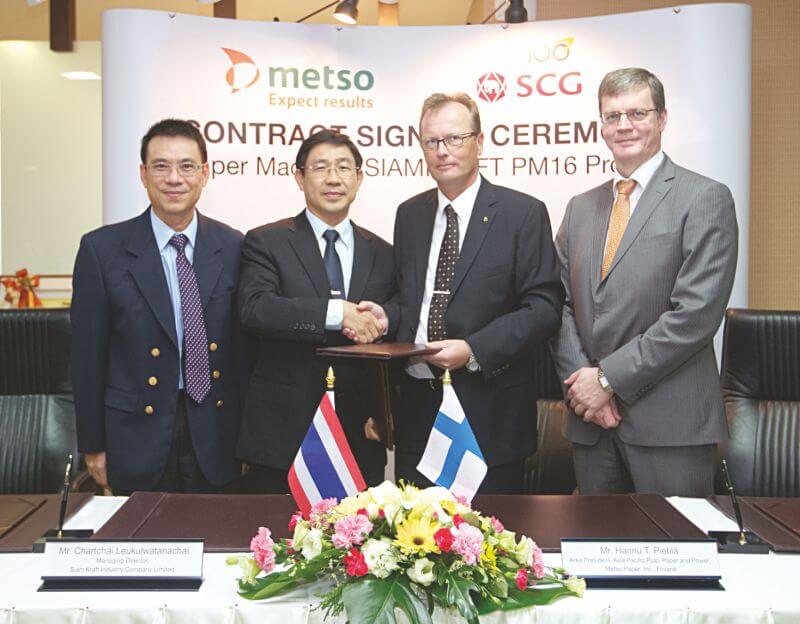 April 4, 2013

SCG Paper is buying an OptiConcept M containerboard production line with an extended scope of supply implementation from Metso for the Ban Pong mill of Siam Kraft Industry Co., Ltd. in Ratchaburi, Thailand. The start-up of the machine is scheduled for 2014. The value of the order will not be disclosed.

The delivery will comprise a complete OptiConcept M boardmaking line from headbox to reel including an approach flow system, steam and condensate systems, surface size preparation and supply systems, a winder and machine clothing. The automation solution includes MD/CD and machine controls, profilers for the headbox and condition monitoring sensors for the critical machine sections. In addition, Metso's extended scope of supply will include complete mill engineering, and mechanical installation and supervision services related to commissioning, testing and start-up of the machine.

The 7.25-m-wide (wire) PM 16 will utilize a new sizing method providing better strength properties. The production capacity of PM 16 is approximately 300,000 tonnes of recycled fluting in the basis weight range of 90-150 gsm. The design speed is 1,300 m/min.

Siam Kraft Industry Co., Ltd. in SCG Paper produces and markets industrial and packaging paper in Thailand and internationally. It offers corrugating medium, linerboard, coreboard, industrial sack kraft, bag papers, plaster linerboard, duplex board as well as converted and finished products. The company was founded in 1984 and is based in Bangkok, Thailand. Siam Kraft Industry Co., Ltd. operates as a subsidiary of SCG Paper.