Sona Commercial jointly with their principals Gruppo Cordenons launched two premium fine paper ranges in India. The event was marked by the presence of who's who of design & print fraternity. Both the ranges are FSC certified.

BOUTIQUE by Cordenons

A spectrum of trendy colours and innovative materials for the new fabric papers. This new collection gets inspiration from the fashion world and from visual and tactile features taken from textiles.

Like silk, So…Silk dresses luxury with elegance.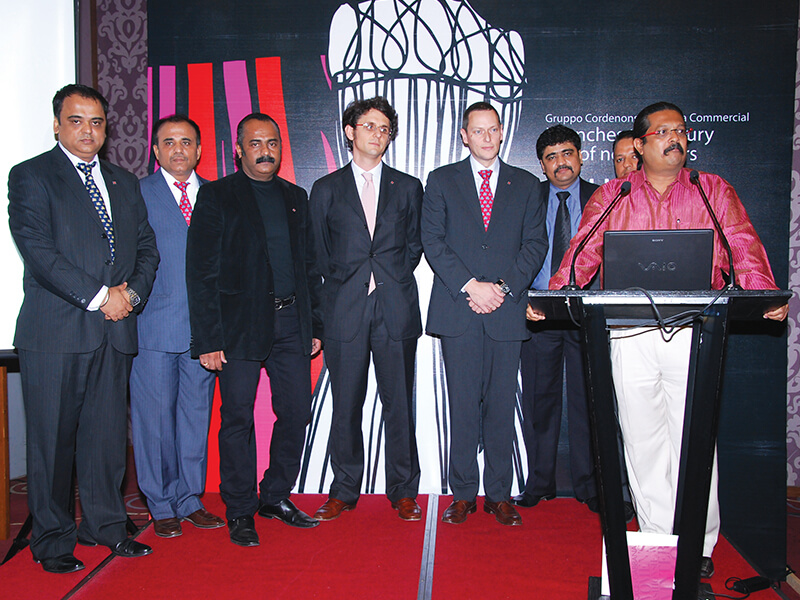 The surface of this material features a sensuous silky touch together with an iridescent visual effect across the colour range. So…Silk is available in 8 colours including the ageless black and white, Black Style and White Silk, and 6 trendy shades: Fashion Purple, the prêt-à-porter violet, Glamour Green, the peacock green, Fair Blue, the deep china shade, Beauty Pink, a sparkling fuchsia, vanity Pearl, the new classic pearl shade, Shocking Green and the new acid green. All colours are available in 3 substances (130 1/S, 250 and 350 gsm) with co- ordinated envelopes (16×23 cm, 250 gsm).

Like a pair of jeans, So…Jeans gives a casual touch to a creative idea.

Denim, strong and easy to wear is an undisputed mark of the last two centuries.

This product, made from cotton fibre, is felt marked on two sides and has the typical aspect of denim, thanks to a specific off-line surface treatment. So…Jeans is presented in 3 shades named Distressed White, Stone Washed and Blue Jeans, all of them available in 3 substances (120, 250 and 350 gsm) with coordinated envelopes (17×17 cm, 250 gsm).

Like a warm cloth in winter, So…Wool comfortably wraps communication projects.

The wool and cotton fibres used to manufacture this special material produce a distinctive texture and a particularly unusual tactile feel. So…Wool is made available in 6 typical wool shades: the soft White Merinos, Ivory Fleece, the flashy Red Tartan, Violet Shetland, the classy Green Loden and Blue Jersey which are proposed in 3 substances (120, 250 and 350 gsm) and coordinated envelopes (16×23 cm).

MONNALISA : Cordenons

Art Paper

A coated paper with an excellent whiteness and a matt surface with a natural smooth finish. Monnalisa is the perfect paper for art and prestigious editions, calendars, covers and catalogues.

"The images of your graphic projects will result amazing brilliant, with a great detail and contrast thanks to the special coating that allows a high Ink Hold Out. Monnalisa is also used for luxury packaging. It has a really good folding and creasing resistance and a great stiffness in high grammages", said Raju Suneja, Sona Commercial Pvt Ltd.

Monnalisa is available in 1 colour Premium White and in 5 grammages 110,135, 160, 280 and 350 g/m.