A new study from Smithers shows that almost 171 million tonnes of containerboard was manufactured worldwide in 2019, with a value of USD 101 billion.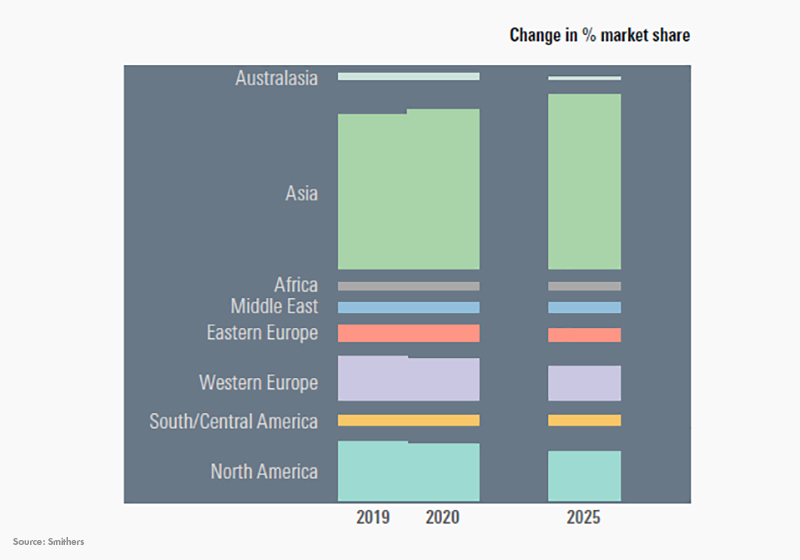 The in-depth analysis in The Future of Global Corrugated to 2025 – shows this material was converted into over 155 million tonnes of corrugated packaging with a value of USD 165 billion of converter sales.
The market in 2019 had growth of about 3% on 2018 volumes although total market value showed only a 2.2% increase due to softening raw material prices, with average prices moving downwards from USD 595/tonnes in 2018 to USD 589/tonne.
The COVID-19 pandemic has had a profound impact on the world economy in 2020. In terms of corrugated consumption, there will be gains and losses. The Asia-Pacific region was affected worst, at least in the short term. Globally, in the multiple forecast scenarios drawn up by Smithers, it is predicted that the pandemic will lead to a reduction of 15–18 million tonnes of corrugated material in 2020, compared to pre-COVID projections.
Forecast changes in regional apparent consumption of containerboard, 2019–25India in context
The top five containerboard producers in 2019 worldwide were International Paper, Nine Dragons, WestRock, Smurfit Kappa, and Lee & Man. Combined these accounted for just under a quarter of total world production in 2019, with one third concentrated across the ten largest suppliers.
In India, the containerboard market is highly fragmented. Even the largest supplier WestRock accounts just over 5% of the domestic mill production; closely followed by two local firms – Dev Priya Industries, and Laxmi. India is currently the thirteenth largest market for corrugated consumption in the world; and the fifth largest in Asia.
There remains a great deal of potential in India. Indeed the country has the highest growth prospects of all the countries analyzed in the Smithers study report. It has very low per capita consumption of corrugated packaging materials and high economic growth expectations, offering exciting prospects for corrugated suppliers.
Smithers calculates that almost 1.2 million tonnes will be required in addition to the projected 2020 total in India to satisfy booming demand across multiple sectors through to 2025.
From a regional perspective Asia-Pacific is already the largest world region market, with a 51% share by volume in 2019. This is up form up 47% in 2015. In 2019, North America was the second largest world region with a 20% share of corrugated, followed by Western Europe with a 14% share.
Industry drivers
Globally more than half of the total consumption of corrugated board packaging materials comes from non-food applications, covering markets as diverse as personal care products and automotive parts.
Food and beverages made up about 46% of the volume demand in 2019, with processed foods accounting for the single biggest share of total consumption at almost 30%. As in almost every sector the scale and the depth of economic disruption caused by the COVID-19 outbreak will impact corrugated converters. As an industry however packaging is fairly resilient to downturns, especially in developed markets. Some areas in particular e-commerce packaging are even benefitting in the short-term, as shops across the US and Europe are closed and online purchases rise accordingly.
As, and when, the world economy returns to something approaching normalcy there are several trends that will shape the choice and use of corrugated packaging into the 2020s.
Greener packaging
Sustainability in packaging is a leading concern for many major brand owners and supports the wider use of corrugated formats, which are easy to recycle both in consumer and industrial channels. This has been exacerbated – in North America in particular – by China's restrictions on imports of low-quality paper waste.
In response major paper mills are increasing their capacity for recycled liner and fluting. Pratt Industries, for example, opened a new 425,000 tonnes 100% recycled containerboard mill at Wapakoneta, Ohio in 2019; and has plans for two further mills in the next six years. Norpac meanwhile has repurposed its former newsprint PM1 at Longview, Washington to run 100% recycled fibre.
E-commerce
Even before the shuttering of conventional retail outlets in Q1 2020, e-commerce packaging was forecasted to grow over three times faster than the market average.
Responding to this, there is a push to develop more high-quality printable white linerboard that is suitable for omni-channel format packaging – that can be use both in conventional retail and for e-commerce delivery.
There is also scope to develop bespoke corrugated formats for e-commerce trade, combining convenience and extra protection. Several corrugated forms now have dedicated service lines and design teams to deliver premium solutions for online businesses.
Corrugated firms are also exploiting the desire for more fit-to-product packaging in e-commerce trade, including developing their own systems; examples include DS Smith's Made2Fit concept and Box on Demand (BoD) from WestRock.
Flute sizings
Flute sizes have been driven down for many years, with the development of ever finer flutes providing greater opportunities for micro-flute corrugated to compete with folding carton packaging. Micro-flute board can now be found in a wide range of end-use applications from confectionery to cosmetics, and jewellery to household chemicals.
Typically, microflute corrugated consists of an outer liner of cartonboard with a high-end print finish. Developments in digital printing are new allowing for standard white-top linerboard to fulfill this role in some applications. In premium applications that require high-gloss finishes coated varnished cartonboard will still be necessary to provide the desired effect, however.
Coatings developments
Barrier coatings on corrugated board can enhance and extend many functional and protective properties. Many companies are innovating in this space enabling board makers to use existing equipment to create product differentiation, and are being positioned by marketing departments as greener alternatives to plastic packaging.
A key consideration is not compromising the existing strong environmental credentials of paperboard by adding a polymer coating that compromises pulp recovery at end-of-life. This is pushing R&D to way from conventional solutions towards more naturally derived coatings that are fully recyclable and/or biodegradable.
— Mr. John Nelson, Editor, Smithers