The new tissue line produces premium quality recycled hygiene paper primarily for the Away-from-Home market.
October 14, 2021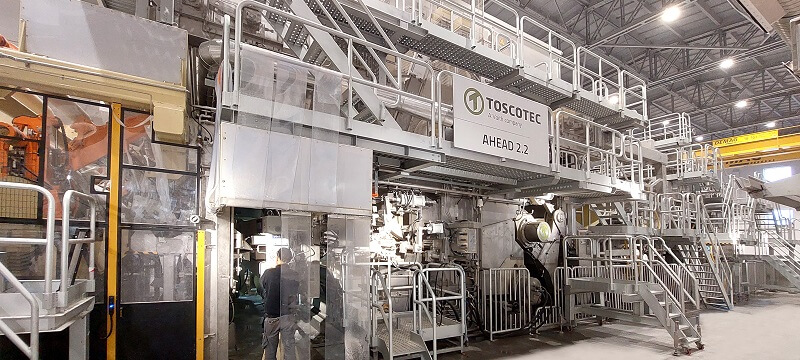 WEPA and Toscotec started up an AHEAD 2.2S tissue machine at Piechowice mill in Poland. The new line is part of a full turnkey supply by Toscotec, starting from the bale handling system and bridge crane up to the parent roll handling system.
The AHEAD 2.2S machine has a sheet trim width of 2750 mm, a maximum operating speed of 2100 m/min, and a production capacity of over 36,000 t/y. It features Toscotec's shoe press of new generation TT NextPress, a third-generation-design TT SYD, gas-fired hoods with multiple stages of energy recovery, and an in-line shaft puller integrated in the pope reel section.
The turnkey included the complete stock preparation, Toscotec's patented TT SAF® (Short Approach Flow), the complete electrical and control systems, including DCS and QCS, and the dust and mist removal systems. The project also included the vacuum plant, air compressor station, bridge cranes, roll handling and hall ventilation systems. Toscotec provided a comprehensive service package with detailed mill engineering, the plant and the machine erection, commissioning, start-up supervision and detailed training.
This is the fourth turnkey tissue project supplied by Toscotec to the WEPA Group, following three previous turnkey operations at WEPA Lille (France) and WEPA Giershagen (Germany) both in 2015, and WEPA Piechowice in 2017. It is also the sixth complete tissue machine that Toscotec has supplied to the German group, including one line installed at WEPA Kriebstein, and one at WEPA Giershagen. Since 2006, Toscotec has also provided seven hood rebuilds to WEPA at five different mills in Germany and Italy, which improved the energy efficiency of the existing tissue lines by delivering a significant reduction of gas and power consumption and an increase in machine run-ability.
Udo Raumann, Technical Managing Director WEPA Professional said, "We are pleased about the successful start-up of our second tissue paper machine at the Piechowice site, which further strengthens our position in the promising Eastern European market. With Toscotec, we had a partner at our side who supported us ideally in this project."
Also Read: Essity Invests in World's First Tissue Machine Running on Geothermal Steam.
Stefano Raffaelli, Project Manager at Toscotec, said, "On this key project for WEPA, Toscotec was on a tight time schedule to design, supply and install a complete new plant inside an existing building, which presented several constraints. Toscotec has proved its significant experience in managing turnkey projects of this magnitude and with such a high degree of challenges both for the engineering design and implementation phase. We also extensively coordinated with WEPA on the activities for the civil works that they managed in the same tight timeframe. Thanks to the excellent cooperation with WEPA, we were also successful in carrying out this complex operation during the pandemic."