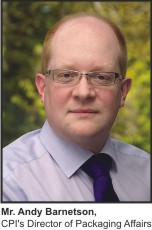 Customised packaging is becoming increasingly popular and the Corrugated Industry is exploiting the latest digital printing technology to provide even more commercial opportunities for retailers and brand owners.

Corrugated already protects, is colour-printable, merchandisable and the most recycled packaging medium. The latest advances in digital printing from a number of suppliers allows corrugated to align with other personalised packaging formats, adding another string to its bow and enabling the industry to become even more effective at engaging consumers.

Confederation of Paper Industries (CPI) says that innovative technology is already improving in-store performance through better print capability. High Quality Post Print (HQPP) has transformed corrugated packaging from protective transit packaging, into multi-functional, colourful, Shelf-ready Packaging (SRP), without compromising product integrity.

Its flat surface is ready-made for exploiting digital platforms such as Smartphone apps and Quick Response (QR) codes, meeting consumers' growing appetite for instant access to product and dietary information.

Print customisation is already becoming established for labels and flexible packaging. High-speed digital, single pass, full colour corrugated printers will realise the same print-on-demand benefits for the Corrugated sector, by allowing tailored print runs for seasonal, regional or event-based promotions.

Graphics will go to press in hours instead of days, for small or large production runs with exceptionally fast turnaround times, incorporating personalisation and graphic changes, data merge capabilities and mass customisation.

Wide-format, flatbed digital printing technology is not new to the corrugated sector. However, CPI says that embracing new print technology can help the industry to meet increasing demands from brand owners and retailers for shorter order run lengths, minimal waste and point of sale packaging, to differentiate a brand and attract consumers.

CPI's Director of Packaging Affairs, Andy Barnetson, said: "Personalisation will allow the Corrugated Industry to become even more creative and bring an extra dimension to packaging. Print-on-demand offers retailers and brand owners cost-effective, customised marketing campaigns to boost sales in an increasingly dynamic retail market."

The UK Corrugated Industry is already a pioneering force in sustainable, lightweight, recyclable packaging that does not compromise the integrity of the goods, while innovative developments in engineering have led to new types of even more efficient corrugated packaging solutions.

Corrugated packaging companies are investing significantly in new technology in response to a challenging retail landscape, as brand owners seek ever more effective on-pack communications to entice customers to buy their products.

Unlike other packaging alternatives, with corrugated one size doesn't fit all. Exploiting print-on-demand technology and the ability to personalise, when added to existing innovations for the supply chain, will allow corrugated to stay at the very forefront of the Packaging Industry.