Papelera Internacional of GrandBay Group has made its Toscotec-supplied double-width AHEAD 2.2L, PM7 line, operational at its Guatemala site. The tissue machine will add 60,000 TPA to the site's overall production. The group has contracted Toscotec for another PM5 line AHEAD 2.2L tissue machine for its Columbia site.
February 23, 2023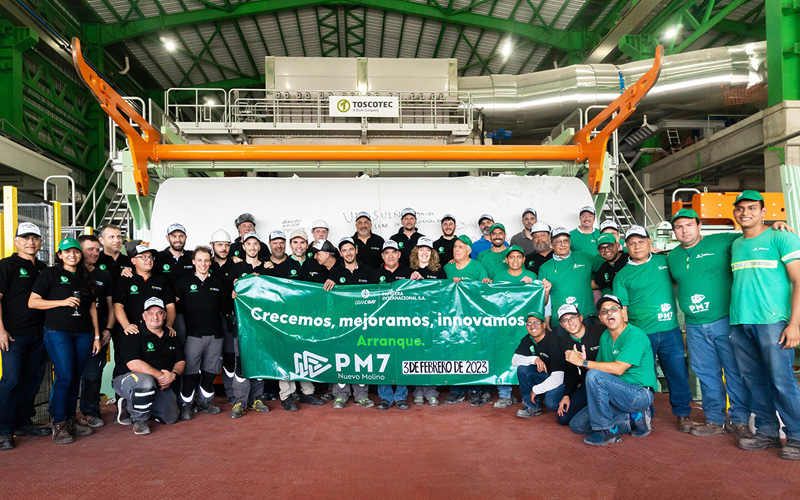 GrandBay Papelera Internacional recently made their Toscotec-supplied double-width AHEAD 2.2 L (PM7) tissue machine operational, which shall expand the production by 60,000 TPA, at its Rio Hondo Zacapa, Guatemala, site. The GrandBay Group has contracted Toscotec for a second AHEAD 2.2 tissue line (PM5) at Papeles Nacionales' Pereira, Colombia, facility, which shall be supplied as a turnkey operation, scheduled to come online in 2024.
Watch: IVAX Paper Chemicals Interview
The AHEAD 2.2L machine (PM7) has a sheet trim width of 5,500 millimeters and a design speed of 2,200 m/min to deliver the maximum possible drying efficiency with the lowest energy consumption. It is equipped with a shoe press, an upgraded TT NextPress design, a third-generation TT SYD Steel Yankee Dryer, and a high-efficiency TT Hood. It also has Toscotec's patented TT SAF® DD (Short Approach Flow system with Double Dilution), which ensures efficient stock dilution in two steps for a significant reduction of electrical energy consumption.
Alberto Matos, GrandBay Project Engineering Manager, shared that the start-up was smooth and the machine is already producing high-quality tissue, powering the mill's belief of quickly achieving good running ability and high energy efficiency. Pier Paolo Brunazzi, Toscotec Project Manager, labeled the partnership as strategic. He also highlighted a cooperative relationship between the two companies by quoting the worldwide shipment issues and associated delays. Mr. Brunazzi has earlier managed three new tissue line projects for Toscotec in the Latin American market.
Also Read: INDEVCO, Greece, to Source Complete Packaging Paper Machine from Toscotec
Papelera Internacional, a unit of GrandBay Group, a leading Latin-American company established in 1953, is involved in the manufacturing, conversion, and sales of premium quality personal care, and home products. Its active market in over 25 countries includes the regions of Central America, the Andean, and the Caribbean.