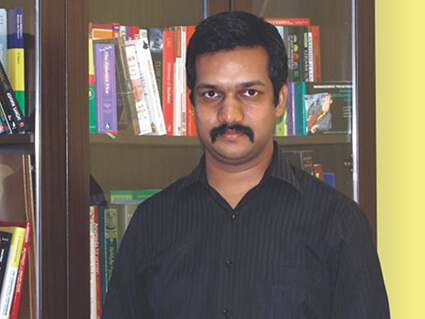 If there would be a printing unit in Antarctica, he would have surely been there to explore the printing concepts. This is what Mr. Vasant Goel's passion for printing. At an age of 31 he had already travelled across the nations, explored printing concepts & techniques and made a mark for himself and for his company. His qualities like curiosity & learning and the attitude to pursue something has made him a man who plays his own game with his own rules. His calm & composed nature gives him strength to overcome any problem which comes his way. He is straight forward and this makes him the player in the game instead of a spectator.

Paper Mart: Breaking the shackles, you are the first printer to appear in our Young Turk section. When did you join the company and what are your focus areas?

Vasant Goel: I joined the company in 2002 and at present I am looking at the Book Printing segment of the group with key focus on new avenues and improving profitability with a more professional approach. I did my Economic (Hons.) from Khalsa College, Delhi University and gave my GMAT exam to go for MBA and was planning to become an investment banker. During that period my dad's friend from Man Roland came to visit him and suggested "why don't you send him to Germany for the printing course". The 2 years course was my foundation with paper & printing, which gave me good theoretical knowledge and practical experience. And when I landed back in India I worked as trainee in all the department of the factory.

PM: Your focus is on the new avenues in terms of profitability & expansion? How you go about that?

VG: In book printing, India is at least 20 years behind the European printing industry in terms of technology, workflow, capacities etc. The scale at which we are working is really small i.e. 20 times smaller as compared to a middle level book printer in Europe. So, this shows that the level of opportunities for us to grow is tremendous say around 20-30% as the internal market and exports are also growing.

For profitability we are trying to understand our own cost structures in terms of how market is doing and what's the future 2-3 years down the line. What we are experiencing at our current location is that manufacturing is proving to be very expensive. It's not possible to demand the percentage increase from the customer nor can we control the increasing cost. So, we need to find out the innovative ways to increase the production. The best way out to decrease the fixed cost and to minimize the running cost is to invest in technology. What we are planning is to enlarge our format and to increase our capacity like instead of printing 28 X 40, we are printing 40 X 56 and that to on web at higher speed. Simultaneously the quality will improve. Making investment in technology will help in framing marketing plan, demanding more business from the customer and rationalization of prices. The ROI on the investment depends on how the companies frame their cost structure and how they do their market segregation. We at Gopsons undertake the product wise and segment wise segregation like what kind of books are required either 4 color or B&W, total print run, distribution channel etc. Based on this we decide which technology to adopt to reach economies of scale.

PM: Being a leading printer, you clearly have an understanding of the print industry and the challenges it faces? Kindly elaborate?

VG: For us the challenges that industry faces are:-

a. Infrastructure, logistics and systems are a big challenge to transfer goods in a stipulated time frame.

b. Another problem is the skilled labor; it is available but not in abundance.

c. No recognition & support from the government for the printing sector as an industry. No concrete policies are there pertaining to the print industry.

d. There is no organized structure between supplier, converter and end user. Everyone is applying its own formula so the end result comes out to be loss to everyone.

e. The biggest challenge is that we don't have big capacities. I feel there should be 30-40 big printing companies in each region.

PM: What kind of growth you anticipate in the printing industry?

VG: I think every segment of the printing industry will grow. Book printing segment has a growth prospect of 20 – 30% every year. We are a big printing house and we are doubling our capacity so the growth of 20- 30 % is easily achievable. Exports are growing with increased focus on India. There is 15% growth in every sector whether newspaper, magazine, commercial printing etc. Further with the coming of organized retail giants like Walmart, Tesco, Carrefour etc along with their infrastructure, the demand for the printing & packaging will increase tremendously.

PM: Through some light on digital printing segment?

VG: Digital for commercial printing is a booming industry. Installation base of the digital printing machines is growing very rapidly with investment in latest technology. The middle class is growing so as their appetite, which is giving impetus to the varied needs. Moreover digital is creating new segments which were not present earlier and serving the varied demands of the customer.

PM: What are the recent developments at Gopsons?

VG: We are facing a huge cost burden at our current facility and we might lose our competitiveness in the next coming 4- 5 years. For that, we are setting up a new plant in Sivakasi in 17.5 acre of land with an investment of Rs. 50-70 crores. This will help us to sustain our competitiveness and serve our markets from there. We have already invested Rs. 30 crores and another Rs. 20 crores is lined up for the next 6 months. The plant will be up and running in the 1 quarter of 2011. On the technology front we are investing in large format sheetfed machines of 40 X 56 for both color and B&W, along with large web machines for single & 2 color books and installing large size web for commercial printing as well. These printing equipments will be supported by latest bindery machines. The new unit will consume approximately 20 TPD writing & printing paper and 10 TPD coated paper. We plan to double our capacity after 1 year of commencement.

PM: Any message for the paper community?

VG: What I think is that the paper mills are investing huge amount in putting up high class paper machine, but the finishing which we are getting is inappropriate and quality is deteriorate. Packing of reams & reels is the biggest aspect which needs to be improved by the paper manufacturers. Besides this the Indian paper industry is a bit unorganized and they still don't understand the need of the customer. Industry has to ensure timely deliveries and price stability. To achieve this we need to have better understanding & collaboration.