The ANDRITZ tissue machine comes with a design speed of 2100mpm and a paper width of 2850mm and produces tissue for high-quality facial wipes, toilet paper and napkins.
December 10, 2018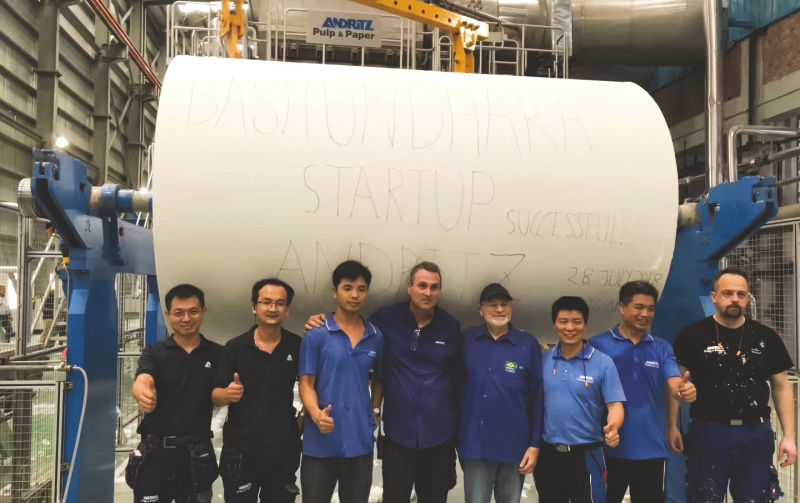 ANDRITZ has successfully started the PrimeLineCOMPACT VI tissue production line, including stock preparation and automation system delivered to Bashundhara Paper Mills Limited in Bangladesh.
The 16 ft. PrimeDry Steel Yankee is made entirely of steel, enabling high and efficient drying performance and was manufactured at the ANDRITZ Steel Yankee Business Center in Foshan, China. For ANDRITZ, it is the first high-speed tissue machine to be installed in Bangladesh.
For the very first time, ANDRITZ has supplied a multi-motor drive (MMD) system with active line modules (ALM). The ALMs are designed for feeding energy back into the grid as a renewable energy solution, they offer low line harmonics that meet the demands of IEEE 519 and they enable stable operation of the motor, even with irregular power supply systems. The entire tissue machine MMDs are powered from a common DC-busbar as are the approach flow and the air ventilation systems at times. The ANDRITZ LV motors are installed from fiber preparation to the tissue machine auxiliary system.
The scope of supply also included the complete stock preparation plant with approach flow system, fiber recovery and broke handling. The system features the ANDRITZ ShortFlow concept, an overall and compact process design that significantly reduces the number of single machines and storage volumes. Market bales are dissolved in a FibreSolve FSV pulper, which enables efficient slushing without damaging the fibers. TwinFlo refiners ensure balanced and efficient operation as well as superior fiber properties. Fiber recovery is mainly handled by a RotoWash, which achieves low solids content in the effluent water. Two further pulpers from the FibreSolve product family are part of the broke system.