JMC Paper Tech Pvt. Ltd. supplied the paper machine section; the total estimated cost of the new project is 75 Cr.

October 5, 2017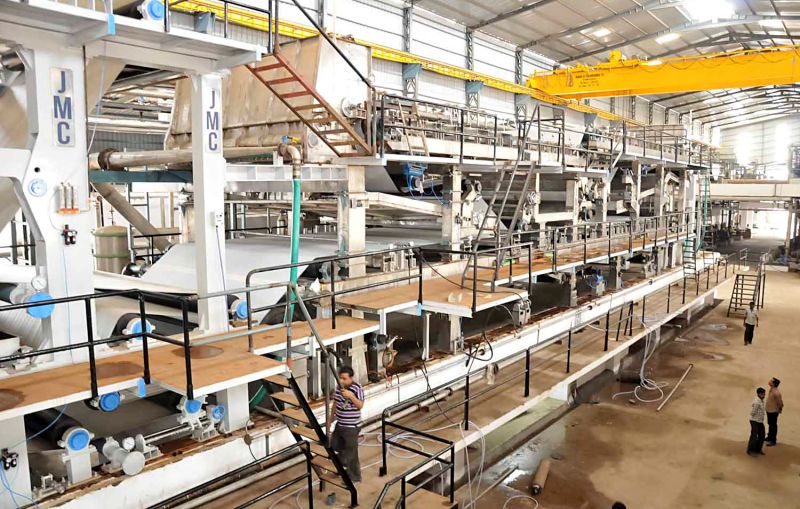 Astron Paper & Board Mills Ltd, Ahmadabad, has installed a 200 tpd hi bf lower gsm kraft paper plant for the production of kraft paper. The production at the plant is estimated to start by March 2018. The unique feature of the plant is its lower gsm single wire machine with size press, which ensures high efficiency and output. The deckle size of the machine is 4100 MM. The design speed of the machine is 500 MPM while the operating speed is expected to be 450 MPM. The grade to be produced at this machine is high BF kraft liner. The project cost is estimated to be 75 Cr.

JMC paper Tech Pvt. Ltd. is the supplier of the pulp mill section and finishing equipments. The Company is having triple wire machine with a daily capacity of 350 MT along with daily pulp mill capacity of 400 MT. The Company has been awarded certificates of ISO 9001-2008, ISO 14001, UKAS Management systems, FSC. Mr. Kirit Patel and Mr. Kanu Patel are in-charge of the project. Also, 300 skilled and unskilled laborers are employed for the same. The mill will be using OCC (old corrugated carton), NDLKC (New Double Lined Kraft Cuttings) and KCC as the raw materials.