Amid the ban on single-use plastic products in the country, Arttek Solutions is working on its commitment to offer paper straws for which it has selected BillerudKorsnäs ConFlex Glaze as its straw material. Procured from FSC-certified sources, the paper is 100 percent recyclable, sustainable, and a high-quality MG speciality paper.
August 18, 2022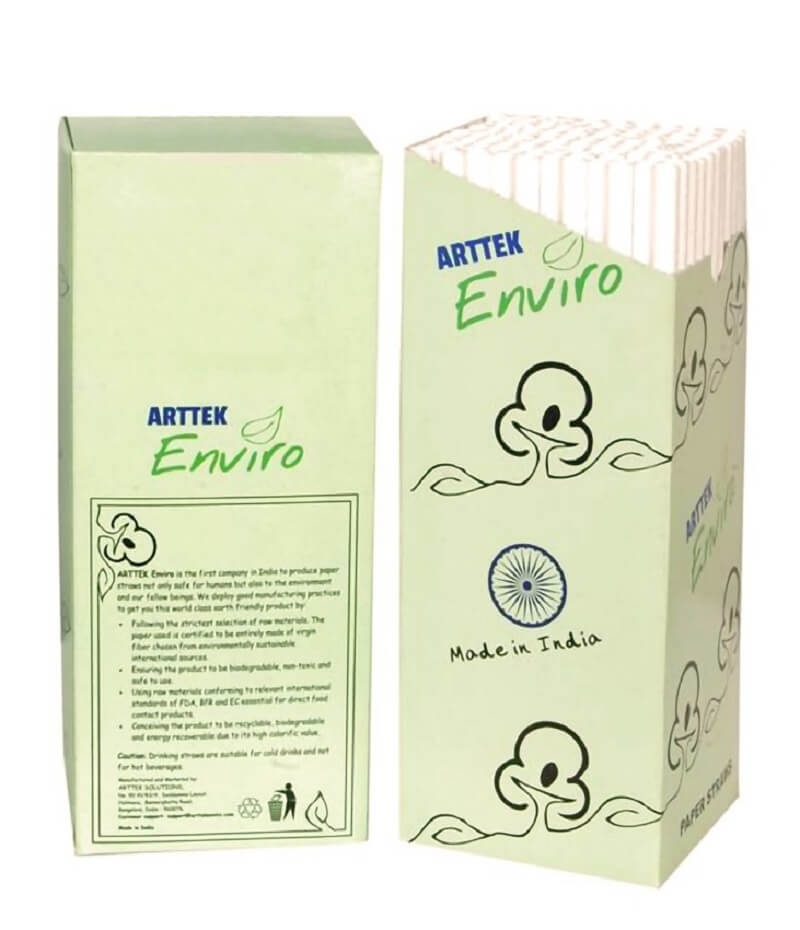 Bengaluru-based manufacturer of sustainable paper straws, Arttek Solutions, under the Arttek Enviro brand, is strengthening its commitment to replacing plastics in drinking straws. Arttek Solutions has partnered with BillerudKorsnäs to drive innovation, selecting BillerudKorsnäs ConFlex Glaze as its straw material. A 100 percent recyclable and sustainable high-quality MG speciality paper, the ConFlex Glaze is made from FSC® – certified Scandinavian forests.
Watch: IVAX Paper Chemicals Interview
The Indian speciality packaging manufacturer is focused on sustainable, renewable solutions, and offers products that enable customers to replace plastics with renewable paper. As the world market embraces paper straws in its quest to halt plastic littering, the business unit Arttek Solutions was formed, specialised in paper straws.
To be an innovator in an exciting niche segment of paper straws, it was important to find the right material that offers high functionality and quality that meets consumer demands. Arttek had the technical support of BillerudKorsnäs all the way – from trials to product development. The mission of both companies was mutual – a business collaboration that challenged conventional packaging for a more sustainable future.
"We think of BillerudKorsnäs as a reliable partner in development and business – especially for a small and niche operator like ours," says Mr. Raj Murali, Director, Arttek Solutions.
The selected paper BillerudKorsnäs ConFlex Glaze has one glossy side, offering a smooth feeling for consumers, which sometimes can be challenging since plastics is generally smoother than paper in contact with the lips and mouth. The paper's strength ensures that the straws are strong enough to survive in carbonated soft drinks which also is a challenge since paper fibers easily dissolve in contact with carbonic acid. ConFlex Glaze lives up to its promises and meets the strictest and most stringent requirements in Cola industry standards as well as the FDA standards.
ConFlex Glaze offers good runnability in Arttek's machine equipment and the consistent quality of the paper has helped to reduce wastage. The machines operate at medium speed but the company cannot find any obstacles to further increasing speeds.
Also Read: Single-Use Plastic Ban Opens the Door of Opportunities for Paper Industry
According to statistics from global environmental organization Earth.Org, more and more companies and brands are determined to abandon plastic straws, including McDonald's, IKEA, and Starbucks. There are also political decisions; the EU has decided to ban all plastic straws. Also, in many cities in India, plastic straws are no longer available at restaurants. Some states in the USA have banned straws. Just in the USA, 500 million plastic straws are consumed every day, which could fill more than 127 school buses per day or over 46,400 per year. Thus, there are exciting business opportunities to replace plastics with paper.